Bob's Walk for Cancer Research
At 9 am on Saturday, June 25th, Gary Averbach (in his 80th year), will embark on a solo trek from Calgary to Vancouver, walking 25-30 km per day with the goal of raising awareness and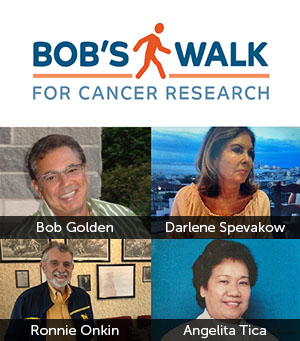 funds in support of research and care at BC Cancer, in memory of his cousin, business partner and friend, Robert (Bob) Golden. He will also be walking in memory of his cousins Ronnie Onkin, and Darlene Spevakow as well as long-time beloved Housekeeper, Angelita Tica, all three of whom died from this insidious disease within a 7-week period from April 5th to May 18th of this year.
The walk will begin at Olympic Park in Calgary and end sometime in August, at Jack Poole Plaza in downtown Vancouver.
Gary's fundraising goal is $500,000!
Donations may be directed to research for the following cancers:
• Chondrosarcoma (Bob),
• Lung Cancer (Ronnie),
• Pancreatic Cancer (Angelita),
• Liver Cancer (Darlene),
• or to the Urgent Needs at BC Cancer (general cancer research)