CIRCLE OF HOPE TO BREAK DOWN CHILDHOOD CANCERS
Sunday, August 8, 2021 - Friday, August 20, 2021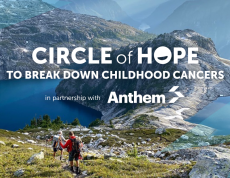 This August, two friends, Alex and Paul, embark on the Circle of Hope, a 375km expedition which includes hiking, mountain biking and paddling. It is anticipated to take twelve days to complete, and they will stay motivated throughout the journey with your generous support. The objective is to raise $1 million to break down childhood cancers in B.C.
Each year, 130 children in B.C. under the age of 17 are diagnosed with cancer. Today, these children are treated with chemotherapy, surgery and/or radiation, each of which can be associated with significant side effects in rapidly developing young bodies and brains.
Alex and Paul are supporting the Sorensen Lab at BC Cancer Research Institute to study the efficacy of utilizing highly-targeted immune-based treatment for the most aggressive childhood cancers. Immunotherapy harnesses the power of the patient's own immune system to target their cancer – more precise, less toxic, highly effective.