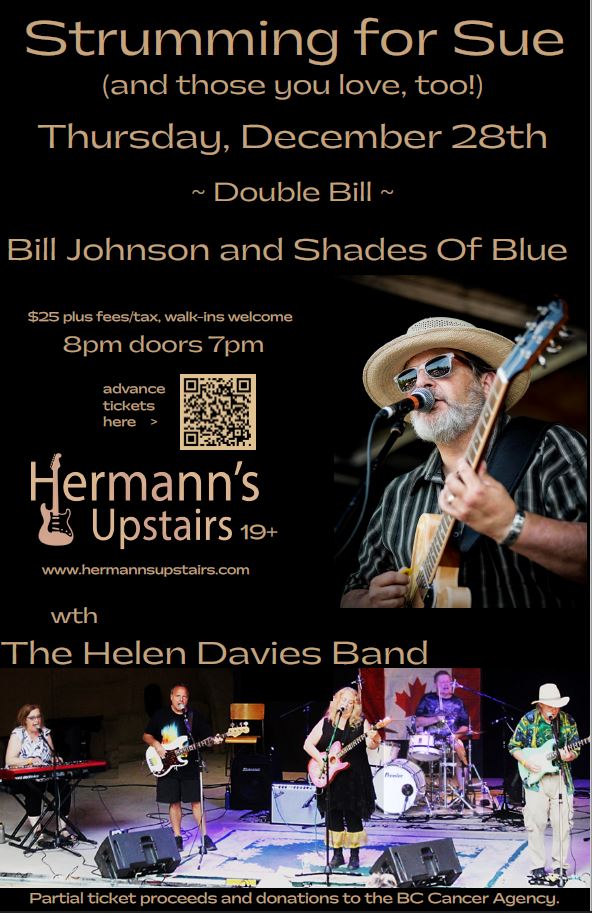 Thursday, December 28th, 8:00PM – 11:00PM (doors at 7:00pm) at Hermann's Upstairs
---
Join bluesman Bill Johnson's Shades of Blue along with the Helen Davies Band for an evening of rocking blues and soul music. Support cancer research and celebrate the lives of cancer warriors … past, present and future.
SHADES OF BLUE: Master guitarist and vocalist Bill Johnson leads his troupe of exceptional musicians through a unique, improvisational bluesy musical experience. A Juno nomination, and four Maple Blues Award nominations, have earned him a place among the country's best blues artists. Johnson teams us with keyboard phenomenon Nico Rhodes and a solid rhythm section of Casey Ryder (bass) and Damian Graham (drums). The results are inspired and exciting; from a slow burn to a blast of blues energy. This show is not to be missed!
HELEN DAVIES BAND: Powerful soul vocals from singer Helen Davies, phenomenal lead guitar from 'Rainshadow' Al Sabourin, extraordinary keyboard chops from Dee Cooper, and solid, driving bass and drums supporting the whole thing, courtesy Eric Thier and Andy Okell, are what you can expect from this band. Their up-tempo music ranges from Etta James classics such as Seven Day Fool and I'd Rather Go Blind, to the hip-hop influenced Black Pumas song, Colors, to the haunting Tedeschi-Trucks number, Midnight in Harlem. Formerly known as CURL, the band was renamed upon losing founding member, bassist and cancer warrior Susan Johnson.