*VIRTUAL* ROCK 4 A REASON
Friday, April 23, 2021 - Friday, July 23, 2021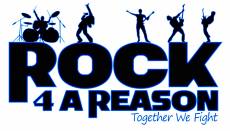 Due to COVID-19 we have had to put our event on pause, but unfortunately cancer has not taken such a pause.
Rock 4 a Reason is hosting a virtual fundraising campaign for the BC Cancer Foundation in support of world-leading immunotherapy research being conductedat BC Cancer – Victoria.
Immunotherapy harnesses the power of a patient's own immune system to target their cancer. Already, immunotherapies are revolutionizing outcomes for patients and Rock 4 a Reason is dedicated to keep the momentum.
Our 2019 campaign enabled Phase 1 clinical trials to happen in Victoria benefiting patients facing leukemia and lymphoma cancers. Access to these trials propelled vital research and improved outcomes.
However, there is more progress in sight so our 2021 fundraising campaign will support the continuation of this vital work by driving Phase 2 clinical trials involving 20-30 patients. We believe in the work of world-leading experts like Dr. Brad Nelsonof BC Cancer – Victoria, and know that we can make an impact.
Our goal for 2021 is to raise $100,000 to enable the continuation of Phase 2 immunotherapy clinical trials benefiting local patients facing aggressive leukemia and lymphoma cancers. Earlier research has demonstrated incredible success rates, evenwhen all other treatments have failed. With your support, together, we can improve the quality of cancer care here in our own backyard and give local people with cancer a fighting chance!