Romanza del Arco – Denis Letourneau and Susan Schaffer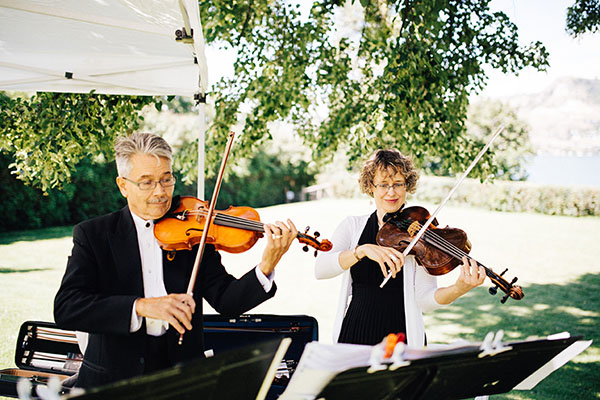 Denis Letourneau was recognized with the Okanagan Arts Award in 2008 for the depth and breadth of his musical contributions to the Okanagan. He served as Concertmaster of the Okanagan Symphony for 39 Seasons, and was featured as a guest artist with the OSO on several occasions, including performing for Queen Elizabeth II in her Silver Jubilee celebration. As first violinist of Heartstrings quartet, he performed for visiting dignitaries including U.S. Presidents Ronald Reagan and George W. Bush Sr, Astronaut and Senator John Glenn, and numerous western Canadian Premiers. He is equally well known throughout the Okanagan for his jazz improvisation, having performed on his Ted Thompson 5 string electric violin in ensembles such as The Big Day, Foreign Exchange, The Green Dragon Jazz Ensemble, and most recently, Wood, Wire and Fire. In semi-retirement, he continues to perform in the Classical ensemble Voix du Coeur while pursuing other interests, including sailing his boat Saturnina and dancing ballroom, Latin and Argentine tango with his wife.
Susan Schaffer is well known to Okanagan audiences, having served as Assistant Concertmaster of the Okanagan Symphony for more than three decades, and more recently, filling in as Concertmaster during the past three Seasons, as well as performing three series as a guest artist. In addition to her OSO work, she has performed with myriad ensembles, including with the Kamloops Symphony, where she was Principal Viola for 10 seasons, Opera Kelowna, Okanagan Festival Singers, Aura Chamber Choir, Heartstrings Quartet and Romanza del Arco duo, and has been a featured artist at the Vernon Proms All Bach concerts for the past six years. Her studies began in Southern Alberta, where she performed with the Lethbridge Symphony for seven seasons before completing a B.Mus. degree from UBC under full scholarship, in addition to training at the Banff Centre and with the National Youth Orchestra of Canada. She has been an avid violin/viola teacher in Kamloops, at the Kelowna Community Music School and at Fountainview Academy near Lillooet, and currently teaches exclusively at her home studio in Armstrong. Aside from her musical endeavours, you'll find her dancing with her husband Denis Letourneau, or walking in the woods with their poodle, Grace.
As a duo, Denis and Susan have been performing as Romanza del Arco since 1992. They have toured from Osoyoos to Lillooet, Abbotsford to Lake Louise, and most points between, playing extant Classical duos from four centuries as well as their own arrangements.