/
/
/
Four Ways Donors Are Helping Advance Innovation in Breast Cancer Research
Four Ways Donors Are Helping Advance Innovation in Breast Cancer Research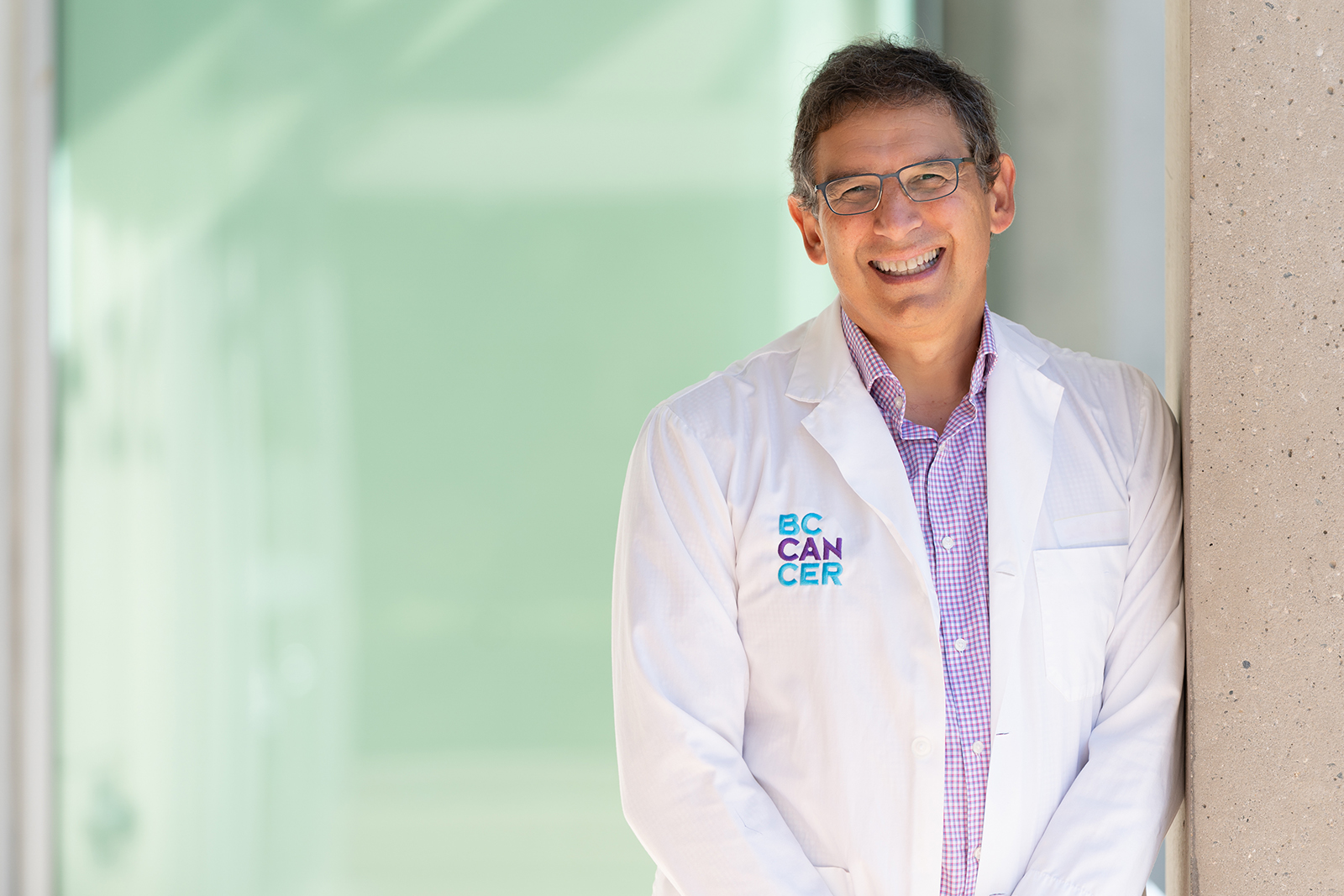 Donor generosity has enabled BC Cancer's multi-disciplinary team to advance innovation in breast cancer research. As global leaders in the field, BC Cancer's experts collaborate extensively with others around the world to bring lifesaving solutions to people facing breast cancer. Read on to learn about the milestones that BC Cancer experts have achieved over the last year.
BC Cancer is testing a brand-new class of breast cancer therapies
Breast cancers that arise from inherited BRCA1 and BRCA2 mutations have a common feature: G-quadruplex DNA. After years of studying the genomes of breast cancers, BC Cancer Distinguished Scientist Dr. Sam Aparicio led his team to discover a new molecule that binds to G-quadruplex DNA and kills the cancer cells.
In collaboration with the Canadian Clinical Trials Group, Chair of the BC Cancer Research Ethics Board Dr. Karen Gelmon led a phase I trial to test the treatment. The tumours were genomically sequenced before and after exposure to the G-quadruplex binder. For the first time ever, the treatment effectively eradicated the cancer cells.
While this treatment is promising for certain types of breast cancer, it is also being tested in other hard-to-treat cancers, including ovarian and pancreatic. Dr. Aparicio is collaborating with colleagues locally and in the United Kingdom to develop different classes of G-quadruplex binders and uncover additional cancers that may be sensitive to this mechanism, including bone and lung cancers.
Blood biopsies are highly effective at detecting breast cancer relapse
Scientists can now uncover valuable information about a person's breast cancer by examining circulating tumour DNA (ctDNA) in their bloodstream. Performing blood biopsies using ctDNA is safer and less intrusive than a typical biopsy. It gives a more complete picture of a person's cancer, including signs of relapse.
With the support of BC Cancer Foundation donors and the Terry Fox Research Institute's Marathon of Hope initiative, the team collected blood from 398 patients with Triple Negative Breast Cancer (TNBC), a particularly life threatening subtype. Preliminary findings showed that whole genome sequencing of ctDNA is 10-100 times more sensitive than alternative approaches, and can anticipate relapse up to two years before it occurs.
This advancement will equip clinicians with a new monitoring approach and increase the likelihood of detecting cancer at a more treatable stage. Currently, Dr. Aparicio and his team are determining how to incorporate blood biopsies into the management of early breast cancer.
Newly-discovered breast and ovarian cancer subtypes have prompted the exploration of different treatments
In a landmark publication in Nature in October 2022, the team discovered that 40% of breast and ovarian cancers have a shared DNA mutation. These cancers are subsets of TNBC and High-Grade Serous Ovarian Carcinoma (HGSC), and appear to be resistant to chemotherapy and associated with poorer survival.
The discovery of these new subtypes was made possible by single cell genome sequencing, a technology developed at BC Cancer's Michael Smith Genome Sciences Centre. With this new information, scientists can now explore alternative treatment options, including DNA targeting and immunotherapy.
"This breakthrough is influencing new thinking about the evolution of aggressive tumours and why one may or may not be sensitive to certain treatments," says Dr. Aparicio.
BC Cancer's fellowship program is attracting talented oncologists and fueling lifesaving research
Fellowship programs are essential in increasing BC Cancer's capacity to provide excellent patient care and advance lifesaving research. This past year, breast cancer fellow Dr. Emily Jackson contributed to research initiatives under the mentorship of Chair of the BC Cancer Breast Tumour Group Dr. Stephen Chia and Dr. Gelmon.
Most notably, Dr. Jackson completed a comprehensive analysis on the relationship between age and breast cancer outcomes. The study was recently published internationally in The Breast, and confirmed that:
people under age 39 and over 80 experienced poorer survival, regardless of the stage and subtype of their cancer and the treatment received;
younger people's cancers had unique, higher risk biological features; and
people over the age of 80 were less likely to receive radiation therapy and chemotherapy for various reasons, including concerns that they may not be able to tolerate treatment.
Dr. Jackson presented this work at international conferences, highlighting how the findings will enable clinicians to better estimate outcomes, patterns of relapse and provide tailored treatment recommendations. She and Dr. Gelmon are also now working to create treatment guidelines for elderly patients with breast cancer.
Dr. Jackson recently accepted a permanent position as a medical oncologist at BC Cancer, starting in October 2023.
A BC Woman Credits BC Cancer for Giving Her Hope For Life Beyond Cancer After Her Diagnosis
Nastasia Genova was 36 years old when she noticed a lump and was diagnosed with Stage I TNBC in 2019. What followed was a succession of diagnostic and genetic testing, and ultimately an aggressive treatment of full mastectomy and chemotherapy. Her surgery took place just six weeks after her diagnosis. Today, she's cancer free and credits this to BC Cancer's quick response.
Nastasia says her treatment was so efficient that she was 'almost bored' while on medical leave — she and her partner took the opportunity to plan Two Brothers Toffee, a company they launched after Nastasia completed treatment. She shares the anecdote as a reminder that cancer is not the end. Life continues and she views it as a silver lining from the experience.
"It's amazing to see how treatments for triple negative breast cancer have changed even since I went through treatment four years ago. Advances in research and targeted treatment plans exist now thanks to brilliant BC Cancer doctors and generous donors," says Nastasia.
Nastasia donated samples of her tumours to BC Cancer's B-PRECISE study to help scientists gain knowledge and uncover even better solutions for future breast cancer patients. She now supports other young women as they navigate this difficult experience.