A Legacy of Giving — Doug Jones' Story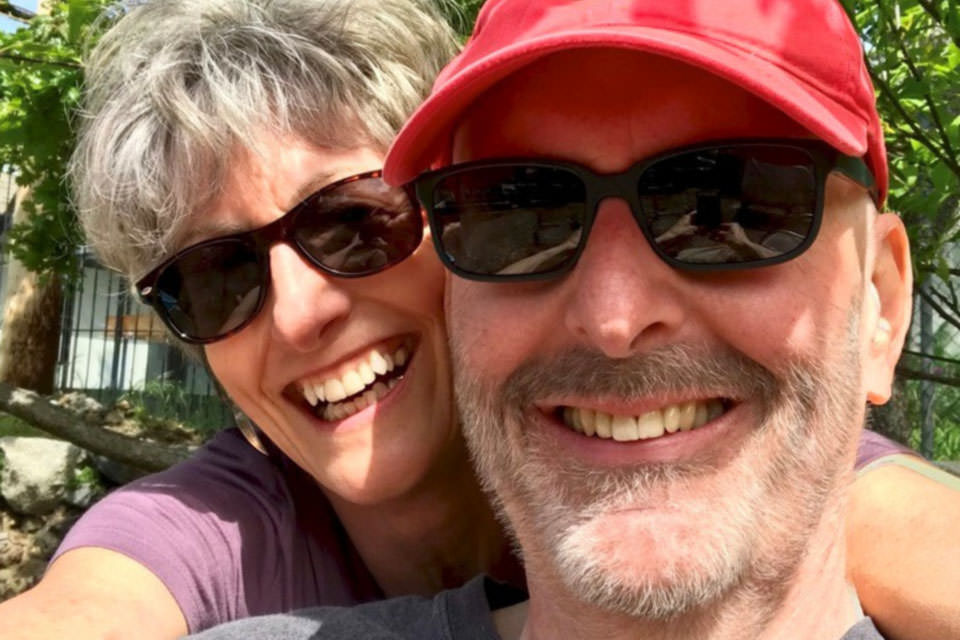 Article originally published in the Times Colonist in May 2023.
Robin Jones hopes to inspire others to partner with the BC Cancer Foundation in support of cancer research and care in British Columbia.
Doug Jones was used to dealing with long-term health symptoms due to a 2005 work-related whiplash injury.
But in the latter half of 2019, when the retired police officer began to feel extreme fatigue that left him struggling to keep up with his daily swimming routine, he knew something was wrong.
After a series of tests, Doug was diagnosed that November with Stage 4 diffuse large B cell Non-Hodgkin lymphoma.
Sadly, Doug passed away in November 2020 at the age of 63. However, his widow, Robin Jones, has generously stepped forward to include a planned gift to BC Cancer Foundation in her will to honour Doug's legacy and support other families facing cancer.
Robin hopes that by telling Doug's story, she will inspire others to partner with the Foundation in support of cancer research and care in British Columbia.
Comfort and guidance
Doug  was referred to oncologist Dr. Ed Brooks at BC Cancer, who guided his treatment.
"We both felt fully informed and supported through all treatments," Robin describes.
"They were timely, and they were seamless. We had regular and ongoing communication with the oncologist. It was remarkable, and we felt great to be in such good hands. It makes it so much easier when you have a team like BC Cancer that helps you every step of the way."
When a 2020 PET scan revealed Doug's lymphoma was not in remission, he was given the option of enrolling in the CAR-T cell trial to provide cutting-edge immunotherapy treatment, a trial made possible by BC Cancer Foundation donors.
While draining, the treatment provided Doug  with some extra quality of life.
"We were able to resume our daily long walks, which we loved to do," Robin says.
Despite the news that his cancer continued to progress, Doug  wanted to continue with the clinical trial for as long as he was able to.
"It was important for him to support BC Cancer's research," Robin  says of her husband's commitment to the clinical trial and her own decision to leave a planned gift to the BC Cancer Foundation.
"It's my way to honour Doug's commitment to continue research and development in the hope of further increasing survival rates for future generations."
As the fundraising partner to BC Cancer, every dollar raised advances breakthroughs and innovations across BC Cancer's research programs and six regional centres. Learn how you can help by leaving a gift in your will.