Advancing cancer care with new technology
The BC Cancer Agency is recognized as one of the world's leading cancer care and research centres. We've achieved this in large part by being able to attract some of the best talent. But having the brightest minds will only take you so far if you don't give them the latest tools and equipment. That's why in our quest for new knowledge, the BC Cancer Foundation is investing in new technology through two of our upcoming events—Inspiration Gala and Hope Couture—that will keep B.C. at the forefront of cancer research and care.
New technology also means people can get their treatment as close to home as possible. Diagnosed with tumours in her sacrum, lungs and liver, Ann-Britt Everett, mother to her three-year old son, was running out of options after several bouts of radiation and chemotherapy were unsuccessful. With the support of her doctor, she sought a highly specialized treatment in Europe, because it wasn't available in B.C. The treatment was a success and she's back doing the things she loves and watching her little boy grow up.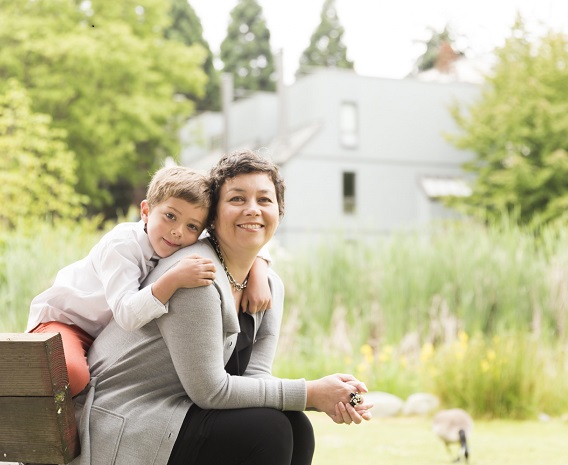 Being able to provide this treatment here in B.C. is the goal of our 2016 Inspiration Gala, recognized as one of the country's best fundraising events, which is aiming to raise $3 million to support NETRACER.
Leveraging the nuclear imaging expertise that exists in B.C., NETRACER is an innovative approach that will improve the detection and treatment of a variety of cancers.  First, experts will use a PET imaging compound called Gallium-68, a first in Canada, and only routinely available in Europe, to more precisely detect the cancer. Then to treat the disease, a small radioactive particle will be attached to a cell-targeting drug, which seeks out and binds to cancer cells to deliver a high dose of radiation specifically to the cancer, while sparing other organs. This highly personalized treatment has substantially fewer side effects than chemotherapy. It's believed that this approach will benefit patients with neuro-endocrine tumours, as well as those with prostate, pancreatic and breast cancer and melanoma.
If the goal of NETRACER is to bring highly personalized cancer care and treatment to patients, then so too is that same ambition for the BC Cancer Agency's Centre for Lymphoid Cancer.
Thousands of British Columbians will be diagnosed with a lymphoid cancer over the coming year. And while newly discovered therapies are improving the outlook for many patients, for others treatment failure remains a reality.
This is why researchers are seeking to better understand cancer biology—why it develops and how it spreads—in the hope of finding effective treatments. The goal of our annual Hope Couture fashion show is to raise $1.1 million to support the Single Cell Genomics Suite at the BC Cancer Agency's Centre for Lymphoid Cancer.
This investment will enable researchers to study single cell populations to better pinpoint treatment resistance and identify potential therapies, leading to longer, healthier lives for those diagnosed with lymphoma.
We are very excited to be a partner in bringing the very latest technologies to the BC Cancer Agency, and I know our donors will be equally excited about supporting these two events.
Sarah