Just under two months from now, thousands of riders will be cycling from Vancouver to Seattle in the BC Cancer Foundation's second annual Ride to Conquer Cancer.
Last year, I had joined the Foundation just before the Ride, so this year I am really looking forward to cycling with everyone.
I know one of the questions you may be asked is "Where does the money go?", so I want to tell you about a few of the projects, platforms and people we are supporting through last year's Ride.
BC Cancer Agency's Centre of Excellence for Functional Cancer Imaging
Led by Dr. François Bénard, who holds the BC Leadership Chair in Functional Cancer Imaging, this Centre is poised to become one of the top cancer imaging facilities in Canada.  At its core is a PET/CT scanner which can show exactly where cancer is located in a patient's body, and provide very precise images of the size and spread of tumours.
The BC Cancer Agency is home to the only publicly-funded PET/CT scanner in B.C. so funds from last year's Ride are being used to purchase a second one. I know clinicians, researchers and Agency executives would agree that this is a top priority. It will enable them to make more informed treatment decisions, reduce unnecessary surgeries and show them almost immediately if a treatment is effective.
BrainCare BC
This is a new, multidisciplinary program at the Agency to streamline care and treatment for brain cancer patients.  BrainCare's founder and leader is Dr. Brian Toyota – a neuro-surgeon and the chair of the Agency's Neuro-Oncology Tumour Group.  The BrainCare team wants to conduct patient-focused research and care, to increase their patients' survival rates and quality of life.
In just the last five years, the two-year survival rates for brain cancer have increased from 10 to 24 per cent, mainly because of research discoveries and advances in technology.  But Dr. Toyota believes that with the support of your Ride dollars they can improve survival even more.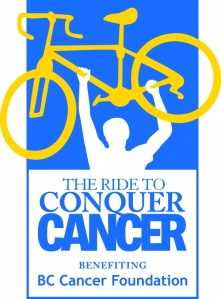 Research Centre Sustaining Grant
In order for researchers to compete and win grant funding, they have to secure the basics — things like staff and salaries, lab space and equipment. Most scientific granting agencies won't provide funding unless this core support is already in place, and most of these same grants can't be used for core support.
Funds from the 2009 Ride will be used to sustain the work of the 60 Principal Investigators at the BC Cancer Agency's Research Centre. We hope that this significant investment will be leveraged at least four times over, with funding awards from the other granting organizations — as we've historically seen.
Michael Smith Foundation Summer Studentships
With support from funds raised in the Ride, 15 university undergraduates will have the chance to spend a summer at the BC Cancer Agency's Research Centre, working alongside some of the top scientists in the country.  Hopefully this experience will inspire and motivate them to dedicate their lives to cancer research, maybe right here in B.C.
These are just a few examples of what your dollars have achieved through the Ride.  I hope that in a few years we will see research breakthroughs made possible with the money you are raising now, just as we have in recent months as a result of the Foundation's Weekend to End Women's Cancers.
So, thank you for riding or for supporting a rider.  I look forward to meeting you en route!
Warm regards,
Doug