B.C. Donors bring Cancer Treatment Lab to Life
VICTORIA, B.C. – An entirely new approach to cancer treatment is one step closer to the clinic with today's opening of Canada's most innovative lab for T cell therapy development at the BC Cancer Agency. Built 100 per cent with philanthropic funds, the Conconi Family Immunotherapy Lab forms the hub of custom immunotherapy treatment production for cancer patients across B.C.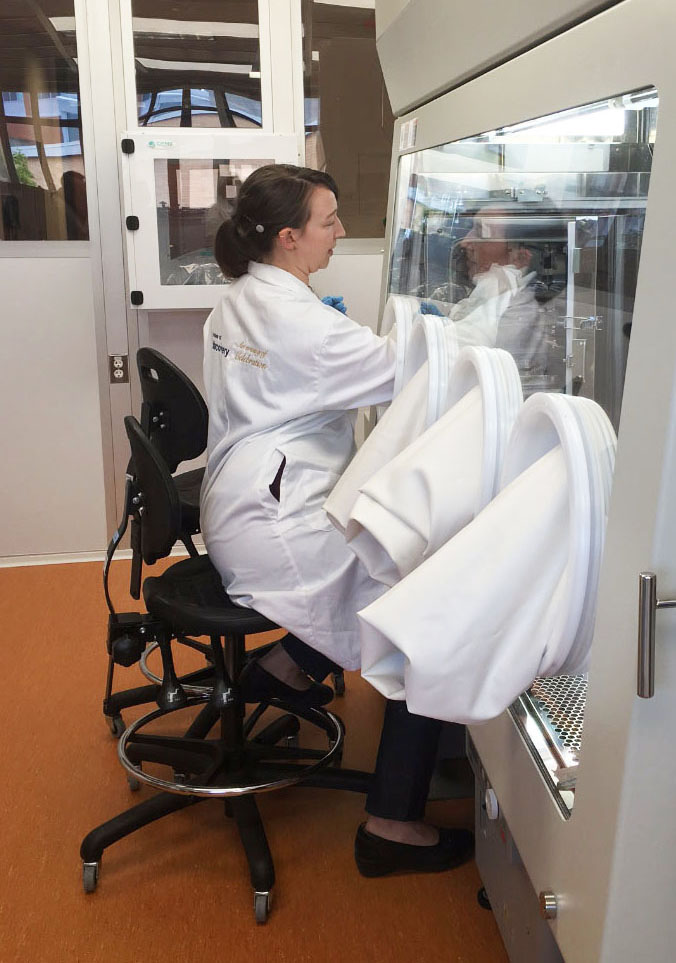 With $5.5 million raised through the BC Cancer Foundation to launch immunotherapy clinical trials, the lab is a critical component, providing a facility to create promising new treatments. Scientists will now begin testing the facility and T cell therapy production to ready for clinical trials.
The new lab bears the Conconi name, honouring a $2 million gift the family made to the BC Cancer Foundation, which inspired more than 5,900 donors across the province to open their hearts and give.
Dr. Brad Nelson leads the Immunotherapy Research Program at the BC Cancer Agency and he says:
"Immunotherapy is beginning to have striking, durable effects against many different cancers and we are immensely grateful to the Conconi family and BC Cancer Foundation for giving us the tools to bring these new treatments to the clinic."
For the thousands of British Columbians diagnosed with advanced cancer, new treatment options afford hope that a solution is around the corner. Clinical trial lead and medical oncologist Dr. Anna Tinker says:
"The hope for all of us is to be able to offer highly effective treatments that help people live better and longer."
Immunotherapy is an approach that engages the patient's immune system to effectively eliminate disease. It is one of the most promising areas in cancer research and care today.
The lab's initial focus will be on Adoptive T Cell Therapy. This is a specific form of immunotherapy that amplifies the power of T cells—immune cells responsible for destroying viruses and tumors—extracted from an individual cancer patient. In a highly selective process, scientists identify the T cells already attempting to destroy the cancer and multiply them by the thousands in the lab. The end product is a supercharged batch of a patient's own T cells that can be delivered through an IV infusion.
Phase I clinical trials for ovarian and cervical cancer are slated to begin in early 2017.
"The Conconi Family Immunotherapy Lab is a beacon of light for the people of B.C. who are impacted by cancer and we are so proud that thousands of donors have given our scientists the building blocks to bring a new treatment program to life," says Sarah Roth, President & CEO, BC Cancer Foundation.
Opening the Conconi Family Immunotherapy Lab included: Robert, Diane, Alex, Adam and Katie Conconi.
-30-
For more information, photos, or to arrange an interview, please contact:
Allison Colina
Communications Manager
t. 604.707.5934
e. allison.colina@bccancer.bc.ca
The BC Cancer Foundation is the bridge that connects philanthropic support and research breakthroughs in cancer knowledge.  As the fundraising partner of the BC Cancer Agency and the largest charitable funder of cancer research in this province, we enable donors to make contributions to leading-edge research that has a direct impact on improvements to cancer care for patients in British Columbia. We fund with the goal of finding solutions. Visit www.bccancerfoundation.com to learn how you can make a difference in the lives of those affected by cancer.