Clinical Trials for Pancreatic Cancer at the BC Cancer Agency
Hello everyone,
We've had a very exciting week since the last post! The Inspiration Gala was an incredible event, with over $3.5 million raised for cancer research. My colleagues and I are truly inspired by and thankful for the generosity that led to this amazing achievement. We're also very excited about the upcoming research initiatives in pancreatic cancer.
I work as a clinician investigator and spend about half my time involved in patient care and teaching and the rest on research. My main area of research is in clinical trials, with a focus on developing new anti-cancer drugs, and trying to find new drugs or drug combinations for the treatment of pancreatic cancer.
Pancreatic cancer is very aggressive and tends to be resistant to many of our standard treatments. Thus, there is an urgent need to find new more effective options. We have a number of clinical trials currently ongoing for patients with pancreatic cancer, with more planned to open next year.
Some of the studies we are working on involve new drugs that attempt to target abnormalities present in cancer cells (so-called "targeted therapy"). This is an exciting area of research as we would ideally be able to attack the cancer cells without harming normal cells, which would result in less side effects for patients.
Clinical trials are just one component of our pancreatic cancer research strategy. In next week's blog post I'll speak more on the other areas that we are working on. November is Pancreatic Cancer Awareness month, so be sure to pick up a purple ribbon! Check out this picture of BC Place with the purple lights on in support of our goal: to improve outcomes for pancreatic cancer.
Dan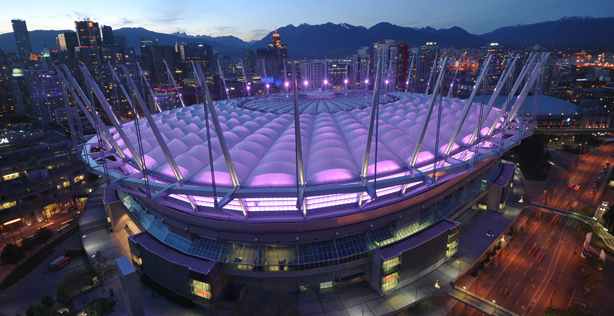 (photo via bcplacestadium.com)