/
/
/
World Cancer Day – Promoting Culturally Safe Cancer Care for Indigenous People
World Cancer Day – Promoting Culturally Safe Cancer Care for Indigenous People
This year, World Cancer Day is raising awareness about the barriers that exist for people around the world in accessing cancer care through the "Close the Care Gap" campaign. Work towards this is already well under way at BC Cancer, and proudly supported by the BC Cancer Foundation, through a cultural safety project to create more equitable care, and improve cancer journeys, for Indigenous people in B.C.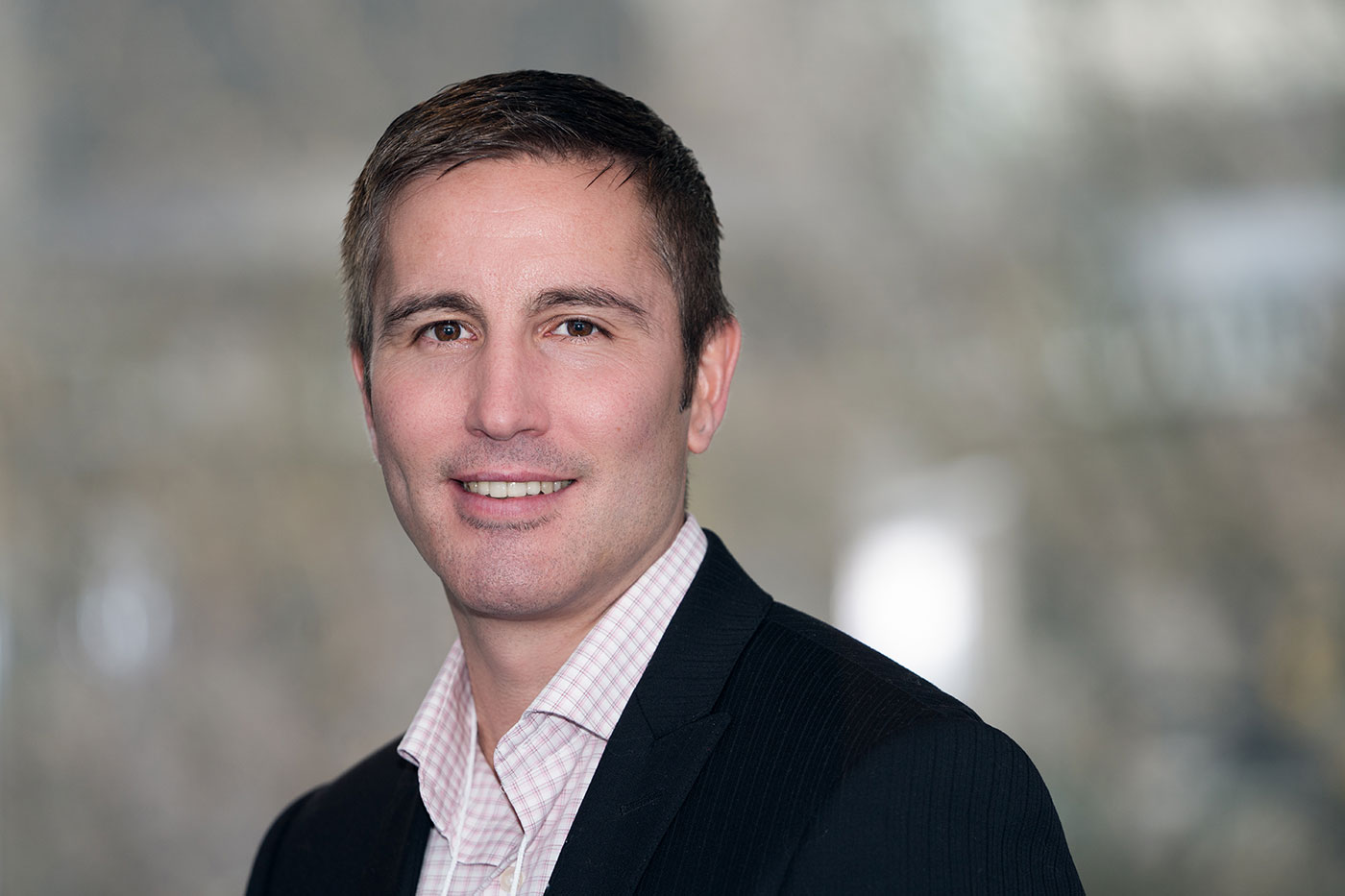 When Warren Clarmont, a member of the Gitanmaax Band of the Gitxsan First Nation was diagnosed with cancer in 2009 there was little room in his treatment plan for spiritual care and traditional healing. "Not only was my doctor not responsive to using traditional medicines, he actually advised against them in that he didn't know how they would interact with the systemic therapy treatment I would be receiving," says Warren.
Despite his doctor's recommendation, Warren sought out a spiritual healer privately and says it was an integral part of his healing and recovery. "Cancer, as much as it is a physical battle, becomes almost more of an emotional battle at a certain point. Most Indigenous cultures do not separate physical health from mental health because they are intertwined. The cultural support I received was so important in that it helped me to get grounded, to be able to think about how I could keep going."
Now, as the Provincial Director of Indigenous Cancer Control at BC Cancer, Warren works to ensure culture and cultural safety are embedded in the Indigenous cancer journey to create safer, more inclusive trauma-informed treatment plans — and improve outcomes.
"We know from the data we have that Indigenous people, specifically First Nations, are less likely to survive a cancer diagnosis," says Warren. "First Nations people in B.C. are also experiencing higher incidences of cervical and colorectal cancers when compared to the non-First Nations population. Poorer survival could be attributed to a number of factors including First Nations receiving later-stage cancer diagnoses, lack of attachment to a GP to get screened or referred to specialists, hesitancy to seek medical help when something doesn't feel right and other barriers to screening and timely diagnostics. While the data we have only pertains to First Nations currently, we are working with Metis Nation BC and the BC Ministry of Health to obtain Metis specific cancer data."
In addition, a cancer diagnosis, the most difficult health challenge most of us will face, is even more daunting for Indigenous people as it forces them to navigate a healthcare system they often fear and mistrust, due to a history of trauma, racism and discrimination.
As part of BC Cancer's Indigenous Cancer Strategy, developed in collaboration with the First Nations Health Authority, Metis Nation BC and the BC Association of Aboriginal Friendship Centres, Warren recently hired Indigenous Patient Navigators (IPNs) for BC Cancer in Prince George, Kelowna and Vancouver. And he's posted positions for three more, so that all six BC Cancer centres will soon have a dedicated support person in place to help Indigenous patients throughout their cancer journeys.
"There's nothing quite like, as an Indigenous patient, walking into a facility and being greeted by another Indigenous person working as part of your care team. You feel a sense of reduced anxiety and even trust because there's someone like you, or that you can relate to, who is working for an institution that you may feel some mistrust or hesitancy about," says Warren, who wishes he could have accessed a similar support during his treatment.
"I was treated in 2009 at BC Cancer – Victoria and the conversations I had with my care team then are much different than the conversations I'm having with practitioners now. Care providers are much more open today about the roles of spiritual care, traditional healers and medicines in cancer treatment and recovery."
Warren says this ability to look through a non-Western medical lens comes with exposure and education. He believes the IPNs will have a significant impact in helping his colleagues better understand why the Indigenous experience is different. He hopes that daily interactions with IPNs and Indigenous-specific training will create awareness around the importance of trauma-informed care and spiritual connectedness for Indigenous patients.
"IPNs are making a world of difference; however, Indigenous people need to see themselves in not just faces but in spaces as well," says Warren, citing a recommendation made in In Plain Sight, the 2020 report addressing anti-Indigenous racism in B.C. healthcare. The report recommends "that health authorities create culturally appropriate, dedicated physical spaces in health facilities for ceremony and cultural protocol, and visibly include Indigenous artwork, signage and territorial acknowledgement."
"I couldn't have written it better myself — it's exactly what we're trying to do. I'm looking at engaging Indigenous artists, with support from the BC Cancer Foundation, to have meaningful discussions about culturally safe facilities, and then work with my cancer centre colleagues to put project plans in place to achieve this. It easily starts with some signage at the front door in the language of the local First Nation on whose lands the centres are situated on." Already up in Kelowna, and in the works in Victoria and Vancouver, he's hoping to install similar welcoming messaging and Indigenous visual representation throughout the other centres.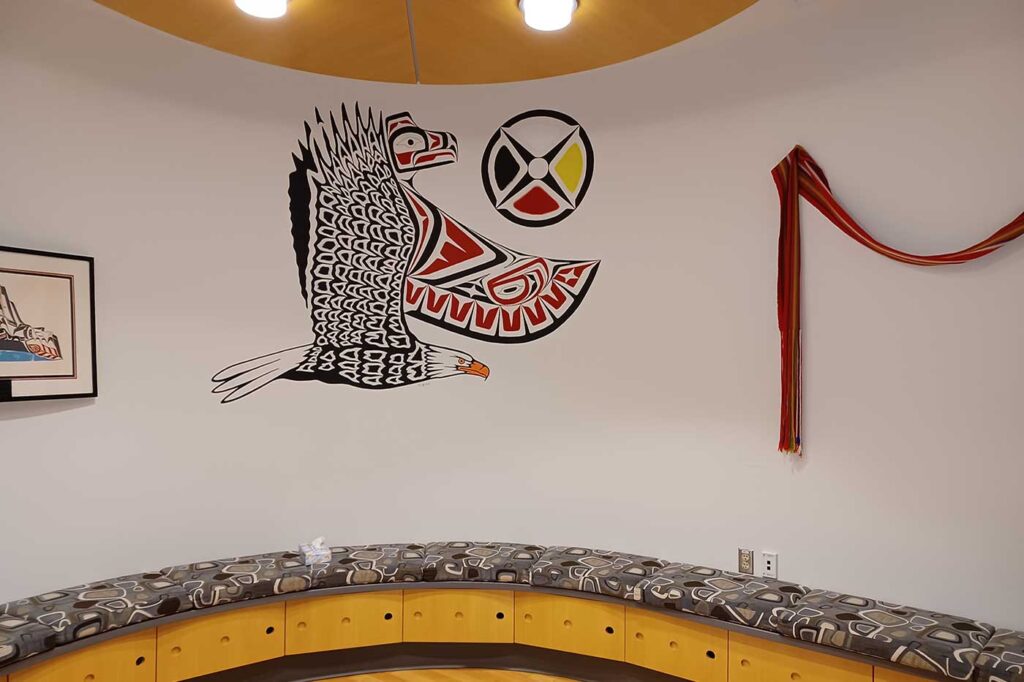 Prince George spiritual care space
BC Cancer – Prince George, the Centre for the North, does have a room that is used for spiritual care when possible. "Basically it's an opportunity for the patient, their family and care providers to sit in circle and support the patient, often through ceremony. It's the only centre that has that sort of space currently." The others, like Vancouver and Victoria, are already incredibly tight on square footage so Warren is getting creative and looking at outdoor spaces to create a similar refuge. "We just haven't gotten there yet because much of the work we want to do is unfunded. Even though this is the recommendation, there are no dedicated resources yet."
While these cultural spaces will improve the Indigenous cancer journey, one of the most significant barriers to achieving  better cancer outcomes for First Nations continues to be access to life-saving screening. "Many are just not getting screened in time or at all," says Warren, who is part of a team currently analyzing updated data on cancer incidence and survival among First Nations in B.C.
One obstacle is geography. "First Nations in particular tend to live in rural or more remote areas. Lots of community members don't have a driver's licence or a means to travel." Accommodation costs are also challenging when a patient has to leave their community for days or weeks at a time. "We're trying to establish a patient support fund, which the BC Cancer Foundation has contributed to, to help offset some of these expenses."
And then of course, there's a real fear and mistrust of health institutions (especially among Indigenous women who have experienced the inter-generational trauma of sexual assault and forced sterilizations). One of the solutions is outreach, bringing screening to communities to ensure a culturally safe experience, but Warren says it's far from a one-size-fits-all solution and cautions that it has limitations.
"We had a community in the Lower Mainland that wanted a mobile mammography unit to come and provide screening services to the community but this community already has an existing screening service at the local hospital approximately a half hour away. Current guidelines state that the mammography unit will not go to any community where there's an existing screening service available within an hour's drive."
Warren's team held a virtual screening event instead with a presentation on breast screening followed by a Q&A session. "It was pretty successful, we had about 45 participants from the community."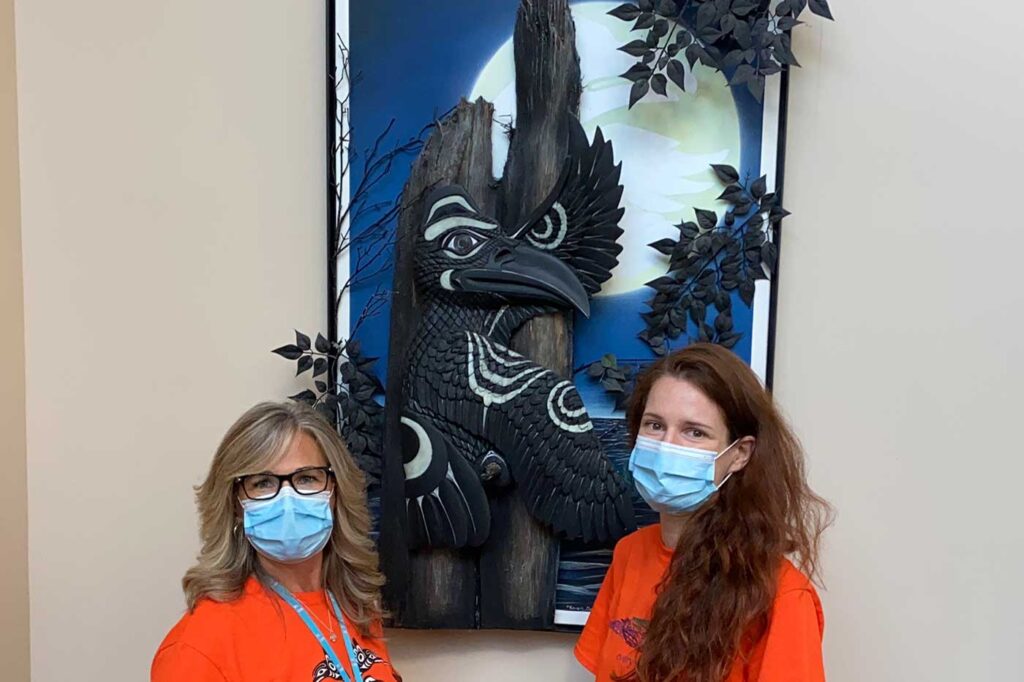 Staff at BC Cancer — Victoria pose by an Indigenous wood carving
Two HPV (Human papillomavirus — an infection that can lead to cervical cancer) self-collection test pilots are also running in the Sunshine Coast and Central Vancouver Island regions, with promotion occurring among Indigenous communities. BC Cancer anticipates this test will eventually replace the Pap smear and increase participation in cervical cancer screening. These kinds of innovative screening methods break down geographical and financial barriers, as well as psychological — as participants can remain within their communities. Given the higher incidence of cervical cancer among First Nations, this easier access could lead to earlier diagnosis.
"The Indigenous experience used to be out of sight, out of mind. But I think there has been a kind of awakening." Warren attributes some of this to both the initial discovery of the remains of 215 children on the former site of a residential school in the Tk'emlúps te Secwe̓pemc territory and the In Plain Sight report.
Despite these heart-rending revelations, and the collective scar they've left on our country, Warren feels like we're in a unique time period. "There is opportunity and momentum that we can build on. There are things we can do that breathe life into how Indigenous people want to receive care. A lot of it is grounded in culture, and the way in which we support Indigenous patients when they come into BC Cancer centres. To do this, we need to work with Indigenous communities and have as many allies as possible."
To learn more or to donate to the Indigenous Cultural Safety project at BC Cancer, and improve the cancer journey for Indigenous people in B.C., please contact Lindsay Abbott at Lindsay.Abbott@bccancer.bc.ca or 604.839.3626.