August seems to be flying by! As you may have heard, the BC Cancer Agency's Deeley Research Centre is initiating an immunotherapy clinical trial next year. This type of therapy involves isolating tumour-specific white blood cells called T cells from a patient's own tumour. These T cells are then expanded into the billions and then infused back into the patient where they can identify and eliminate their cancer. This type of therapy is called "adoptive T cell therapy", and will initially focus on ovarian and cervical cancers.
As I previously mentioned, myself and a group of researchers from the Deeley Research Centre formed a team called the Cell Cyclists. We are participating in the 2016 Ride to Conquer Cancer which is a two day cycling event from Vancouver to Seattle. What is the link between the Cell Cyclists and the adoptive T cell therapy clinical trial? All of the funds raised by the Cell Cyclists benefit the BC Cancer Foundation and will directly support the upcoming trial. This includes the specialized equipment, infrastructure and personnel required.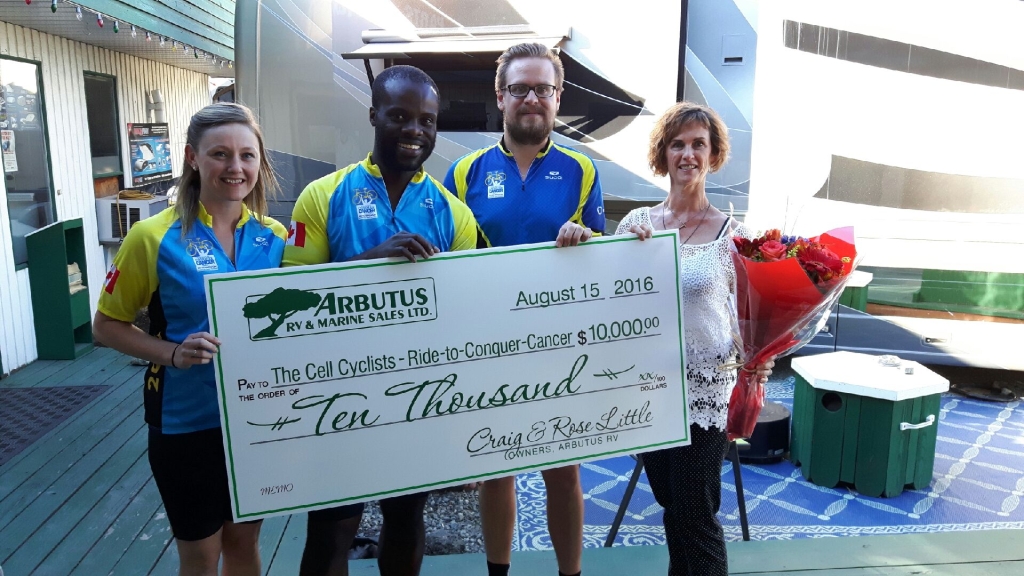 For the past two months, the Cell Cyclists have been busy visiting all five Arbutus RV locations on the Island (Sidney, Mill Bay, Nanaimo, Courtenay, and Port Alberni). At each location we hopped on our stationary bike trainers and had the opportunity to share the exciting research going on at the Deeley Research Centre with the Arbutus RV staff and customers.
Arbutus RV was instrumental in helping us reach our fundraising goal by matching each cyclist's donations for a total of $10,000! We'd like to thank all of the customers and staff at Arbutus RV for being so kind, supportive and generous!  Our team has officially surpassed our fundraising goal with a total over $22,000! We are all looking forward to the ride on August 27th!
Lindsay