Finalists announced in top model competition
In March, I told you that BC Cancer Foundation is the charity partner for the second year in a row in the ITM-NSR Model Look Competition 2010, with our good friends at CHMB AM1320.
Yesterday, the Top 20 finalists were announced in this year's competition. Several of them have very close connections to the cancer cause and shared their stories.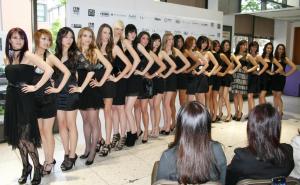 Top 20 finalists in the ITM-NSR Model Look North America 2010
For example, 22-year-old Stevi Ellis from Coquitlam said:
The BC Cancer Foundation is actually one of my top reasons for entering this contest.  The BC Cancer Agency is one of the most important research agencies in the world! Critical breakthroughs in medical treatment and patient therapies have been discovered by teams at the agency. The past few decades have seen more forms of aggressive cancers diagnosed and cured or put into remission thanks to the work of the pioneering men and women at the Agency.
My own life has been intensely touched by cancer: last year my father lost his battle with cancer. He never gave up hope though, and that was in large part due to the amazing staff that worked with him during the treatment. My mother's twin sister had a full mastectomy over a decade ago and is a proud survivor.
I have also watched friends and colleagues suffer with the disease. All of them speak highly of the BC Cancer Agency and smile when they do. As a high-risk individual, I fully recognize and appreciate the importance of ongoing support for the BC Cancer Foundation.   
Alexia Fast, a 17-year-old finalist from Vancouver shared the following:
My grandmother had breast cancer and survived; however my great grandpa and three of my great uncles who also had cancer didn't. Cancer research has always been important to me and my family. My grandfather told me that the BC Cancer Agency has some of the best cancer research in the world, and that they help a lot of people. Now that I'm a young adult I want to contribute to cancer research.
I am so impressed with these young women, who are choosing to make a difference in the lives of cancer patients and their families through this contest and career opportunity.
Tickets to the Glamour Gala Dinner are now on sale.  Proceeds from all ticket sales will benefit the BC Cancer Foundation.
The funds from this year's event will support the purchase of a second PET/CT scanner at the BC Cancer Agency.
Warm regards,
Doug