From Last Hope to New Life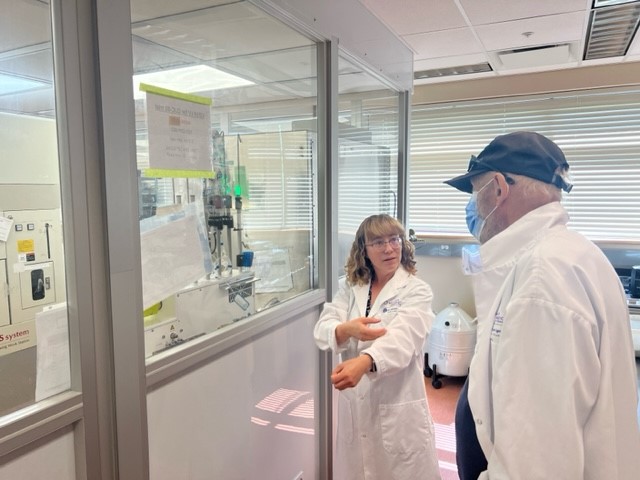 Noel Schacter was the first patient from Victoria to participate in BC Cancer's original CAR T-cell clinical trial. His journey underscores the hope that research innovations brings to patients who seem to have exhausted treatment options. This is also full circle moment for the team at BC Cancer – Victoria's Deeley Research Centre, where the CAR T-cells are produced.
Noel was originally diagnosed with a slow-moving variant of non-Hodgkin's lymphoma and standard treatment kept it at bay for a decade, allowing Noel to carry on with life as normal. Then, it came back as a more aggressive form of the disease, requiring an equally aggressive treatment.
"I had a year of very, very difficult chemotherapy. At the end of it, it looked as if I was in remission. That lasted for about eight months and then it returned with a vengeance. At that point in time, I actually thought my life was over, to be quite honest."
Through his own research, Noel found a CAR T trial in Seattle and considered applying for government assistance to access the expensive international program. In a timely stroke of luck, the Deeley Research Centre – in a joint project with Ottawa Hospital – was about to open the first CAR T trial in Canada.
Not only was this Noel's last hope for treatment, he was also the oldest participant the trial permitted at age 75. Thankfully, he passed all the testing and was admitted.
His blood was drawn and sent to the Deeley Research Centre, where Dr. Brad Nelson's team created specially engineered T-cells that attack and destroy cancer cells. In a provincial collaboration, treatment was then delivered in Vancouver by Dr. Kevin Hay's team, where they have the facilities to monitor and treat severe side effects that can occur from the therapy.
That was three years ago.
There have been some lasting side effects – lower energy levels and some memory problems. But the cancer is gone and Noel is tremendously grateful for the treatment.
"Every day I have to pinch myself and say 'You're still here and you really shouldn't be. This cancer would've killed you.' And there's no doubt about that."
Donor support established the Deeley Research Centre's Conconi Family Immunotherapy Lab as the first lab in Canada to produce CAR T-cells and brought this life-saving clinical trial to B.C. The team is now preparing to launch their next CAR T trial this fall.
To learn more about supporting the Deeley Research Centre contact William Litchfield: william.litchfield@bccancer.bc.ca or 250.667.8690