Some Heroes Wear White Lab Coats
From filling prescriptions to hailing helicopters during the recent flooding in the Fraser Valley, there's no limit to the lengths BC Cancer—Abbotsford pharmacy technician Sharwan Maharaj will go to towards ensuring patients get life-saving care.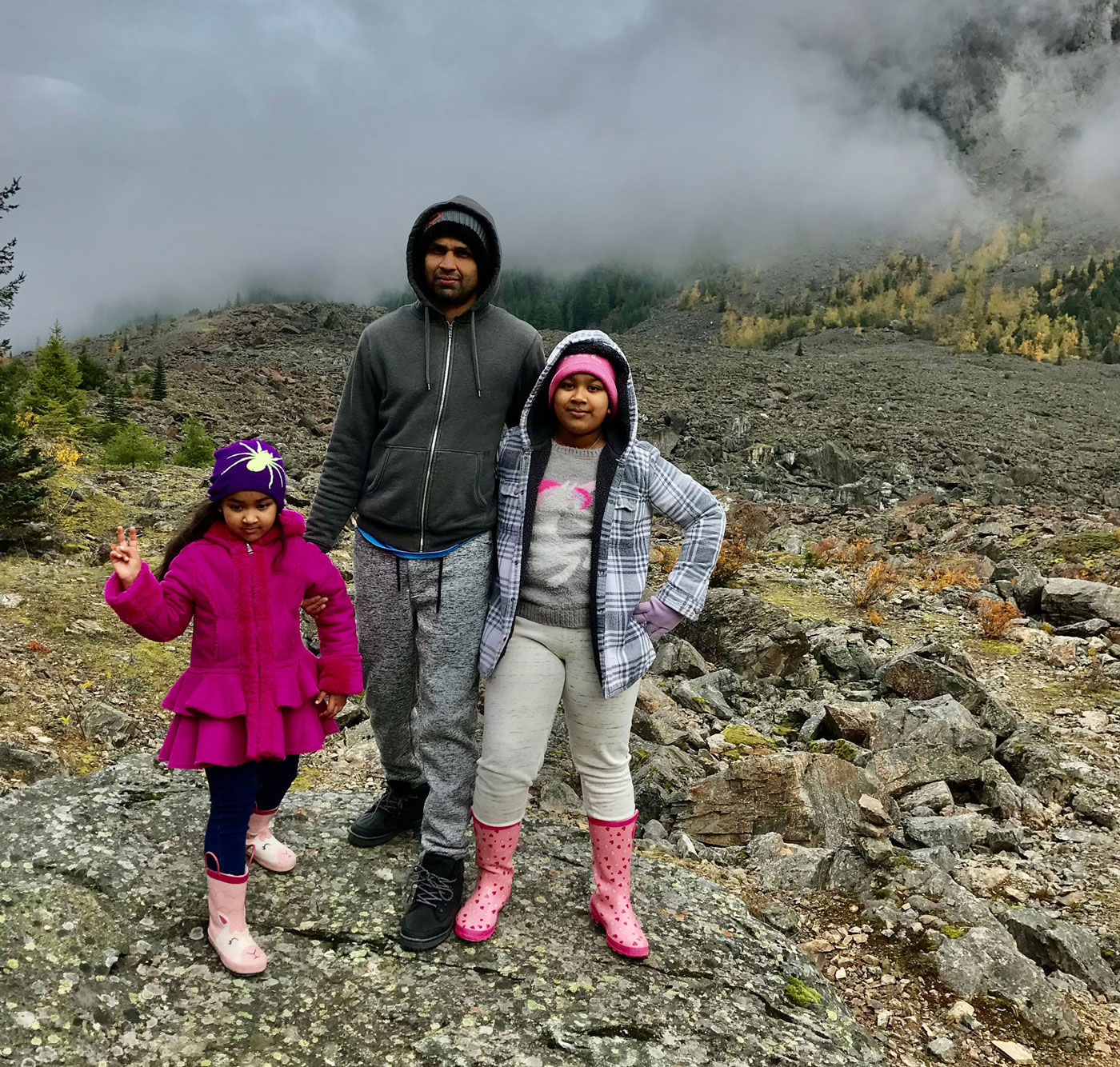 Ducking under helicopter blades and running back and forth across a rain-soaked airport tarmac is not all in day's work for BC Cancer pharmacy technician Sharwan Maharaj, but that's exactly how he found himself going above and beyond his job during the flooding in the Fraser Valley last month.
Sharwan, 37, lives in Hope but works at BC Cancer — Abbotsford and so when Highway 1 closed in mid-November he found himself stuck at home. Until a call came in asking him to assist a patient who was being airlifted from Hope to Abbotsford in order to receive critically timed radiation therapy.
Postponing treatment, even by a few days, wasn't an option for this patient, says Sharwan, who usually only deals with people facing cancer in terms of refilling their prescriptions. "The patient is on a cycle, and they have to make sure they go on time for their treatment every week."
When Sharwan got to the airport, no easy task in itself due to road closures, he met the woman he was sent there to help. "She was very scared, pretty much in a panic. Things are happening: floods, evacuations, people getting stranded, everything is closed down." Add to that the fact she had never taken a flight on a helicopter.
With flights coming and going, and an understaffed airport, it was fairly chaotic — and the cold and wet conditions didn't help — but Sharwan eventually located the right helicopter and pilot, helped her onboard and waved her off. "I was happy she had left but was praying that they were able to reach Abbotsford safely, because it was not nice weather."
"It's not about being a hero, it's about being a human. You never know, one day you might need help. Hopefully there will be someone there for you," Sharwan says.
The torrential rains had caught Sharwan's own family off guard on the Sunday prior when they'd ventured out to Manning Park for a picnic. "It started to rain so we left. While we were driving back we saw the creeks and the streams full of so much water, flowing so fast."
By the time they got home they learned that their friend, who was visiting from Surrey, was now trapped. He and Sharwan ventured out to confirm the rumours of the highway closure, and see if they could be of any help, taking food, water and coffee to hand out to stranded travellers.
"There were no parking spots anywhere in town. All the restaurants, stores and gas stations were closed because there was no power. I saw a couple with a baby," says Sharwan, who couldn't imagine them spending the night in their small car. He immediately offered the pair from Merritt, and their 18-month-old daughter, his spare bedroom. They ended up staying two nights before flying to Kelowna where they have family.
Sharwan has since learned that the cancer patient was successful in getting treatment, and the young couple also returned home safely. He's received high praise for assisting both, but says, "It's not about being a hero, it's about being a human. You never know, one day you might need help. Hopefully there will be someone there for you."
The coming together of the entire community of Hope, and being able to pitch in and help as a family, was a great opportunity to teach his two young daughters about stepping up for others when they need it most, he says.
His girls thoroughly enjoyed hosting the stranded family, especially their new playmate. "My little one, four years old, she said, 'We need a baby.' I told her, 'If you're going to take care of the baby then, sure, we will get one," he laughs.
After all, even heroes have their limits.