/
/
/
Hope Couture raises $460,000 to Change the Landscape of Breast Cancer Care in British Columbia
Hope Couture raises $460,000 to Change the Landscape of Breast Cancer Care in British Columbia
Vancouver, BC – The BC Cancer Foundation's 2015 Hope Couture, presented by Peterson, announced an incredible $460,000 raised to support the Breast Cancer Research Initiative at the BC Cancer Agency. Funds will help to fundamentally change medical practice for the benefit of 3,200 British Columbians who will hear the words "you have breast cancer" this year alone.
"Over the past decade, the BC Cancer Agency has become a global leader in breast cancer research and care, and we are so proud to see Hope Couture play a role in furthering this impactful work for the benefit of women and their loved ones across B.C. and beyond," said Marcella Cusano, Chair of the 2015 Hope Couture event committee.
Hope Couture kick-started fundraising efforts for the purchase of three vital pieces of equipment that will directly link patient diagnosis and treatment to lab-based research: a next-generation PET/CT Scanner, an industrial-grade Robotics System, and a cutting-edge Automated Microscope System.
The acquisition of these three pieces of equipment will fast-track the studies of the breast cancer research team, led by Drs. Samuel Aparicio and Karen Gelmon, and lead to better therapies for breast cancer patients in B.C. and around the world.
Dr. Karen Gelmon, Medical Oncologist and clinical investigator at the BC Cancer Agency said: "Working closely with Dr. Samuel Aparicio's lab at the BC Cancer Agency, our goal is to examine the biological make-up of thousands of unique breast cancers. By identifying their genomic structure and measuring the person's the immune response to the tumour we will uncover new treatment approaches for hard to treat breast cancers.
"The bottom line is that we want to cure more women," Dr. Gelmon said.
The sold-out fashion show and luncheon event was held at the Fairmont Pacific Rim in Vancouver with over 350 in attendance. Vancouver's boutique retailers, Bacci's and Boboli, presented fashions from the collections of Lanvin, Céline, Chloé, Issey Miyake, Stella McCartney and more.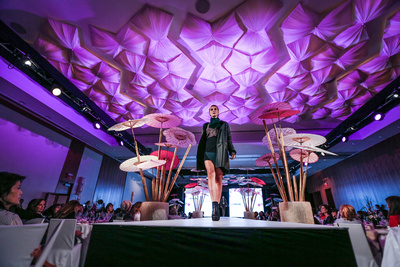 Lou Del Gobbo, Interim President and CEO of the BC Cancer Foundation thanked the Hope Couture committee and presenting sponsor Peterson, for their generosity, "Today, you've given hope to thousands of British Columbians who will face a breast cancer diagnosis in the years to come as research will lead to more effective treatment options, thank you" he said.
-30-
Media contact:
Allison Colina
Communications Manager
BC Cancer Foundation
e. allison.colina@bccancer.bc.ca
The BC Cancer Foundation is the bridge that connects philanthropic support and research breakthroughs in cancer knowledge. As the fundraising partner of the BC Cancer Agency and the largest funder of cancer research in this province, we enable donors to make contributions to leading-edge research that has a direct impact on improvements to cancer care for patients in British Columbia. We fund with the goal of finding solutions. Visit www.bccancerfoundation.com to make a donation or to learn how you can make a difference in the lives of those affected by cancer.
The BC Cancer Agency, an agency of the Provincial Health Services Authority, is committed to reducing the incidence of cancer, reducing the mortality from cancer, and improving the quality of life of those living with cancer. It provides a comprehensive cancer control program for the people of British Columbia by working with community partners to deliver a range of oncology services, including prevention, early detection, diagnosis and treatment, research, education, supportive care, rehabilitation and palliative care. For more information, visit www.bccancer.ca.