/
/
/
Hope Couture raises $600,000 to prevent ovarian cancer for British Columbians
Hope Couture raises $600,000 to prevent ovarian cancer for British Columbians
VANCOUVER, B.C.– The annual BC Cancer Foundation's Hope Couture fashion show and fundraiser today announced an incredible $600,000 was raised to fuel research at BC Cancer that aims to prevent 50 per cent of ovarian cancers.
A silent auction, as well as extremely generous donations helped boost the total monies raised, which will go towards BC Cancer's OVCARE team. OVCARE's dedicated staff will build out a robust toolbox to prevent reproductive cancers. Two life-saving tools are already in place: the opportunistic removal of fallopian tubes for women undergoing hysterectomy or tubal ligation, and hereditary testing for all women diagnosed with high-grade serous ovarian cancer.
"The lifesaving work being done at BC Cancer is known across Canada and the world. A generous guest of honour, Rob Collins, came to today's event from Toronto to announce a $200,000 donation in memory of his late wife Janet Cottrelle," said Sarah Roth, president & CEO, BC Cancer Foundation.
Currently, no comparable prevention tools exist for endometrial ovarian carcinoma and clear cell ovarian carcinoma. By expanding the toolbox, more cancers will be prevented.
Dr. David Huntsman, director of BC Cancer's OVCARE team expressed his gratitude for the funds. He says, "What drives our research team is our collective view that every patient diagnosed with ovarian cancer represents a prevention failure. Funds raised today will allow us to focus on applying what we've learned about ovarian cancer to prevent them from happening in the first place.
The great support we have received from our community has enabled us to produce research that has changed the way ovarian cancers are prevented, diagnosed and managed. Although our goals are global, the women of B.C. benefit first form our work."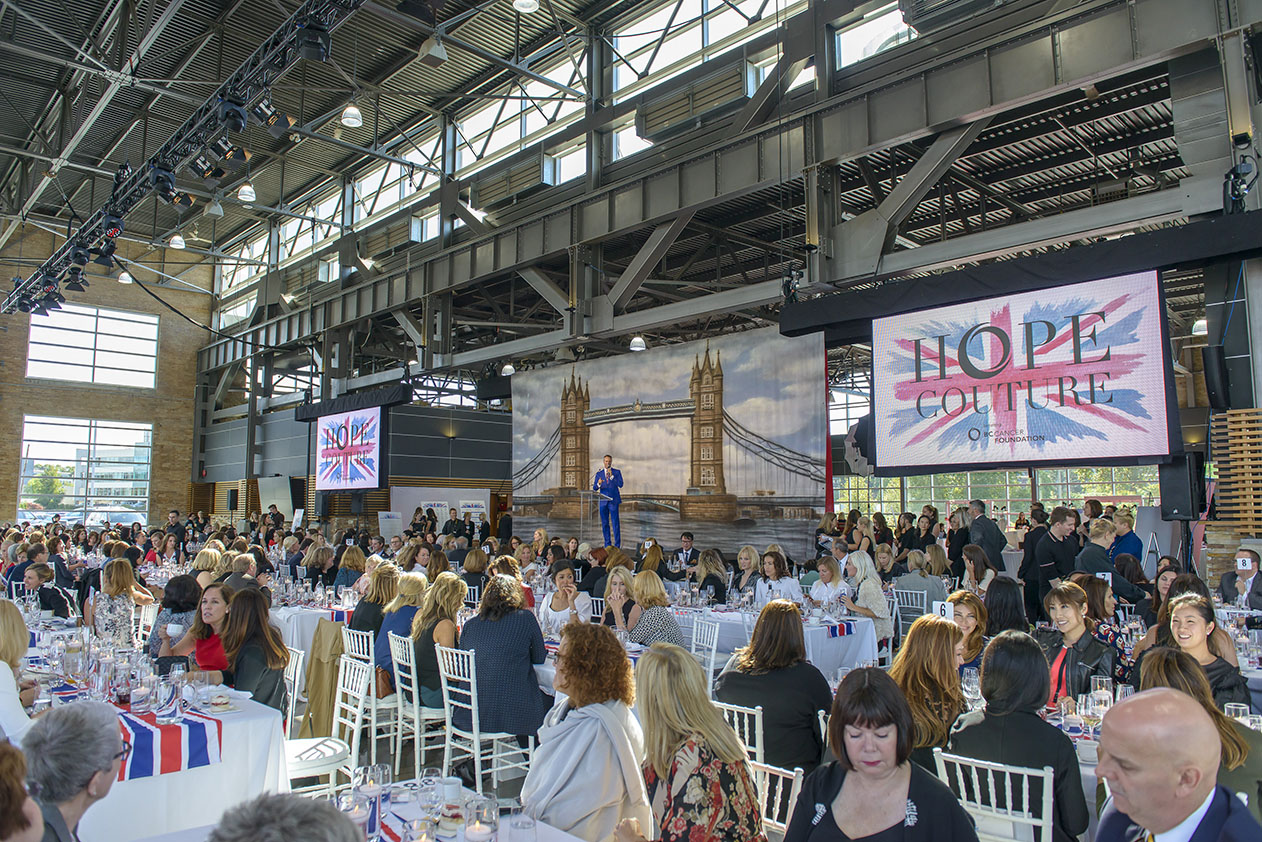 The sold-out Hope Couture event was held today at the Rocky Mountaineer train station, and with the theme of "London Calling" this year, it featured a fashion show from Vancouver's exclusive retailers Bacci's and Boboli with a particular focus on British designers, as well as musical entertainment from a Beatles cover band.
-30-
Media contact:
Gina Robinson
c. 604-317-6129
e. gina@curvecommunications.com
The BC Cancer Foundation is the bridge that connects philanthropic support and research breakthroughs in cancer knowledge. As the fundraising partner of the BC Cancer Agency and the largest charitable funder of cancer research in this province, we enable donors to make contributions to leading-edge research that has a direct impact on improvements to cancer care for patients in British Columbia.  We fund with the goal of finding solutions. Visit www.bccancerfoundation.com to make a donation or to learn how you can make a difference in the lives of those affected by cancer.
The BC Cancer Agency, an agency of the Provincial Health Services Authority, is committed to reducing the incidence of cancer, reducing the mortality from cancer, and improving the quality of life of those living with cancer. It provides a comprehensive cancer control program for the people of British Columbia by working with community partners to deliver a range of oncology services, including prevention, early detection, diagnosis and treatment, research, education, supportive care, rehabilitation and palliative care. For more information, visit www.bccancer.ca.