We officially launched the 2010 Weekend to End Women's Cancers this week, and I'm excited that this year, it's a brand new Weekend.  Let me tell you why.
You may have noticed that the name has changed.  The Weekend to End Breast Cancer has been the most successful fundraising event for breast cancer research in B.C. history.  We've raised over $16 million for breast cancer research and programs at the BC Cancer Agency – which led to a ground-breaking research discovery just a few months ago.
We are on the right path.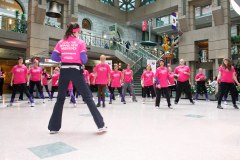 Launching the new Weekend at Sinclair Centre in Vancouver
But researchers have told us that there are common links between breast cancer and other women's cancers – including cervical, endometrial, uterine and ovarian.
So, we've expanded the event to make an even bigger difference in the lives of women in our province and around the world. We have renamed the event The Weekend to End Women's Cancers as it will now fund both breast and these other gynecologic cancers.
You can even choose whether you want the funds you raise to support breast, or gynecologic cancers.
And we've made it even easier to participate. For those of you who have always wanted to join us, but can't commit to the full two days, we've created a one-day walk.  So you can sign up for the one-day, 30 km event or go the full two-day, 60 km experience.
Join us – register now for the 2010 Shopper's Drug Mart Weekend to End Women's Cancers here.
I will see you out there.  Together, step by step, we can end ALL women's cancers.
Warm regards,
Doug