Lymphoma Cancer Education
Last month, I told you about an exciting breakthrough in lymphoma research.  I mentioned that lymphoma is the fastest growing cancer in North America and the fifth most common cancer in Canada – with an estimated 1,000 new cases diagnosed every year in B.C.
Which is why more and more people who are living with lymphoma need ongoing support.
So if you or someone you know is a lymphoma patient, caregiver or supporter, tell them about the BC Cancer Agency's Lymphoid Cancer Education Forum, supported by the BC Cancer Foundation.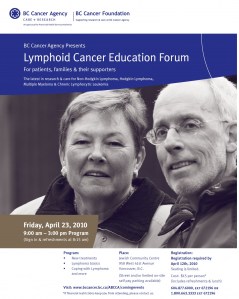 The session will be beneficial for anyone with non-Hodgkin lymphoma, Hodgkin lymphoma, multiple myeloma and chronic lymphocytic leukemia.
BC Cancer Agency oncologists, researchers and specialists will speak about the basics of lymphoma, new treatments, symptom management and about living with lymphoma.
It's on April 23rd, from 9 a.m. to 3 p.m., at the Jewish Community Centre (950 West 41st Ave, Vancouver) and costs $15 – which includes refreshments and lunch.
Please register by April 12th at 604-877-6000 ext. 672196.
Warm regards,
Doug