Model citizens raise funds for cancer
Last night was a blast!  Thanks to the wonderful people at CHMB AM1320, the BC Cancer Foundation was the charity partner for the second year in a row in the ITM-NSR Model Look North America 2010.
I have to say, it was a fun event.  Even actor Steven Seagal was in attendance for the Finale Show, apparently to ask some of the models to appear in his next movie.
The 20 finalists competed for the chance to represent North America at the New Silk Road modeling competition in China and launch a career in fashion modelling.  Our congratulations to the winner – 17-year-old Alexia Fast of Vancouver, who wanted to contribute to cancer research, since she had lost relatives to cancer and her grandmother was a cancer survivor.
The event also raised an estimated amount of over $70,000 to support the purchase of a second PET/CT scanner for the BC Cancer Agency, which will be of immediate and significant benefit to thousands of cancer patients across the province.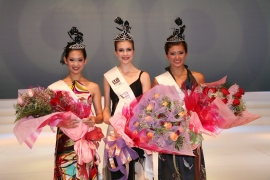 (l-r) ITM winners Jessica Nicole Han (3rd Place), Alexia Fast (1st Place) and Nalani Wakita (2nd Place)
So thank you to everyone who attended the Glamour Gala Dinner and the Finale show.  And of course, thanks to all of our generous sponsors and partners in this event.
I hope you had as much fun as I did and hopefully we will see you again next year.
Warm regards,
Doug