Last September, the BC Cancer Foundation launched the Inspire the World campaign on Vancouver Island.
Our goal is to raise $10 million for the renovation and construction of 10,000 square feet of space at the BC Cancer Agency's Vancouver Island Centre.  The new space will include a state-of-the-art patient support centre, a predictive cancer research centre and a radiation innovation wing.
When it's complete, the BC Cancer Agency's Vancouver Island Centre will provide cancer care, supportive care and cancer research all under one roof.
Today, we announced another significant gift to the Inspire the World campaign.
The Norgaard Foundation, a private family foundation on Vancouver Island, has donated $250,000 for the creation of the Norgaard Foundation Counselling Suite within the new Patient and Family Support Centre.
This donation is very exciting as it raises us over the halfway mark towards our $10 million goal.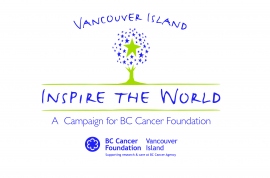 The response and generosity we've had so far from the public has been truly overwhelming.  Please keep your support coming so that we can continue to Inspire the World.
Warm regards,
Doug