More Than a Mile in Her Shoes
Devi Ralla ran her last marathon ever in 2014. However, a small army of her supporters have picked up where she left off, participating in every BMO Vancouver Marathon since — raising an incredible $100,000 for the BC Cancer Foundation in her honour.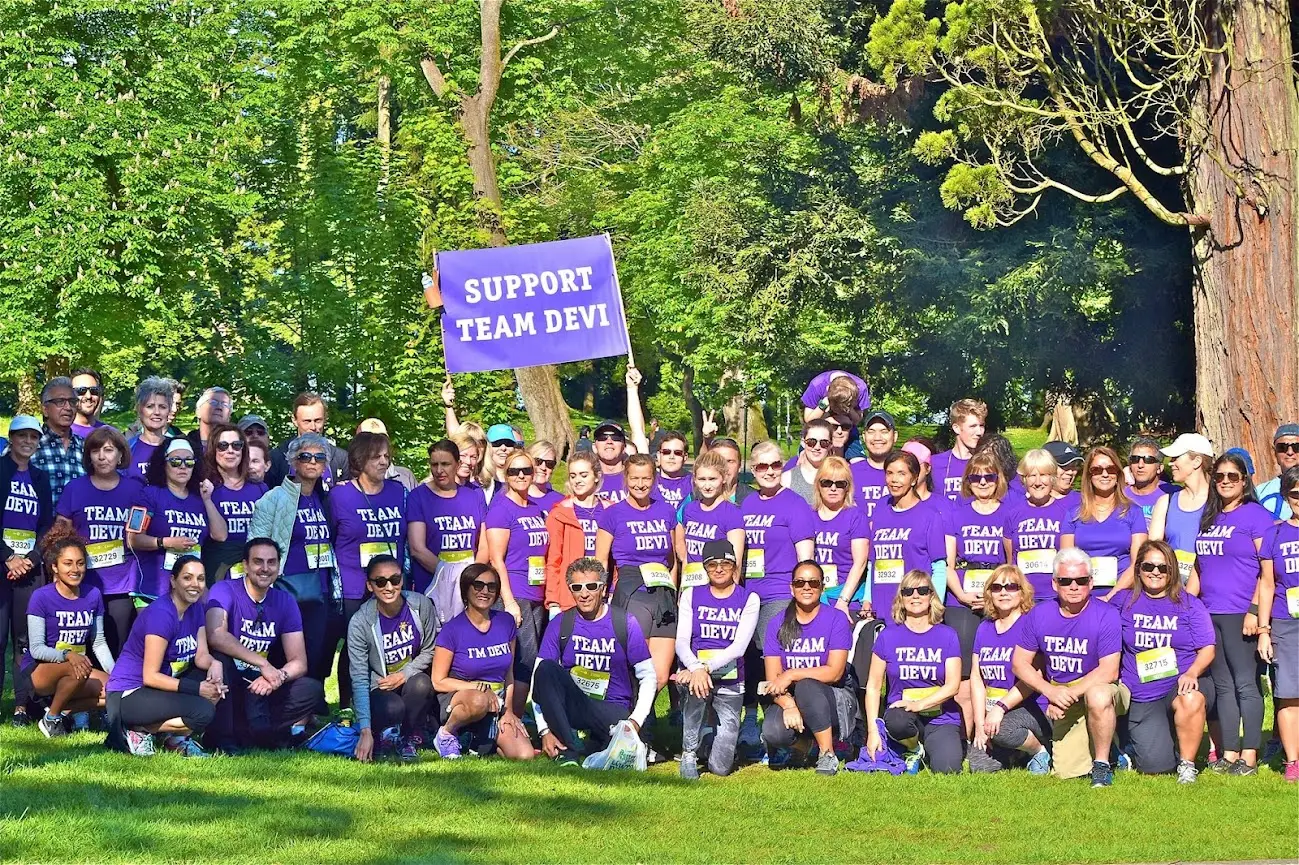 The day that Devi Ralla's oncologist told her she couldn't run anymore it almost broke her. With 13 full and 26 half marathons, and 10 years as a training leader under her belt, running was more than a healthy pastime for the Richmond secondary education assistant, it gave her purpose.
After crossing the finish line in 2014, Devi uncharacteristically complained of back pain. She initially thought it was shingles, but soon learned it was breast cancer that had spread to her spine.
Two months after her diagnosis, her son Braeden handed her a 54th birthday card, tucked inside was a completed registration form for the 2015 BMO Vancouver Marathon. She was confused at first, as she was undergoing treatment and not strong enough to train, he says. "She broke down in tears when she realized I was going to run it for her."
That May, more than 100 of Devi's friends and family donned "Team Devi" shirts in her favourite colour, and participated in the BMO Vancouver Marathon with more in mind than crossing the finish line. Inspired by Devi, who bravely faced cancer with the same positivity and perseverance she brought to everything in her life, they set a goal of raising $10,000 to help fuel research in rare and hard-to-treat cancers.
They quickly realized just how much Devi meant to everyone as donations rolled in to an incredible $30,000. "We had this wave of purple, and people just opened up their pockets in support of Devi" says her brother, Kevin Koonar, who also ran his first marathon for Devi that year.
Proudly wearing an "I'm Devi" t-shirt, Devi walked the 8 km route with her daughter Rachelle (who carefully kept her mom from instinctively breaking into a jog), her husband Jerry, and her parents (who finished first and fourth in the 75-79 age category.)
In 2016, Team Devi did it again — and were awarded a $500 prize for the largest team (with more than 150 participants) which they added to the $27,000 they raised for the Foundation. It was the last time that Devi would participate, she passed away just eight months later.
"My mom lived her life to the fullest. She had the ability to light up any room she stepped foot in. She was always the one to laugh the hardest at her own jokes. To be around that energy and be with her while she battled cancer was one of the most inspiring things I've ever seen."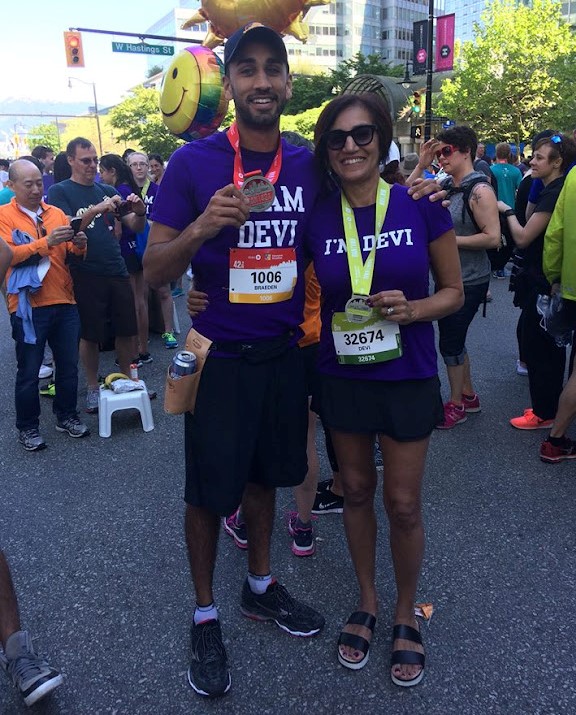 Devi celebrates with Braeden at the finish line after he ran his first marathon.
Braeden drew on that strength — and the fact that he never felt more connected to his mom than while out on a long run — and trained even harder for the 2017 marathon. It was only his third marathon ever, and the first in which his mom wouldn't be there to cheer him on. He finished in record time.
"My mom lived a life that prioritized health and happiness," says Braeden. "She saw exercise as a privilege. She inspired so many of us to be active, and most importantly, to enjoy the journey."
From her students to her running trainees, Devi found joy in helping others. When she had to give up running, she found purpose in philanthropy — and her legacy lives on in all those who were inspired to follow in her footsteps, doing good by doing something that she loved.
In 2017, Braeden launched Purpose Smoothie Co, inspired by the purpose-driven life of his mother. Last year, the company was voted as Richmond's Best Health Food Store, and now it offers delivery of delicious and nutritious blend-at-home smoothies, frozen soups, supplements and tea to 10 cities in the Lower Mainland.
(Join the movement by entering the code TEAMDEVI at checkout and 20% of your purchase until May 7 will be donated to the Team Devi fundraiser at the BC Cancer Foundation.)
Donate to Team Devi today to help fuel cancer research and improve outcomes for the 80,000 people in our province facing cancer or sign up for the BMO Vancouver Marathon RUN4HOPE to raise funds for the BC Cancer Foundation in honour of someone you love.