Nom de Cure: Getting Creative for Better Cancer Outcomes
Some Tour de Cure teams ride under the rock solid namesakes RBC, Raymond James, KMPG and the many other corporations who champion our cause. Though presenting sponsor Wheaton Precious Metals does go by the double entendre Silver Bullets.
Others use a clever play on words, such as the BC Cancer clinicians who call themselves Shift Happens. And Rock the $#@! Out Of Cancer — well, not all names are quite so self-explanatory. We asked some of the more ambiguous sounding teams for the special meanings behind their monikers.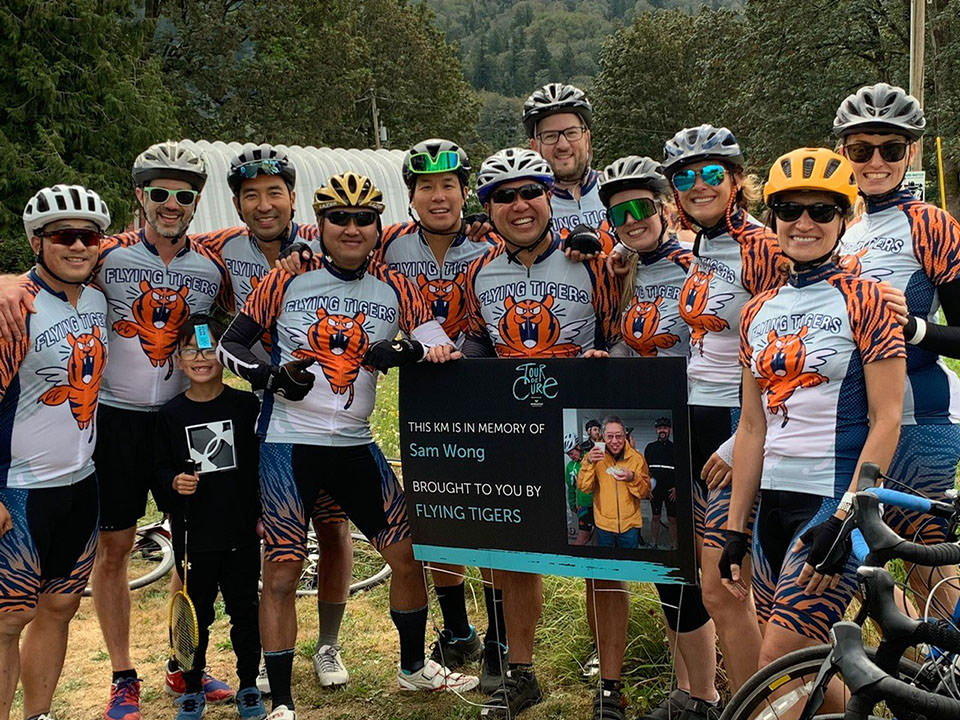 Flying Tigers
"Growing up we would go on long family road trips. My dad had a CB radio and, I have no idea why but, 'Flying Tiger' was his handle name," recalls Derek Wong, who as a former producer rode with the CTV team for nine years, helping them raise over $1.5 million.
Tradition had it Derek's dad Sam would get up at 5 a.m. every year to drive him to the start line, charm his way into scoring the free breakfast that was reserved for riders, and then be there at the finish line, ringing his cow bell with a huge smile on his face.
A month before the Tour de Cure in 2021, Sam passed away from lung cancer. Derek says riding without his dad cheering him on that year was one of the hardest things he's ever done. Last year, Derek donned tiger-striped spandex to ensure a piece of Sam's huge personality was with him on the ride — and at all the snack stops en route — and led the Flying Tigers to raise an incredible $46,000 in their inaugural year.
The Dandelions ride for all the fierce flowers who are facing cancer.
The Dandelions
"Don't be an orchid or a hothouse flower. You want to be a tough flower, like a dandelion. You want to be resilient, and be the flower that keeps coming back, no matter what," — was the advice that Donna Brooks' friend, and fellow nurse, Deb gave to a patient struggling to get through chemotherapy.
Donna lost her sister, her mom and several other strong women in her life, including Deb, to cancer. But she never forgot those wise words. "We can't always control what happens to us, but we can control how we handle it," she says of Deb's kindness and compassion despite her own health challenges.
After riding solo in the Tour de Cure last year, Donna, her daughter and several friends have joined up to ride on behalf of all these irrepressible women who learned to live in the moment because their future was uncertain. Like the wildflower, they kept showing up — for each other and for their families — while also facing cancer, says Donna. "This year, we're riding for all the dandelions."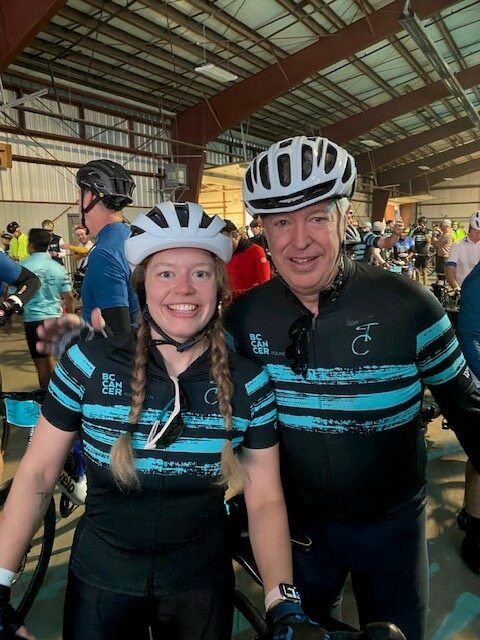 This year Bob Wickett and his daughter Alexandra will be wearing team jerseys that very clearly state that mushrooms are not welcome.
No Mushrooms for Me
"My wife Sheila detested mushrooms.  She couldn't eat them, or even look at them. If we were in a restaurant she always told the wait staff, 'Whatever you do, no mushrooms for me.'"
Even her email address was nomushroomsforme@gmail.com, says team captain Bob Wickett. "Her dislike was known to all, and there were many memes and jokes among our family and friends about mushrooms.
Sheila passed away from metastatic breast cancer in 2016, and Bob has ridden to raise funds for cancer research in her honour every year since. This year, he and his daughter Alexandra are ensuring their team aligns even more closely with Sheila's ardent "morels" that all fungi stay as far away as possible by riding in bright yellow jerseys featuring a large toadstool with the universal "no" symbol stamped on it.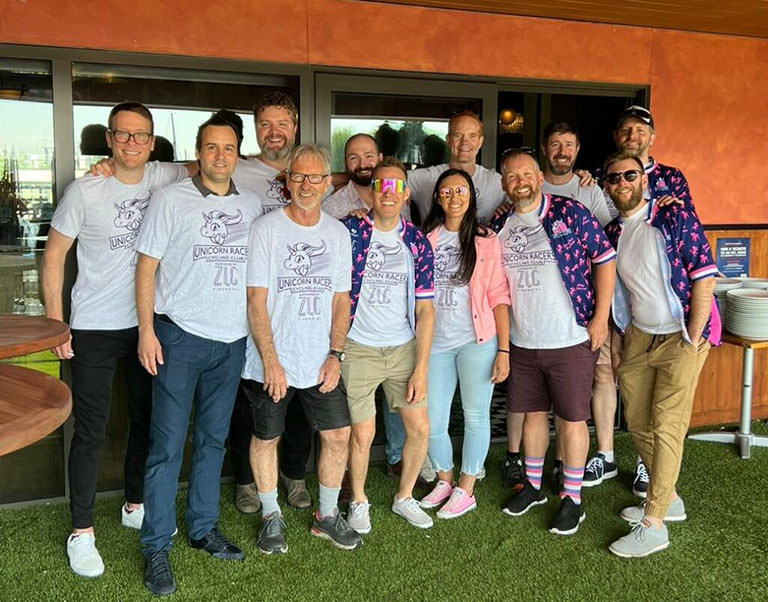 The Unicorn Racers' name was inspired by one special little girl.
Unicorn Racers  
"Unicorn is in honour of all the special, one-of-a-kind people who we've lost to cancer," says team captain Damian Pearson, including Unicorn Racer's co-captain Adam Radziminski's daughter Emma. "She was our inspiration. Before she was taken from us at 5 years old, she was a funny little girl who loved to ride her bike wearing a unicorn helmet."
Emma didn't call it 'The Ride to Conquer Cancer' before it became the Tour de Cure, says Damian. "She called it the 'Race for No More Chemo. And it is a race. A race to find treatment that will stop this brutal disease from stealing our unicorns from us."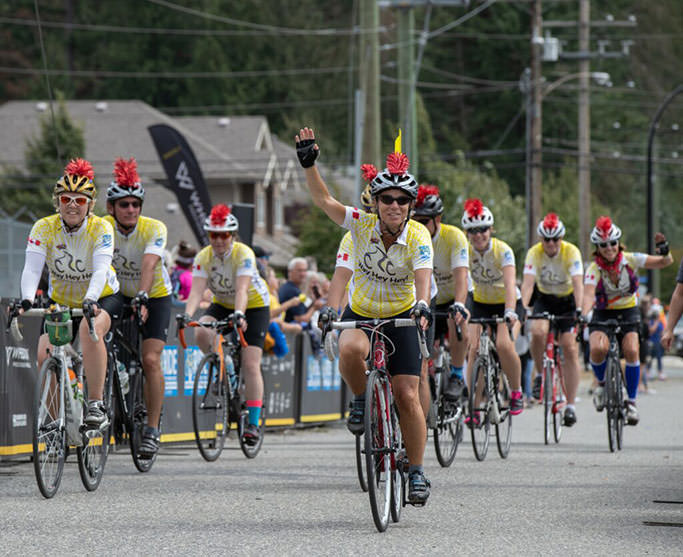 Selina Robinson rides with Way Hey Hey! and their signature red pom-poms.
Way Hey Hey!
Self-proclaimed Great Big Sea "groupies," NDP Cabinet Minister Selina Robinson and her husband Dan have lost count of the number of times they've seen the Newfoundland band.
Their song Ordinary Day and its uplifting lyrics — "Way-hey-hey, it's just an ordinary day, and it's all your state of mind. At the end of the day, you've just got to say it's all right," — became an anthem of optimism during Selina's cancer diagnosis in 2006.
Unfortunately, after stopping a daily chemotherapy pill that kept her free from the disease for 17 years, Selina recently found out her cancer has returned. Back on treatment, her tumour is shrinking and Selina is confident their favourite song, their Tour de Cure family, and BC Cancer — which Way Hey Hey! has raised $800,000 to support — will have them riding on for many more ordinary days to come.
The Tour de Cure, presented by Wheaton Precious Metals, is B.C.'s largest cycling fundraiser powering leading cancer care innovation across the province through the BC Cancer Foundation.  Sign up to ride or volunteer this Aug. 26-27, or donate to fuel a participant or team at tourdecure.ca