/
/
/
Oncogene-targeted T cell therapy will bring new hope to lymphoma patients
Oncogene-targeted T cell therapy will bring new hope to lymphoma patients
VICTORIA – At BC Cancer – Victoria, researchers are working on a world-first approach to Adoptive T Cell Therapy that may open new avenues for the future treatment of lymphoma.
The innovative approach is called Oncogene-targeted T cell therapy, where patients are infused with T cells that recognize the very mutations that drive a cancerous tumour's growth.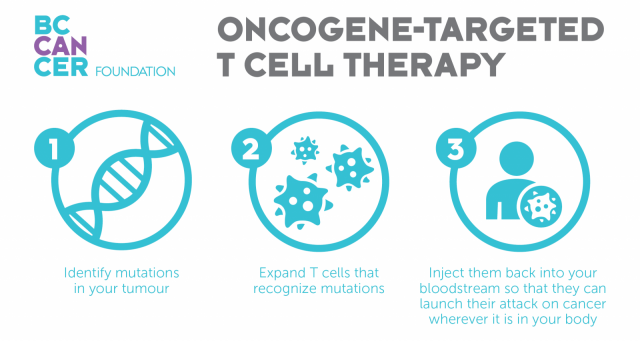 BC Cancer researchers, led by staff scientist Dr. Julie Nielsen, have shown that a subset of lymphoma patients have T cells in their blood that can detect mutant oncogenes found in their cancer cells. These T cells are found in very low numbers in patients, but can be isolated from blood and expanded to very large numbers (tens of billions) in the lab. This opens the possibility of giving patients infusions of oncogene-targeted T cells that can seek and destroy tumour cells throughout the body. By targeting the very oncogenes that drive the growth of cancer cells, T cells will in essence be 'hitting tumours where they live'.
Oncogenes are essential for cancer survival; thus, targeting them is expected to be particularly effective, Nielsen says.
"Using T cells allows us to personalize therapy for individual patients, so we can give them a therapy that we expect to be more effective at eliminating their specific cancer," she says.
The world's first clinical trial of this approach is expected to take place at BC Cancer within the next few years, and Nielsen applauds BC Cancer Foundation donors for their hand in making the innovative research a reality.
"Donors have made tremendous contributions to this – we initially started our research to develop immunotherapy because of donations to the Foundation," Dr. Nielsen says. "Now our understanding of how the immune system responds to cancer is making it possible for us to devise innovative therapies that we couldn't even dream of in the past."
Like CD19 CAR-T cell therapy (where T cells are engineered to recognize a molecule called CD19), this approach is another step forward in providing a precise and powerful way to target cancer cells. Currently CD19 CAR-T cells can only be used to treat lymphomas and leukemias that express CD19; therefore, oncogene-targeted T cell therapy was developed as an approach that can be more widely applied.
For media enquiries, please contact:
Melissa Rottare
BC Cancer Foundation, Communications Coordinator
melissa.rottare@bccancer.bc.ca
D: 604.707.5900 ext 674834
bccancerfoundation.com