Hello,
My name is Dr. Allan Hovan. I'm the provincial practice leader for oral oncology/dentistry at BC Cancer, a position I've held for the past 15 years. I also serve as the president of the International Society of Oral Oncology.
As part of my role at BC Cancer, I oversee oral care for cancer patients across the province, as well as spearhead new research to push the dial for treatment.
It's a rewarding role that is very patient-focused. Every day I see the extraordinary difference our staff makes in the lives of those affected by this disease.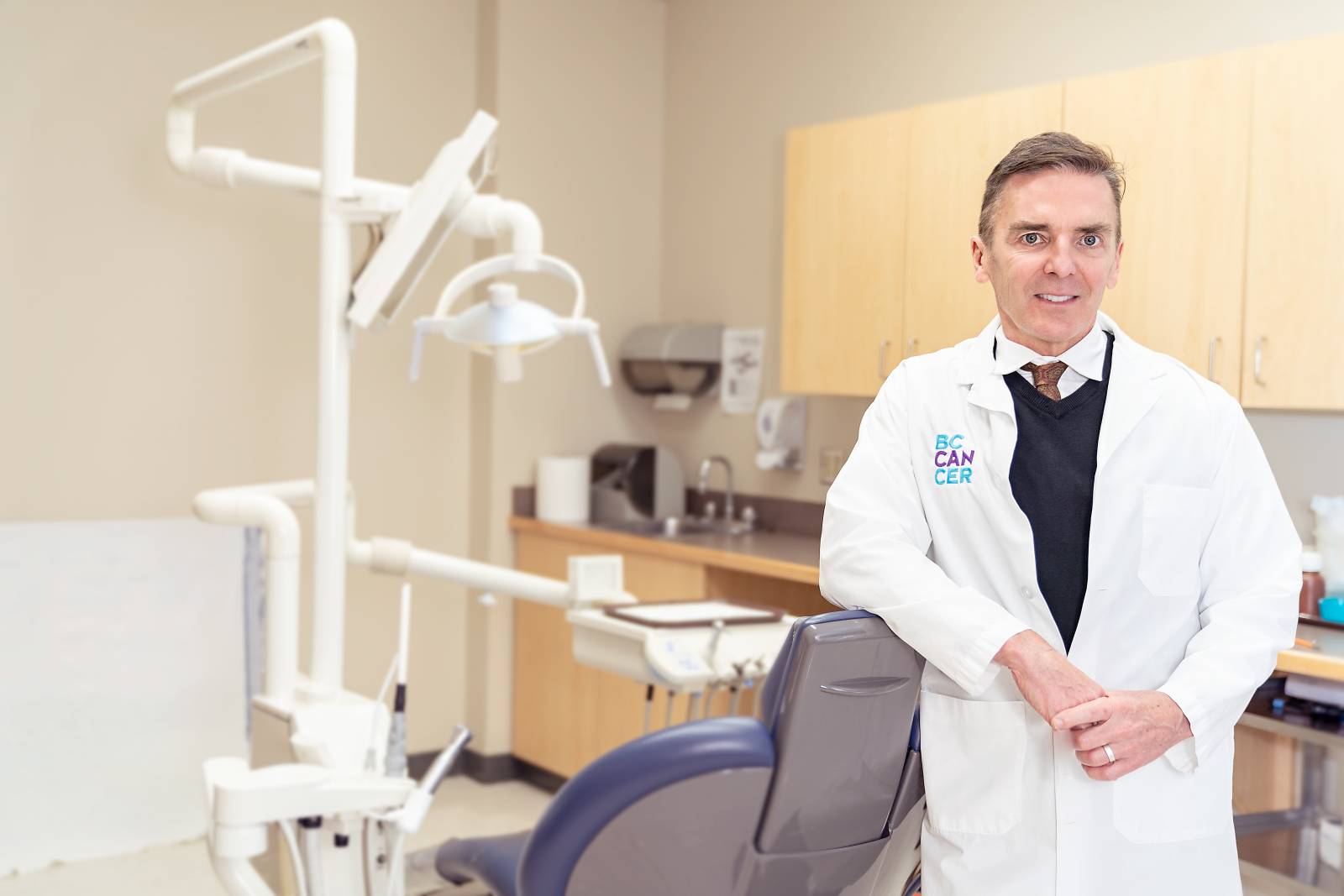 I hope to share with you a little more about our latest research and efforts to expand oral care to other regions in British Columbia.
 My journey to BC Cancer 
First, I would like to share a little more about my journey to BC Cancer and why I love the work that I do.
I grew up in White Rock, British Columbia. After I graduated from high school, I attended dental school at the University of British Columbia, and then started a dental practice shortly afterwards in White Rock.
After a few years, I went on to take specialty training at the University of Washington in Oral Medicine, and then became the regional practice leader for Oral Oncology/Dentistry upon the opening of the BC Cancer – Surrey Centre in 1995.
 Why I love dentistry
I originally chose a career in dentistry because my dad wanted to be a medical doctor and I did everything he didn't want me to do.
In all seriousness, I never thought of pursuing dentistry initially as a career. But when I was a wide-eyed undergraduate student, I connected with a dentist in White Rock and was inspired by his enthusiasm for his work.  I finally had found something of interest to me.
I realized it might be something I would like. I came home from that appointment and applied to the University of British Columbia, having only 10 days to get all my references and transcripts in.
By the time I got accepted, I had forgotten I had applied. But it all worked out well in the end.
Why I love BC Cancer
I love working here. I find the culture at BC Cancer to be exceptional. It's very patient-focused and collegial and we have great staff that cares about patients.
Often, when I'm at a party and I say what I do, people say that it must be depressing working with cancer patients. But it's actually the opposite.
Patients are so appreciative of what we do. They inspire me every day at BC Cancer.
 Appreciating the patient perspective 
I know most of us at BC Cancer find the work to be incredibly rewarding.
The patients are remarkably appreciative and brave.
As I get older, I look at these patients and hope that I can be as positive and hopeful as they are if I am ever affected by this disease. Often, their quality of life is severely impacted, yet they remain kind and resilient.
It's these patients that inspire me in my role, and motivate me to do my best work.
The need for more dental care
For many undergoing treatment, dental problems emerge that must be addressed by an oral oncology expert.
Currently, 40% of patients seen by BC Cancer – Surrey's oral oncology team come from the eastern Fraser Valley. Commuting a long distance for care takes a significant emotional and physical toll, yet many patients need to make the journey to access these vital services. As a result, BC Cancer – Surrey's oral oncology service is rapidly reaching capacity.
To meet this need, we're building a dental clinic at BC Cancer – Abbotsford that will provide:
higher quality care
care closer to home
integrated oral cancer care
Our team is excited and encouraged by this expansion of services as they'll have a significant impact on patients across the Fraser Valley.
Thanks for reading,
Allan