Planting seeds for future researchers
Last week I introduced some exciting, innovative work we are doing at the BC Cancer Agency – Southern Interior on permanent breast seed implant treatments for breast cancer. Today, I'd like to talk a bit about the vital importance of young physics trainees in pushing forward new treatments.
Engaging bright, young physics trainees is, for me, one of the true joys of my work. I do this through my involvement in the Medical Physics Graduate Programs at the University of Victoria and now at UBC – Okanagan, and in my role at the BC Cancer Agency as Director of our provincial Medical Physics Residency Program.
These programs are key stepping stones for young people aspiring to work as medical physicists in cancer centres.
To become a medical physicist, students pursue a Master's Degree in Science, and most often a PhD, with specialization in Medical Physics. They then learn the ropes of clinical medical physics in a formal two year residency program at a hospital or cancer centre. It is a long road. I turn my kids all bug-eyed by framing this in a way they can understand—that I completed grade 25! Let me tell you that when you are in grades one and three this sounds pretty crazy. But it is a wonderful, interesting road and I now derive much pleasure from mentoring bright, energetic students in the journey to becoming a clinical medical physicist.
One such student is Dan Morton. Dan is a PhD student at the University of Victoria who is undertaking his research project with us as part of the Brachytherapy Innovation Team. I cannot stress enough how impactful Dan's presence in our group is in moving innovation forward.
Imagine having a smart, keen, energetic student dedicated full time to developing the future of, in our case, breast cancer treatment? How awesome is that? And guess who made this possible? Donors! Dan is fully supported in his work by donors to the BC Cancer Foundation. So, thank you. With your support Dan's progress has been significant. He has already published his work in a premier journal, the International Journal of Radiation Oncology, Biology and Physics and has presented at major conferences both nationally and internationally, all with immense gratitude to BC Cancer Foundation donors.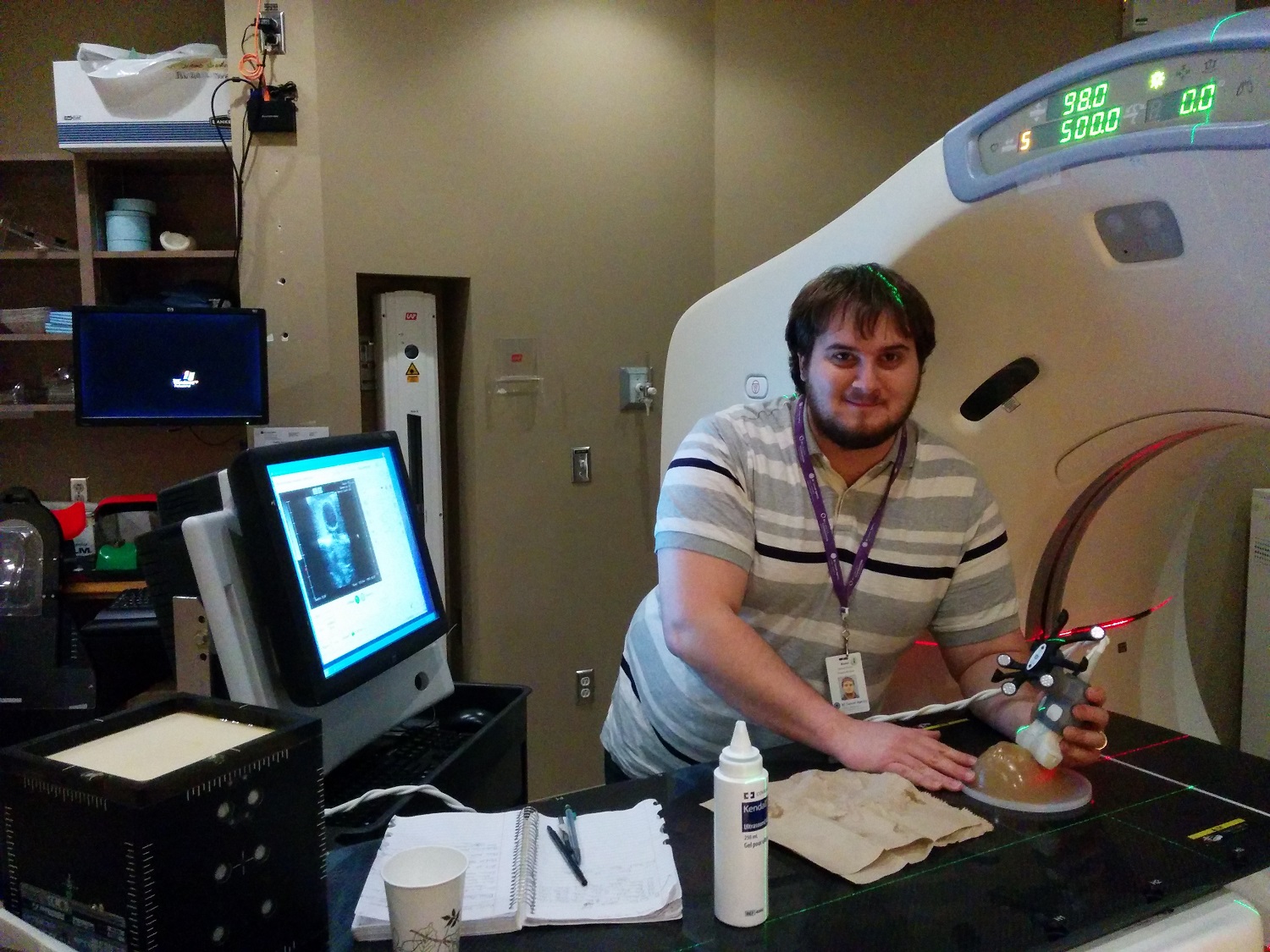 And this is just the tip of the iceberg. Dan's current work is focused on developing a three-dimensional ultrasound system that will allow us to pin point seed positions in the breast while in the operating room. Our hope is that this system will revolutionize the breast seed implant technique to really enable us to expand this treatment, so more women across Canada and the world can benefit. It is a lofty goal, but with the continued support of donors we believe we can get there. We are on our way already!
So, thank you for investing in medical physics graduate students. They are our future.
Michelle