Progress underway for pancreatic cancer in British Columbia
Hello – My name is Carolyn Hoeschen, and I'm a nurse practitioner at BC Cancer – Vancouver, with a focus on patients with pancreatic cancer.
It is a pleasure to be blogging for the BC Cancer Foundation, to share with you the progress we are making in the clinic to advance care for this disease – one of the deadliest cancers facing British Columbians today.
My role as a nurse practitioner allows me to work directly to enhance patient care in collaboration with many health care professionals.
This involves assessment of symptoms from their disease or side effects from chemotherapy, prescribing appropriate treatments, or connecting them with other services or health care professionals for support or medical help.
I also act as a patient advocate and offer continuity of care throughout their cancer journey.
My journey to BC Cancer
I wanted to become a nurse practitioner for the opportunities in advanced practice nursing that it would bring.  My background in nursing includes NICU, communicable disease, and HIV outreach work.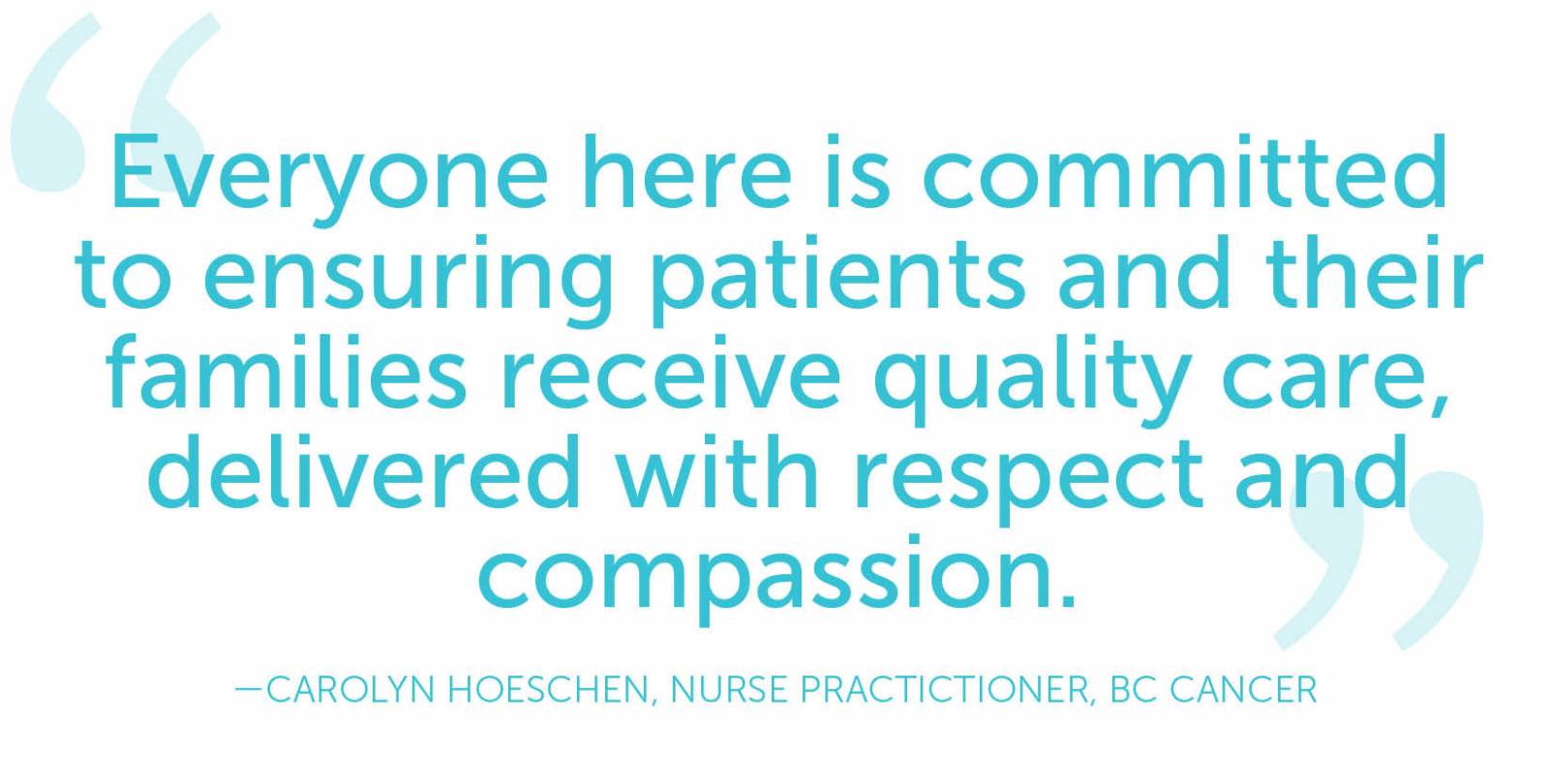 I was working as a nurse practitioner  in primary care when the opportunity came to move into oncology care. I wasn't sure I was ready to enter into a specialty practice, but working at BC Cancer quickly proved to be very rewarding and work that I value very much.
I work with a great team, who are all committed to patient-centred care. Everyone here is committed to ensuring patients and their families receive quality care, delivered with respect and compassion.
Oncology is a very interesting field of health care, and in my role particularly, I am involved with patients and their families to really make a difference through a very difficult time. This is what drives me in my work, day-to-day.
My day to day
My work day varies day to day, depending if I am in clinic or not.  I work with a very specific patient group, only our pancreas patients, and am often the first point of contact available for them or for  other health providers.
The benefit to the patients, I think is that this helps with the continuity of care and consistency for patients.
This flexibility also enables me to follow up with patients between their appointments, to help address any issues that arise and to also offer education in respect to what they can expect during their course of care.
If I am not seeing patients in the clinic, I am being contacted directly by them and their families, family physicians, nurses and other specialists regarding patient concerns or symptom management.
I also am involved in a genomics research project involving serial lab collections and imaging during a patients treatment, coordinate our weekly interdisciplinary rounds and triage our new patient referrals to streamline the referral process, and help identify eligibility for our clinical trials.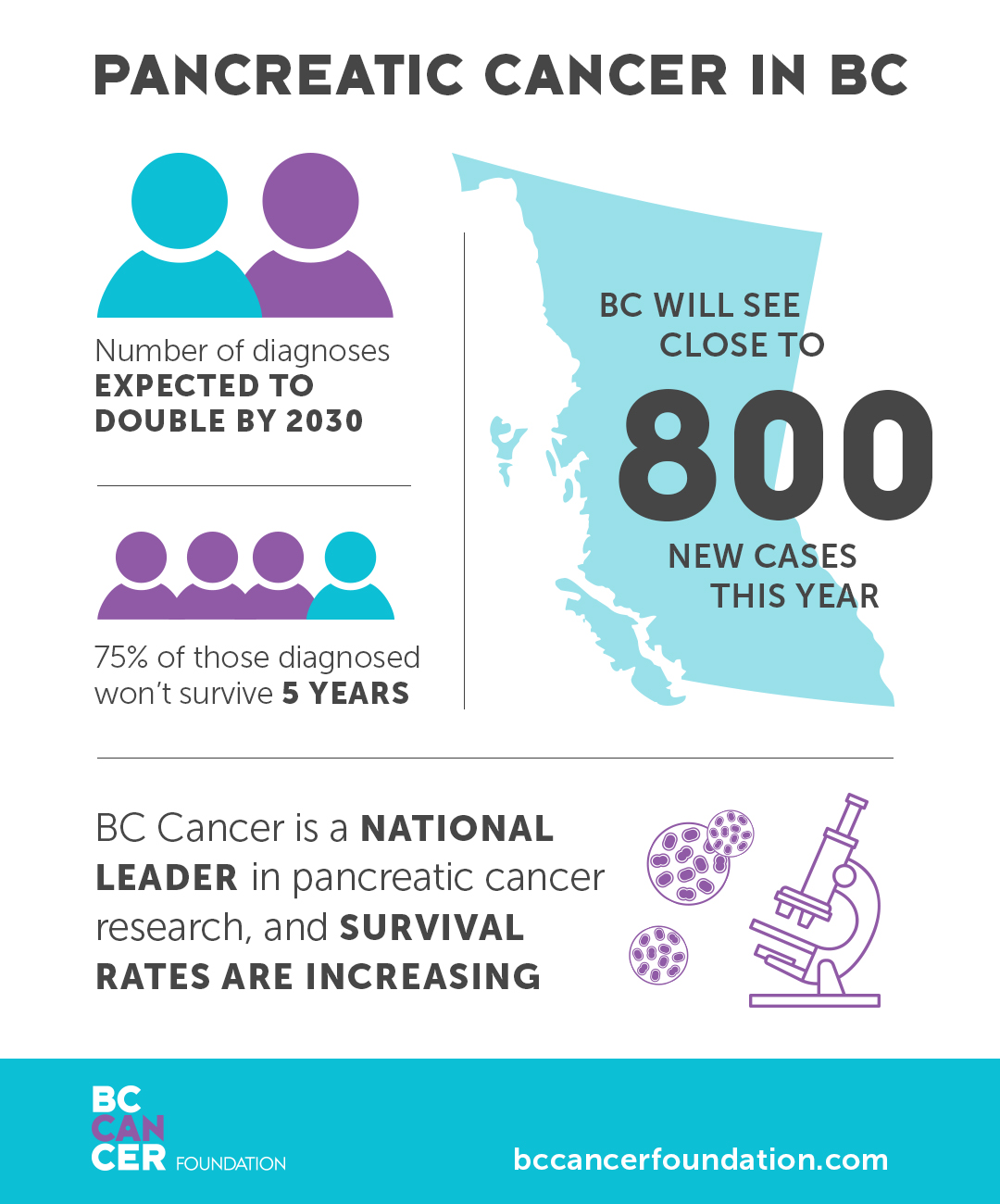 As the time of diagnosis can be an overwhelming and confusing time for patients, I try to contact all new patients before their first appointment, answer any initial questions and hopefully reduce some of their anxiety.
It can be a very stressful time for patients and their families, and being a patient advocate and extra resource for support can make a big impact.
Pancreatic cancer clinical trials
There are some very interesting new studies going on at BC Cancer – Vancouver in areas of clinical treatments, hereditary risks and enhancing our understanding of what drives pancreatic cancers, particularly their genomic makeup.
We have a very dedicated clinical trials department here at BC Cancer, which I am proud to be a part of. These trials hold a lot of promise in their potential to uncover more effective treatments for this disease.
There have also been some new findings from previous trials that show some really positive patient outcomes.
Next week, I will discuss these in more detail.
Thanks for tuning in,
Carolyn