/
/
/
RED FM Gupurab Radiothon raises $710,000 for BC Cancer Foundation and Surrey Hospitals Foundation
RED FM Gupurab Radiothon raises $710,000 for BC Cancer Foundation and Surrey Hospitals Foundation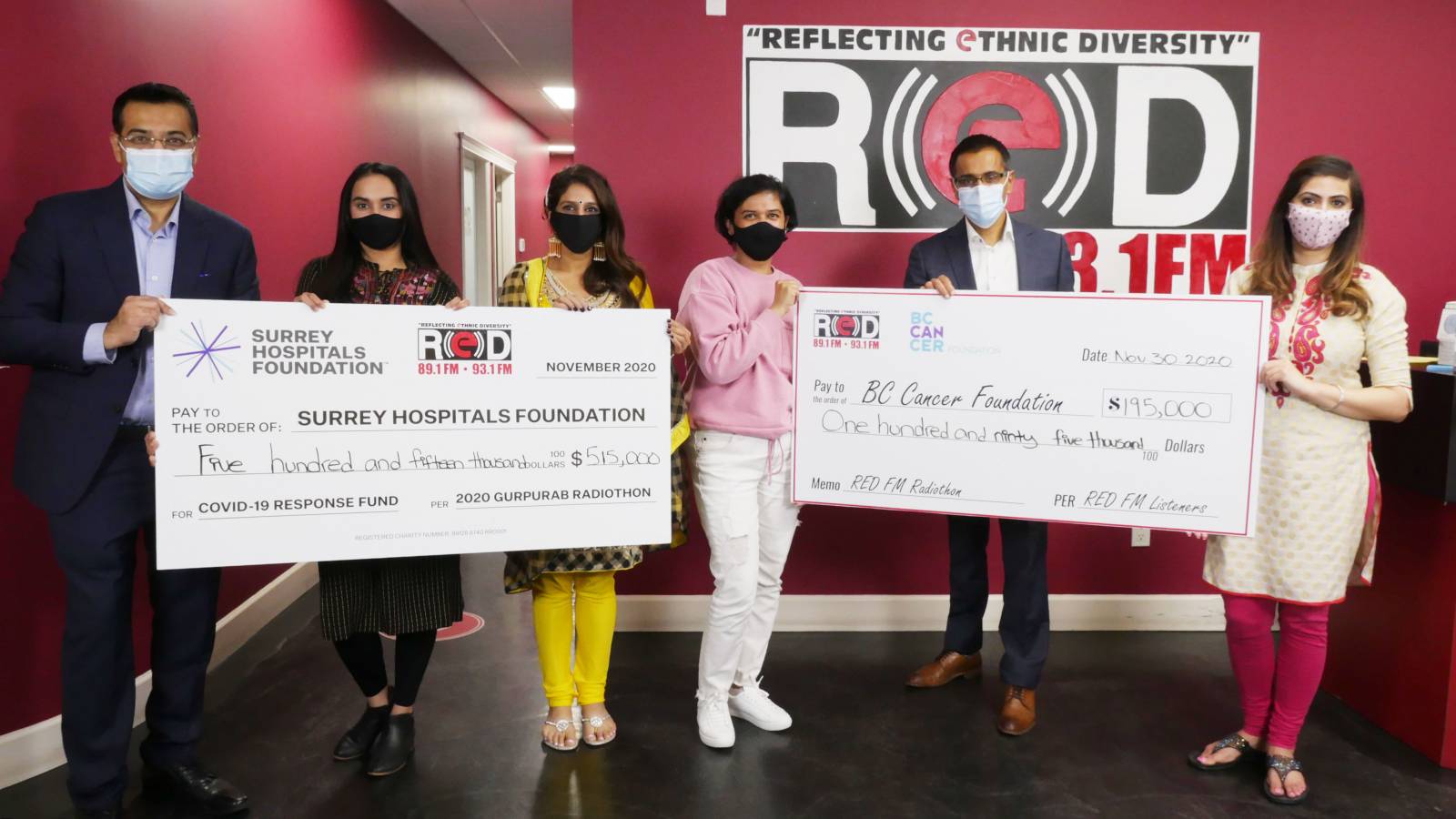 SURREY, B.C. – Thanks to RED FM listeners, an incredible $710,000 was raised for urgent health needs in the Fraser Valley during the Gupurab Radiothon on November 30th. The two-part radiothon benefitted two major B.C. charities: the BC Cancer Foundation and Surrey Hospitals Foundation, with 100 per cent of funds directly supporting each cause.
Thanks to the community's support, funds raised during the morning radiothon portion will support urgent needs at BC Cancer – Surrey, from advancing life-saving treatments at the Dukh Nivaran Pharmacy, to ensuring every patient has safe transportation to medical appointments and delivery of life-saving medication to their homes. These funds will have a direct impact on the lives of individuals facing cancer, which remains the number one health issue facing British Columbians.
BC Cancer estimates that almost 10,000 new cases of cancer will be diagnosed in the Fraser Valley this year. Cases are projected to rise by up to 40 per cent in the next 10-15 years due to our growing and aging population. The Fraser Valley will see the most significant increase in cancer diagnoses in the province with a 65 per cent increase in patients by 2030.
Together, with thanks to RED FM and every radiothon donor, the BC Cancer Foundation and Surrey Hospitals Foundation will make a marked impact on the health of all families in the Fraser Valley region.
"United with Surrey Hospitals Foundation and the extraordinary leadership of RED FM, the BC Cancer Foundation thanks every generous donor from the bottom of our hearts who supported the Gupurab Radiothon," says Sarah Roth, president and CEO, BC Cancer Foundation. "Together, with our incredible community, we are bringing better health to our loved ones facing cancer."
– 30 –
RED FM (CKYE FM) is a high quality South Asian multicultural radio station. Guided by its philosophy "by the community, for the community," RED FM firmly believes in strengthening local health services by galvanizing the community to participate in fundraising Radiothons.
ABOUT THE BC CANCER FOUNDATION
The BC Cancer Foundation is the fundraising partner of BC Cancer. Together with our donors we are changing the outcome for people affected by cancer in B.C. and beyond by connecting personalized care, innovative research and opportunities to contribute. We are the largest funder of cancer in B.C. and every dollar raised stays right here at BC Cancer to advance research, enhance care and break down cancer to benefit the people of B.C.
For media enquiries, please contact:
Hayley Judge
Senior marketing & communications specialist
BC Cancer Foundation
hayley.judge@bccancer.bc.ca
604-764-0666