Remembering Sindi Hawkins
As you may have heard, yesterday we lost our dear friend Sindi Hawkins.
Sindi was a champion, an ambassador and a leading light for the BC Cancer Foundation and for the cancer cause. Without a doubt, Sindi made a difference in the lives of many cancer patients and their families.
Sindi became a cancer advocate and fundraiser long before her own diagnosis with the disease. She created the Sindi Hawkins and Friends Charity Golf Tournament to help fund the opening of the BC Cancer Agency's Centre for the Southern Interior – which has now been re-named in her honour. She helped fund the first-ever bone marrow transplant outreach clinic in North America, as well as the Kelowna Hospice. And she was instrumental in bringing Lance Armstrong to B.C. in 2007 to lead the Foundation's Tour of Courage – a $1.8 million fundraiser for blood cancer research.
Most recently, she formed the Sindi Hawkins and Friends Educational Endowment Fund, which will bring leading cancer researchers and experts to Kelowna to share their knowledge with the medical community, patients and the public.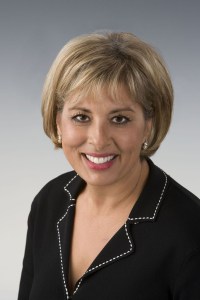 Sindi Hawkins (1958 – 2010)
In all, Sindi helped raise nearly $3 million for the BC Cancer Foundation and over $20 million for cancer research and care in B.C.
She has left an incredible legacy to all British Columbians, and especially to those in the Southern Interior.
Our thoughts and prayers are with Sindi's family at this time. We will miss her.
Regards,
Doug