The weather was perfect Saturday night for our fifth annual Underwear Affair where 925 participants raised $552,500 for cancers below the waist, such as prostate, colorectal, uterine and ovarian cancers, among others.
But those of you who have participated in the Underwear Affair know that the fundraising is only half of it – because you all put so much work into your outfits for the evening.
In fact, I was amazed at just how daring some of the costumes were (i.e. the guy in the "Borat" bathing suit). I can't imagine running 10 km in that!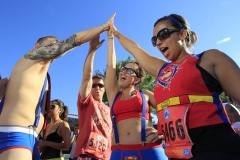 Thank you to everyone who participated, donated and volunteered. This event raises much-needed funds and awareness for cancers that aren't always easy to talk about, and so don't always get a lot of attention.
But, below the waist cancers account for 42 per cent of all cancers. So there's clearly a need to understand more and to find better ways to treat them.
Click here to watch a CNN iReport and really see what the Underwear Affair is all about.
And you can already sign up to walk 5 km or run 10 km in the 2011 Underwear Affair by clicking here.
Hope to see you there!
Warm regards,
Doug