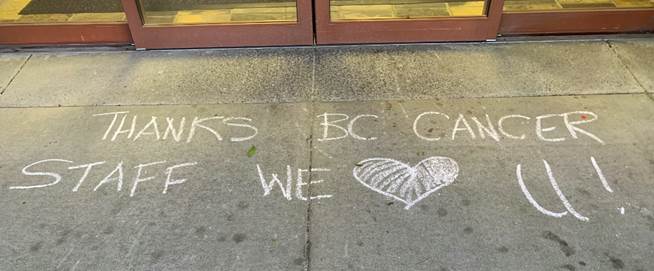 In the wake of current events, we are more inspired than ever by the incredible healthcare heroes at BC Cancer who show up every day to treat patients and save lives in the face of unprecedented challenge. Cancer patients are incredibly vulnerable at this time and our clinicians approach each day with unwavering dedication to deliver critical care to those in need.
"We remain steadfast and stand in solidarity with our healthcare colleagues across the province in our commitment to bring world-leading care to patients in our communities across British Columbia," says Katie Hennessy, Clinical Nurse Leader, BC Cancer – Victoria. "For those facing a cancer diagnosis, the rise of COVID-19 has made a challenging time even more stressful, especially as they navigate through the anxieties that are often brought on by treatment. Our teams want all of our patients to know that we will are here for them no matter the challenge."
The BC Cancer COVID-19 Response Fund
As a response to the rapidly escalating impacts of COVID-19, the BC Cancer Foundation has launched the BC Cancer COVID-19 Response Fund.
This fund supports emerging priority needs including: providing patients with safe transportation to clinical appointments, home delivery of life-saving medication and safe accommodation near a BC Cancer Center for those who are required to travel for appointments.
How you can help
Our community has proven its compassion and dedication to patients and clinicians across the province. We want to continue to provide support for British Columbians facing cancer and our healthcare heroes like Katie.
For those of you who are able, please consider a donation to our COVID-19 Response Fund. Any amount you give will make a difference.
Thank you for your generosity!