This is Personal – Sarah Roth
Sarah Roth, mother, rescue dog owner, '80s music lover, and BC Cancer Foundation President & CEO, shares her passion for philanthropy and fundraising, and some of the amazing scientific breakthroughs she's seen while leading the Foundation, as part of our This is Personal blog series.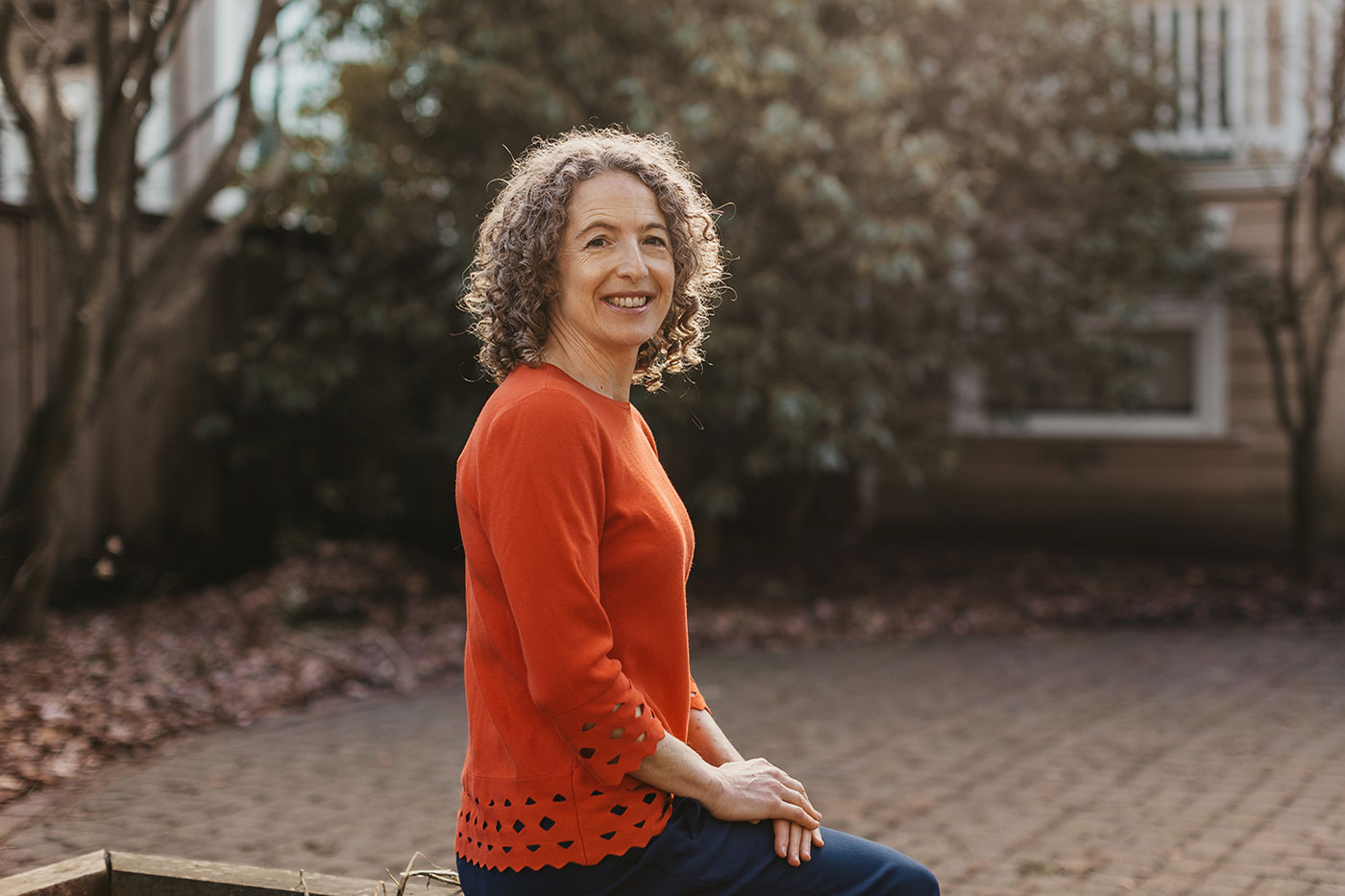 I've spent the last 25 years — almost half my life — in fundraising. I deeply believe that philanthropy is the answer to solving the world's biggest challenges. And right now, the number one health crisis is cancer.
I'm so proud to lead the BC Cancer Foundation, the largest charitable funder of cancer research and treatment in the province, and be part of the solution. It's what gets me up in the morning, keeps me going every day, and motivates me to work harder for every dollar we help raise. I'm inspired by our incredible donors, and it's an honour to help them make an impact.
I often get asked, "Isn't it hard asking people for money all day?" Many are surprised to hear we often don't have to. I have tremendous confidence that for every need or ask we make on behalf of BC Cancer, our generous community will respond.
People believe so deeply in BC Cancer, and its ability to save lives, that they're more than happy to support us. They give out of a gratefulness for their own care, or a loved one's. Or in remembrance of someone they lost, in a selfless hope that for the next person who takes that cancer journey, it will be a different outcome.
Many of our donor's lives have been turned upside down by this disease. Cancer is relentless and causes incredible suffering. BC Cancer Foundation is working hard to change this by funding new cancer centres to serve our growing communities and bring care closer to home. We're investing heavily in groundbreaking research, recruiting best-in-class talent, and bringing state-of-the-art technology to all six current centres.
"Driving my passion for a future free from cancer is the fact that, for me, like most of you, it's personal. I lost both sets of grandparents to this disease, and more recently, just last year, my beloved Aunt Leesa to a fast-moving pancreatic cancer. I do what I do because of my Aunt Leesa, but also for all the people I hear about who are living well with this disease, or are fortunate enough to ring that cancer-free bell. I'm not stopping anytime soon. I doubt I ever will."
In February 2020, I was at an annual donor engagement event. "COVID-19" had just started popping up in conversations. One of the BC Cancer experts in attendance was cautiously optimistic that it would take four years until we saw a vaccine for this still relatively unknown virus. (The last global vaccine effort for the mumps took six years to develop.) In fact, the first frontline worker in Canada rolled up their sleeve just 10 months later.
Science moves fast these days, but cancer is more complicated than COVID-19. Still, the leaps and bounds I've seen at BC Cancer are astounding. And so much of that has to do with research.
A few of the breakthroughs I've witnessed include: the largest knowledge advancement in testicular cancer in 25 years; a key finding that could lead to harnessing the body's own immune system to fight ovarian cancer; and a new way of treating prostate cancer, which improves survival rates in metastatic castration-resistant prostate cancer by 38%.
But cancer research is a long haul. Right now some brilliant young person could be choosing their university science courses, or testing out an idea in a BC Cancer lab, that will put them on the path to breaking down cancer. Not every BC Cancer study or clinical trial is successful — but when one bears fruit it has global impact.
Like any startup, these projects require investment. However, research is often not funded by the government, and there are limited grants available. Philanthropy is often the sole source of funding — 80% of BC Cancer Foundation dollars support this crucial research. If you're a cancer patient there's a high likelihood these donor dollars have contributed to your care. Every new life-saving treatment, drug or technology started in a lab.
As we inch closer to — if not the finish line, then a more manageable rest stop — in the COVID-19 marathon, it's time to turn our attention to the ultra-marathon that is cancer. The best way to do this is to donate to the research today, which could turn into the cures of tomorrow.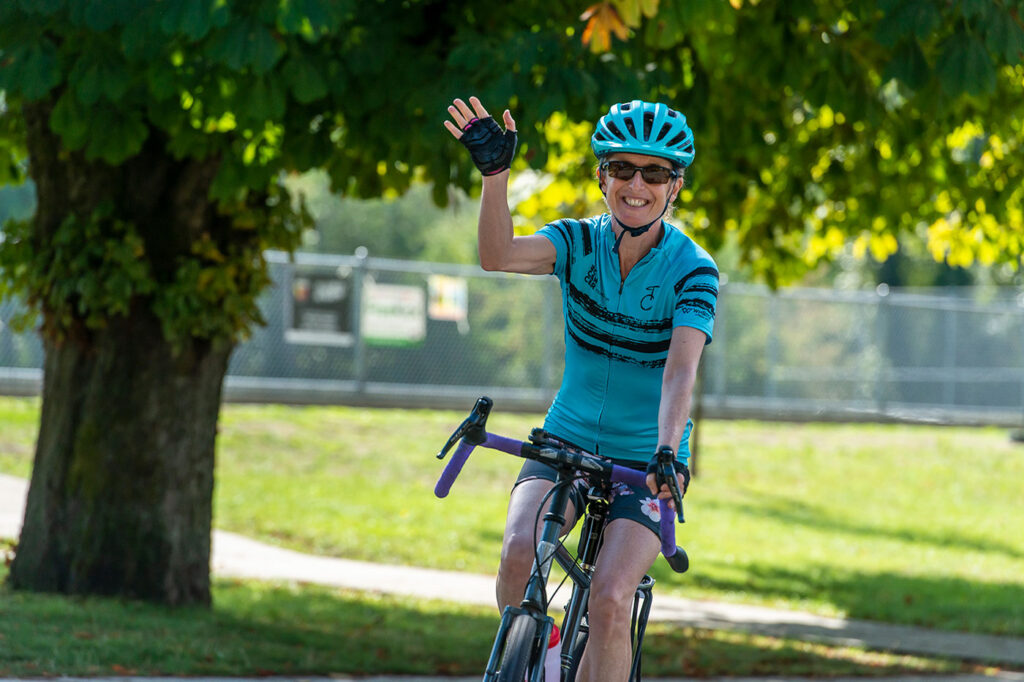 I've had many opportunities to feel touched by what we do. I get to connect with our incredible donor community at donor engagement events, in boardrooms, ballrooms, or even people's homes. But one of the most impactful events for me has been participating in our annual cycling fundraiser, the Tour de Cure.
For me, cycling is good for my physical and mental health and the environment. It's a win-win-win situation. And so, if I can ride my bike and help power life-saving research at BC Cancer, well then, I've hit the jackpot.
Many of our Tour de Cure participants are cancer survivors. Some are barely out of treatment, and yet they somehow find the strength to get on their bikes to make a difference for other people facing cancer. Others ride to celebrate the life of someone they love, or extend the legacy of someone they loved, and lost.
The feeling in the air on ride day as thousands pedal towards a common goal of "kicking cancer to the curb" is indescribable — emotions are so thick they're palpable. People who do the Tour de Cure once almost always come back for more. Some have been riding every year since the inaugural ride in 2008, such as Dr. Kim Chi, BC Cancer's Chief Medical Officer and our own Vice President & Chief Financial Officer, Lou del Gobbo.
It's an honour to take to the saddle with this dedicated group, who have raised over $100 million to fuel advancements in research and care at BC Cancer. After two years of foregoing a group event due to the pandemic, I can't wait to meet up with everyone again in-person this summer.
If cancer has affected someone you love — or you want to improve outcomes for the one in two of us who will one day face this disease — I encourage you to join me on August 27, 2022, when we hope to be back together again, even stronger than before. After all, there's a lot riding on us.
Sign up now at tourdecure.ca.