Tour de Cure: Fundraising with Team Ledcor
In 2017, Team Ledcor was born on a construction site among like-minded employees passionate about giving back to the community. Since their first ride, the team has raised more than $400,000 for the BC Cancer Foundation through the Tour de Cure.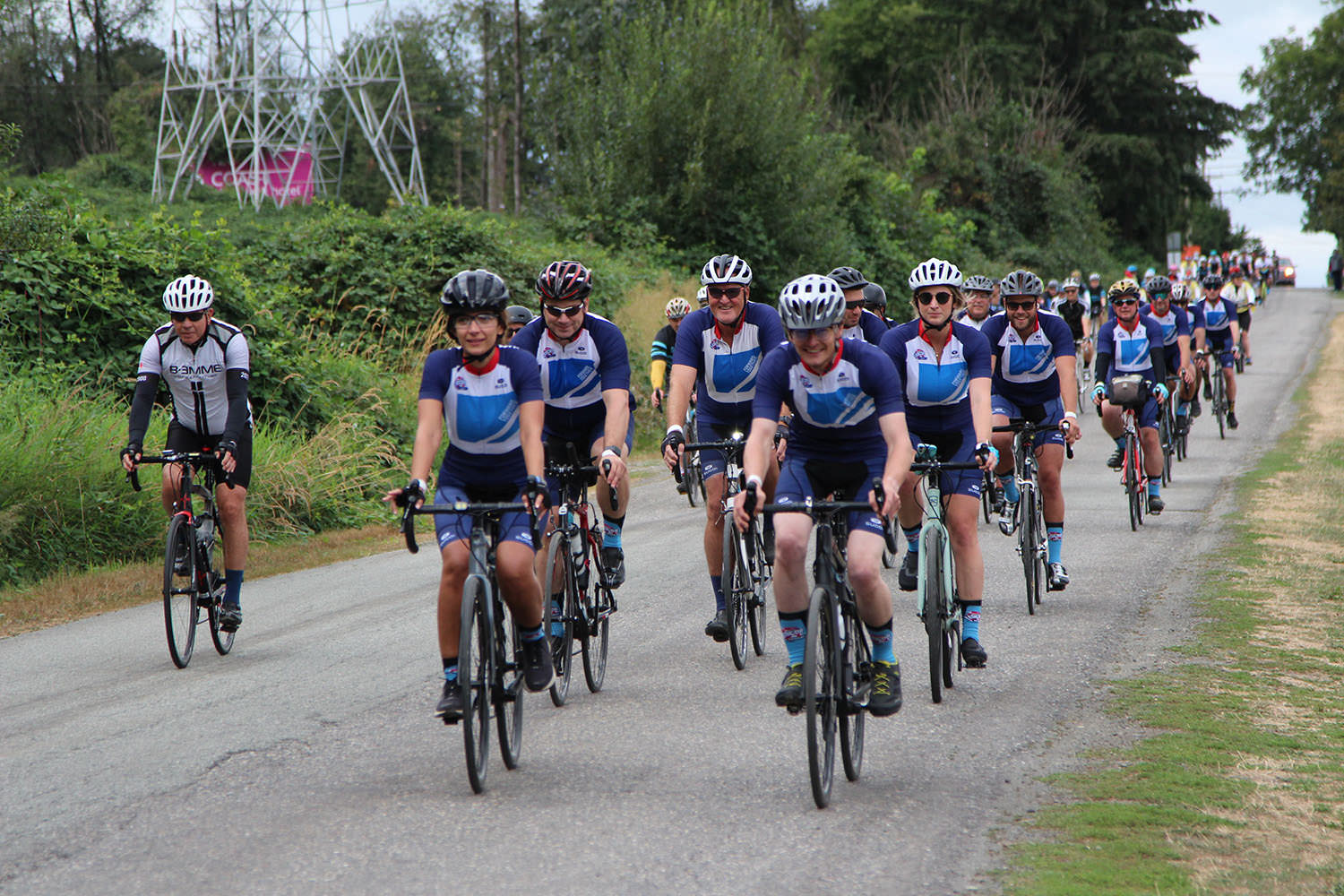 We chatted with a few team members who shared their approach to fundraising and what they're looking forward to during this year's fully supported two-day ride from Cloverdale to Hope. Here's what they had to say:
Have human conversations
We know – the $2,500 fundraising minimum can feel overwhelming. To overcome this, the team's captain, Mike de Jong, encourages riders to talk about their reason for fundraising and remember that a donation is an investment in all our futures.
"When people understand that their donation has a real impact on cancer care in B.C., the conversation shifts," he says. "People begin sharing stories, and that's what this is about – the reason you're riding and the people you're riding for."
It can be tough at first, Mike acknowledges, but once you begin having conversations, there's a good chance you'll go from feeling overwhelmed by the fundraising minimum to overwhelmed by the support you'll receive from your network.
Host a fundraiser
This is something that the team has done each year they've ridden with great success – their 2022 fundraiser raised $15,000!
"We have a great time and give away a lot of prizes which have been generously donated by Ledcor and our clients. The fundraiser is enjoyed by colleagues, friends, and family, all of whom greatly support us along the way," says Erik Standaert, who has ridden with the team since 2021.
Another team member, Andrew Fisher, hosts a BBQ in support of his Tour de Cure ride. "I provide all the food and beverage and charge entry," he says. "People are excited to support the cause and will often double the entry fee."
Ledcor also supports the team's fundraising initiatives through BBQ fundraisers hosted on select project sites for employees, as well as through its donation match program, Ledcor Cares.
Get social
Social media can also be a powerful tool, says Erik, who recalls receiving support "almost immediately" after sharing on social media. When reaching out to your network online, be sure to articulate your reason for riding and fundraising goals.
"It's a bit nerve-wracking at the beginning, but when you have a well-thought-out message coming from a place of love, people are more than happy to support you."
It's a ride, not a race
Looking ahead to this year's two-day ride, the thing Mike most wants riders to remember is that it's a ride, not a race.
"You've been training and fundraising for the past few months, and you're having a great time on the morning of the ride, but then it hits home, and it's emotional," he says.
"This will be my third ride," says Andrew. "Each year, someone close to me had been diagnosed with cancer, so I have a specific person in mind while fundraising and riding."
"The first few times I rode, I wondered if it was enough," Mike shared. "Now I wonder, how do you not come back and do it again next year?"
Tour de Cure presented by Wheaton Precious Metals is B.C.'s biggest cycling fundraiser, powering research through the BC Cancer Foundation. This summer, participants will take on an epic two-day ride from Cloverdale to Hope on August 26-27.