/
/
/
Wedgewood Hotel's Frank Giustra Cooks event raises $247,500 toward brain cancer research and care
Wedgewood Hotel's Frank Giustra Cooks event raises $247,500 toward brain cancer research and care
Vancouver, B.C. – Hosted last evening at Bacchus Restaurant in Vancouver's Wedgewood Hotel & Spa, Frank Giustra Cooks brought together culinary ingenuity and philanthropy to raise a total of $247,500 toward The Eleni Skalbania Fund for Brain Cancer, benefitting the BC Cancer Foundation.
At the sold-out, intimate culinary experience, guests of Frank Giustra Cooks enjoyed a cocktail reception followed by delicious Italian fare prepared by Bacchus' new executive chef, Montgomery Lau, as he teamed up with philanthropist Frank Giustra and Anna Wallner, co-host of The Shopping Bags, Anna & Kristina's Grocery Bag and Anna & Kristina's Beauty Call.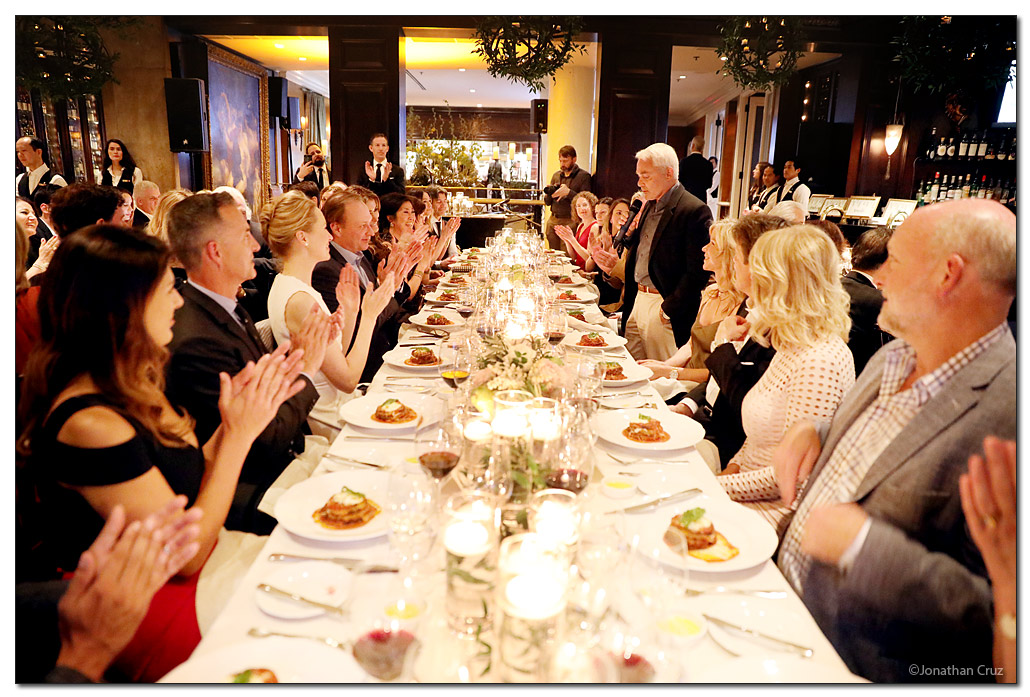 "This event is in honour of my mother, Eleni Skalbania, founder of the Wedgewood Hotel, who was very passionate about cancer research and the quest to find a cure," says Elpie Marinakis Jackson, co-owner and managing director, Wedgewood Hotel & Spa. "We're thrilled to see such a phenomenal trio come together to support such a worthy and important cause that is so close to the Wedgewood family's heart."
Surrounded by a gorgeous Italian-countryside setting and décor, guests witnessed Chef Lau, Frank and Anna collaborate in the kitchen via live video projections before enjoying an exquisite meal. The trio prepared some of Frank's most beloved family recipes, such as "the perfect" eggplant parmesan and chili and olive oil bathed beef tenderloin.
Following dinner, multiple Grammy and Juno-award winner Sarah McLachlan performed a touching show, accompanied by both the piano and ukulele. Three generous guests purchased the evening's big ticket blind auction item – private cooking lessons with Frank Giustra himself – for an amazing total of $90,000. Several guests also generously donated an additional $27,000 toward the cause during the evening.
"We're immensely grateful to the generous guests of Frank Giustra Cooks – your support will bring hope to patients and families right here, in our community, who are bravely facing cancer," says Sarah Roth, president & CEO of the BC Cancer Foundation.
The critical funds raised at Frank Giustra Cooks will help the more than 77,000 British Columbians living with cancer today.
Media enquiries:
Hayley Judge
Communications Specialist
t. 604.707.5907
c. 604.764.0666
e. hayley.judge@bccancer.bc.ca
Joanna Tsaparas-Piché
Director of Sales, Marketing & Public Relations
Wedgewood Hotel and Spa
t: 604.608.5309
e. jtsaparas@wedgewoodhotel.com
-30-
The BC Cancer Foundation is the bridge that connects philanthropic support and research breakthroughs in cancer knowledge.  As the fundraising partner of the BC Cancer Agency and the largest charitable funder of cancer research in this province, we enable donors to make contributions to leading-edge research that has a direct impact on improvements to cancer care for patients in British Columbia. We fund with the goal of finding solutions. Visit www.bccancerfoundation.com to learn how you can make a difference in the lives of those affected by cancer.
The Wedgewood Hotel & Spa is one of the city's top luxury, family-owned boutique hotels, featuring 83 beautifully appointed guestrooms, the award-winning Bacchus Restaurant and Lounge, and a full-service spa. It is also Vancouver's only member of the prestigious Relais & Châteaux Group, a collection of the finest hotels and restaurants around the world. For more information on the hotel, please visit www.wedgewoodhotel.com.