/
/
/
World Pancreatic Cancer Day: Vancouver's Hager Family Donates Record $5 Million to Pancreatic Cancer Research
World Pancreatic Cancer Day: Vancouver's Hager Family Donates Record $5 Million to Pancreatic Cancer Research
This gift is the largest donation to pancreatic cancer research in British Columbia's history
Pancreatic cancer is one of the deadliest forms of cancer with a 10% five-year survival rate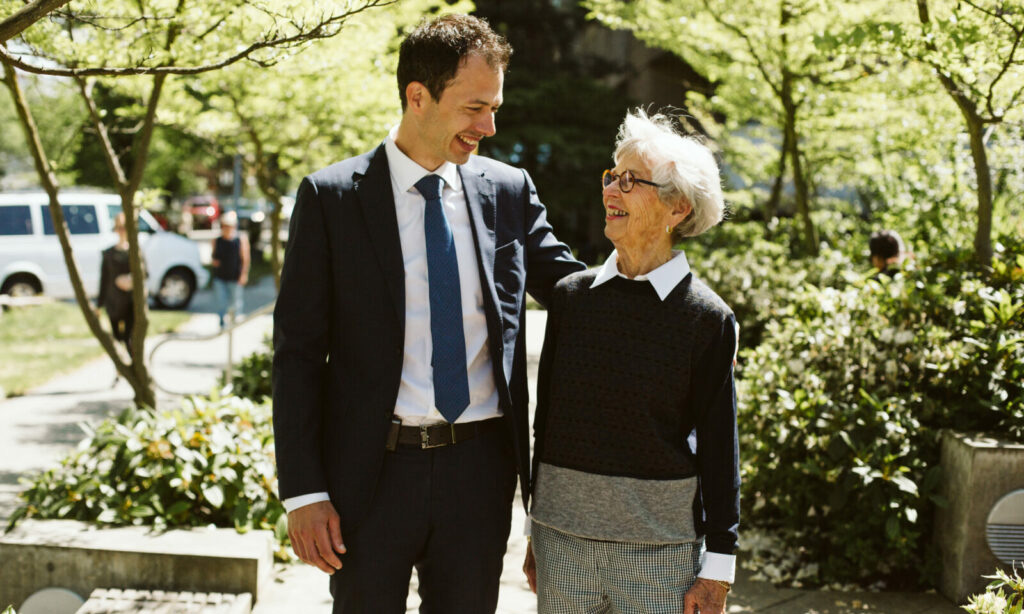 VANCOUVER, November 17, 2022 – BC Cancer Foundation and VGH & UBC Hospital Foundation are honoured to announce a $5 million donation from the Hager family to the organizations' joint pancreatic cancer research initiative, Pancreas Centre BC, in memory of Bob Hager and to celebrate the Centre's 10-year anniversary.
Pancreatic cancer is one of the deadliest forms of cancer – of the 800 British Columbians who will be diagnosed this year only 10% will live for five years. It is currently the fourth leading cause of cancer-related deaths in Canada and projected to be the second leading cause by 2030.
Following Bob Hager's untreatable pancreatic cancer diagnosis in 2011, he brought together a group of experts from BC Cancer and Vancouver Coastal Health (VCH) to identify gaps in research and care. This led to the creation of Pancreas Centre BC – a world-class, multidisciplinary team from BC Cancer and VCH to advance research into earlier diagnosis, clinical trials and treatments. Initial funding was donated by Bob and his partners at Phillips, Hager & North Investment Services.
Bob passed away four months after his diagnosis, but his wife Judy and daughters Leslie Carter and Shelley Ferris are continuing his legacy of changing the future of pancreatic cancer and improving outcomes for patients and their families.
"Bob was determined to set up a pancreatic research and care initiative to help save others from the same hopeless outcome that he knew was his. This donation is building on his work and continuing the hope that a difference can be made for earlier detection and treatments for other patients with pancreatic cancer," said Judy Hager on behalf of the Hager family.
Since Bob's gift a decade ago, survival rates for pancreatic cancer have improved from 6% to 10% through research. Significant improvement in survival rates for certain cancers, such as breast and prostate, have been achieved through research into prevention, earlier detection and diagnosis, and improved treatments. This may be the time to see the same hopeful trends for pancreatic cancer.
"For over a decade, the Hager family has been a tremendous supporter of pancreatic cancer research and we are thankful for their continued support through this generous donation. Philanthropy is key in driving the pace and scope of innovation and breaking down cancer," said Sarah Roth, President & CEO of the BC Cancer Foundation and Angela Chapman, President & CEO, VGH & UBC Hospital Foundation. "In recognition of this generosity and to double its impact, we commit to jointly raising another $5 million to support pancreatic cancer research and care across both organizations."
The Impact of Philanthropy
Over the past decade, philanthropic support has helped fund important progress in research and enhancements to cancer care including, establishing the Centre's Rapid Access Clinic and the Familial Pancreatic Cancer Program, as well as creating a robust biobank to help identify therapeutic targets against pancreatic cancer.
Today's donation will give Pancreas Centre BC the critical resources to:
Expand its team and attract more world-class specialists to drive innovation in early detection and effective treatment
Provide comprehensive genetic testing and expand hereditary testing to catch cancer sooner for those at highest risk
Increase the use of genomic tumour profiling to ensure each patient is matched with the best treatment for their disease
"Pancreatic cancer is frequently not diagnosed until an advanced stage and is often resistant to existing treatments. This support allows us to push further into advances in genetic testing and tumour profiling, and work to improve treatment options for the thousands of British Columbians and Canadians afflicted by pancreatic cancer," said Drs. Dan Renouf and David Schaeffer, Co-Directors, Pancreas Centre BC. "We are immensely grateful to the Hager family for furthering our research and fuelling hope to those facing this disease."
Investing in the Pancreas Centre BC team helps sustain their future work and to further advance the pace and scope of new discoveries. Learn more about how you can join the Hagers and change the future of pancreatic cancer.
-30-
About the BC Cancer Foundation
The BC Cancer Foundation is the fundraising partner of BC Cancer and the largest philanthropic funder of cancer research and care in B.C. Donor support drives leading-edge innovations and helps increase access to treatments across the province – fueling hope for the 80,000 patients who depend on BC Cancer each year.
About VGH & UBC Hospital Foundation
VGH & UBC Hospital Foundation is Vancouver Coastal Health's primary philanthropic partner, raising funds for specialized adult health services and research for all British Columbians. We partner with donors to drive innovation and sustainable health care at VGH, UBC Hospital, GF Strong Rehab Centre, Vancouver Coastal Health Research Institute and Vancouver Community Health Services.
Media Contact:
Colleen Hamilton, Communications Specialist, BC Cancer Foundation, colleen.hamilton@bccancer.bc.ca