Your company can help save lives in British Columbia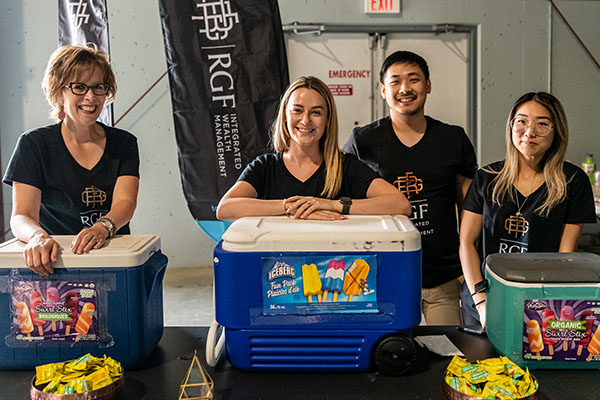 Unite your employees by rallying together to raise funds for the BC Cancer Foundation. No matter the size of your organization, you can make a difference!
For employers, Employee Giving programs are a great way to engage your staff, build community and create goodwill across your organization.
For employees, Employee Giving gives them the chance to make automatic, convenient, tax-receipted gifts through payroll deduction or by cheque or credit card to support a charity that matters to them.
And for the BC Cancer Foundation, Employee Giving means we can rely on consistent and sustainable funding for research and enhancements to patient care, making a real difference for the 30,000 British Columbians who will hear the words "You have cancer," this year.
Ways to Contribute
Payroll Giving
Automated payroll giving through paycheque deductions is an easy way for employees to consistently contribute to the BC Cancer Foundation. A monthly commitment helps us provide regular, reliable support for patients and the BC Cancer researchers, who are working tirelessly to uncover new treatment options.
Matching Programs
Double the impact of your employees by matching their gifts! Matching gifts is a great way to incentivize employees to contribute to a cause they are passionate about. Your company can provide an annual match at a specific time or match all monthly donations given by employees throughout the year.
Host an Event
Whether you are celebrating a company milestone, having a holiday party or just want an excuse to socialize, hosting an event is a great way to raise funds for the BC Cancer Foundation.
Hold an Internal Fundraising Competition
Fundraising competitions are a great way to spread the spirit of giving across your workplace.
Create teams, set a goal, and see the creative ways you and your colleagues can raise funds.
As an incentive, you can offer a prize or set a "task" that the losing team has to complete. We can work with you to create a donation page that gives you real-time updates on who is in the lead.
Participate in a BC Cancer Foundation Event
Rally your colleagues and build a team to participate in one of our signature events.
Find out more at:
Workout to Conquer Cancer
Tour de Cure
Volunteer as a Team
Volunteers are a vital part of our community. Find out how you can give the gift of time.
To learn more about how your donations will be used to support and advance cancer research and care in British Columbia please visit our Why Give page.