For patients with advanced disease, tomorrow is too late. New, cutting-edge treatment solutions for metastatic prostate cancer are on the horizon. ­
BC Cancer Continues To Lead Clinical Trial Research
Prostate cancer is the most common cancer among Canadian men. And while initial treatments are usually successful and five-year survival rates are relatively high, more effective solutions are needed for patients with aggressive sub-types of the disease.
When prostate cancer recurs, physicians are often unable to precisely identify where the new disease is located. This leaves two treatment options: therapies that target the whole prostate, or androgen deprivation therapy that reduces the level of androgen hormones (such as testosterone), which prostate cancer cells use to grow.
BC Cancer is home to a diverse team of highly skilled specialists, including medical oncologist Dr. Kim N. Chi, Vice-President and Chief Medical Officer, and nuclear medicine physician Dr. François Bénard, vice-president of research at BC Cancer and scientific director at the Centre of Excellence for Functional Cancer Imaging.
In less than two decades, Dr. Chi has become a leading expert in prostate cancer research, receiving international recognition for his contributions to the field. Dr. Bénard, an expert in medical imaging and radiopharmaceutical development, made headlines in 2015 when he and his colleagues at UBC devised a safer, cleaner, less expensive source of medical isotopes.
Donor support has enabled researchers to continue accelerating clinically relevant discoveries.
Part of Dr. Chi's focus of research is developing novel approaches for the treatment of metastatic castration-resistant prostate cancer (m-CRPC). This is a type of prostate cancer that has spread and is not responding to drug and other treatments used to lower androgen hormones.
Dr. Chi discovered that cancer-derived DNA can be found in the blood of men with m-CRPC, and can be isolated and sequenced to reveal important information about their cancer. This information has the potential to determine prognosis and guide treatment decisions.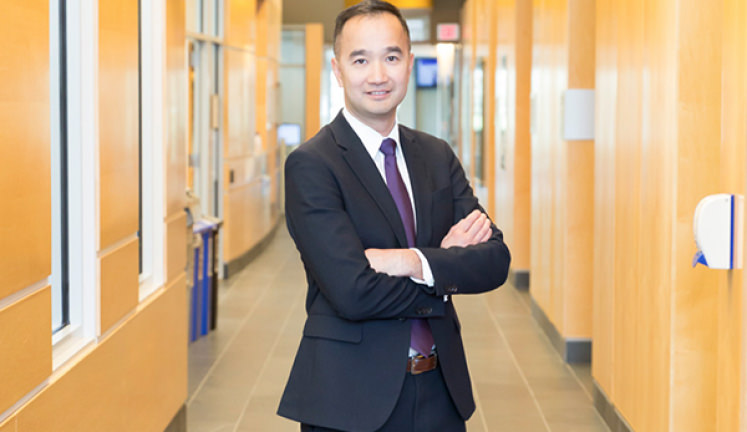 "Being able to communicate our research vision, where we need to be and what we can do to get there, and then have someone have the belief and commitment to invest in that future, is extremely inspiring and motivating. It makes it very personal for me. "
Dr. Kim N. Chi
Increasing Prostate Cancer Survival Through Imaging
Prostate-specific membrane antigen, known as PSMA, is a protein that is overexpressed in prostate cancer. Typically, aggressive types of prostate cancer express greater quantities of PSMA at the surface of cancer cells.
PSMA can only be identified by a special radiotracer via a PET/CT scan.
These scans can:
help pinpoint the location of prostate cancer;
determine if the patient is a good candidate for surgery, precision radiation therapy or new, targeted drug treatments;
detect if the cancer has spread at the time of diagnosis, prior to surgery;
show the specific site of relapse when a blood test indicates there is a recurrence;
potentially replace bone scans and other procedures currently used for staging and monitoring the disease.
Although PSMA scans are common in countries around the world, only three or four Canadian cities currently have access to PSMA scans, and usually in the context of a study. BC Cancer's current standard of care to look for the spread of prostate cancer is via CT scans and bone scans, which miss spread up to 25 per cent of the time in men with high-risk disease.
BC Cancer's team of scientists has produced a potent PSMA imaging agent. A clinical trial currently underway to test this agent has shown remarkable results: among 776 participants scanned to date, the scans changed the management plan in 87.3% of cases and improved clinical decision making in 89.1% of cases.
Right now, PSMA scans are only available at BC Cancer – Vancouver, where the PET/CT scanners are in high demand.
PSMA trial scans are limited to one day per week with only seven spots available, meaning trial participants wait an average of seven to nine months for a scan. This must change.