/
/
/
$100,000 donation expands life-saving Precision Radiation Therapy in Northern B.C.
$100,000 donation expands life-saving Precision Radiation Therapy in Northern B.C.
BC Cancer Foundation's historic $1.75-million campaign aims to increase access to precision radiotherapy care and research for cancer patients in the North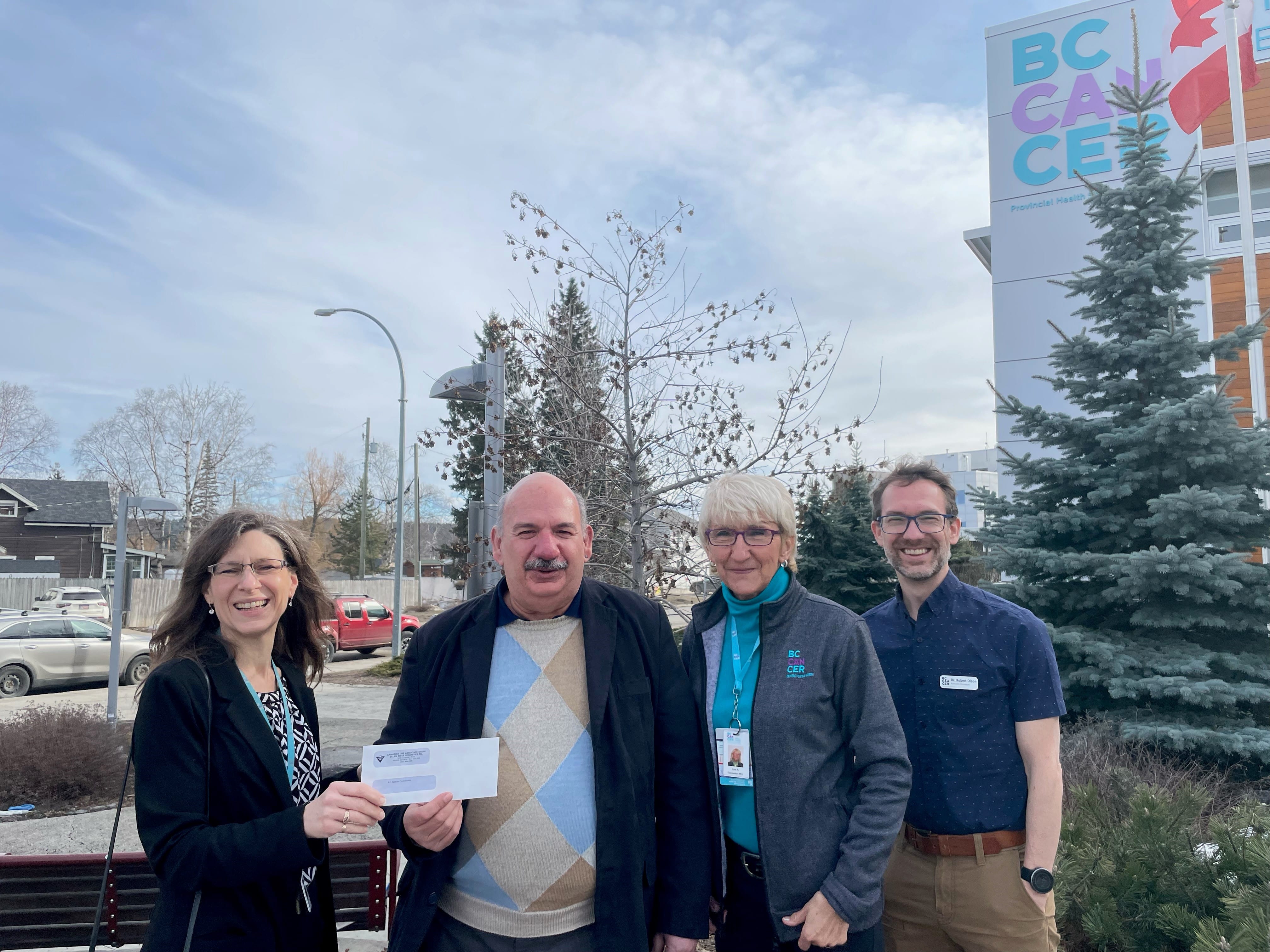 Prince George, B.C. — BC Cancer Foundation received a $100,000 donation earlier this month from Prince George resident, Selen Alpay, owner of Canadian Tire Prince George, to help expand the Precision Radiation Therapy (RT) Program at BC Cancer – Prince George.
This generous gift has launched efforts to raise $1 million toward the BC Cancer Foundation's $1.75-million goal to further enhance Prince George's reputation as a leader in radiation therapy. The Centre is renowned for its highly skilled team of radiation oncologists, who deliver world-class treatment to patients and conduct innovative research under the leadership of radiation oncologist Dr. Robert Olson.
There has been mounting evidence over the last decade that precision RT holds significant potential to minimize side effects and improve patient outcomes, while decreasing treatment times.
Several forms of precision RT are currently available in Prince George, but additional technology investments will allow more techniques to be used and additional patients to be treated. This added technology and research infrastructure at BC Cancer – Prince George will be made possible in partnership with BC Cancer, and with donor support, expanding current capability at the Centre at a faster rate.
"As a local resident, I have seen firsthand the incredible impact that having BC Cancer care close to home has had on our community," says Selen. "I hope that my donation inspires others to give to the campaign, and together, we can play a role in expanding this cutting-edge technology in Prince George."
"Donations are so important to ensure precision radiation is available to everyone who needs it across the province," says Sarah Roth, President & CEO, BC Cancer Foundation. "We are immensely grateful to Selen for partnering with BC Cancer Foundation to bring hope and save more lives for families in the North."
Scientists and clinicians at BC Cancer – Prince George are making progress to break down cancer, piece by piece, in the labs and clinics. Right now, their top priority is to offer precision RT to more people in the North.
"There's a strong sense of momentum at BC Cancer – Prince George," says Dr. Stacy Miller, Regional Medical Director and Radiation Oncologist, BC Cancer "With the achievement of a precision RT program here, I know we will be able to deliver the best care for our community."
Funds raised will also support clinical trials, which are integral to improving treatments. The acquisition of cutting-edge equipment and the creation of a robust research program will test the ability of precision RT to improve treatment outcomes and extend survival rates in patients with metastatic cancer.
A series of clinical trials over the next several months will bring hope to patients who have limited treatment options and reduce future operating costs, providing significant benefits to the overall health-care system in B.C.
"Research plays an essential role in expanding and validating our knowledge of cancer treatment, which leads to direct improvements in clinical care," says Dr. Robert Olson, Radiation Oncologist, BC Cancer – Prince George and Division Head, Radiation Oncology, UBC. "Emerging evidence suggests that precision RT has significant potential to save the lives of people affected by cancer."
"Large, high-profile clinical trials can be led from small centres like Prince George. All patients deserve access to clinical trials, from large urban centres to small Indigenous communities. With donor support, we can continue to lead paradigm-changing international clinical trials from Northern BC," continues Dr. Olson.
BC Cancer – Prince George is celebrating its tenth anniversary this year. One of six regional centres across the province, the Centre for the North provides care and support to patients with cancer across Northern B.C. As the fundraising partner for BC Cancer, BC Cancer Foundation powers world-class innovation across the province. Every dollar raised in the North is invested back into BC Cancer – Prince George to support research, innovation and care.
For more information on the campaign and to support BC Cancer – Prince George, visit https://bccancerfoundation.com/why-give/in-your-region/prince-george/