/
/
/
An Open Letter of Thanks to British Columbians From BC Cancer Foundation CEO, Sarah Roth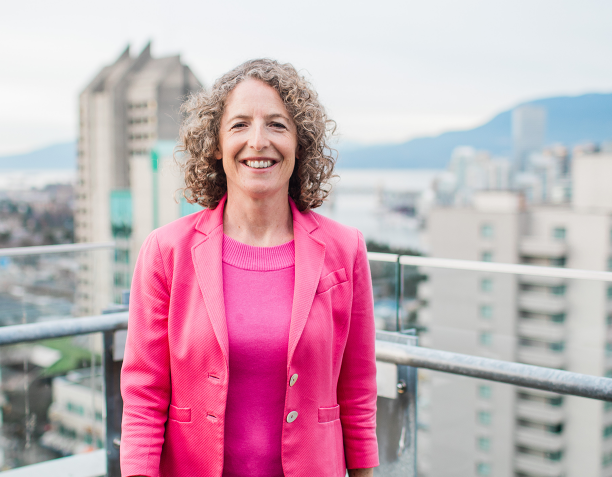 Our health has never been so prominent in our collective thoughts. Notably, the shared and constant threat it's been under.
The parallels of fear, protectionism, feeling lost in the unknown, balancing hope and risk, and the realization of how we want to spend our precious time are factors cancer patients face day after day.
Through the pandemic, many cancer patients have had to face much of their experience with a dramatically reduced support network, for their own safety, minimizing exposure and risk. These impacts are not lost on us or their incredible caregivers at BC Cancer.
One year ago, as health orders tightened and we all added critical layers of protection, the BC Cancer Foundation called on the community for support. We set up an urgent COVID-19 Response Fund to address supports for patients who needed us more than ever. You warmed our hearts with your response, and importantly, the dollars you gave had immediate impacts on cancer patients who needed timely, life-saving care. People like Laurence, who shared how donations helped him personally:
"I received financial support from BC Cancer's Patient and Family counselling, through the Indigenous Cancer Care Counselor for accommodation during my six weeks of cancer treatment in Prince George during COVID-19. I was able to relocate with my family during treatment. As a Metis person, family is important to me and having my family close helped me be away from home while receiving life-saving treatment. Thank you."- Laurence, Fort St. John, B.C.
Laurence is one of hundreds of patients across the province who benefitted from timely support this year. This is the power your generosity has had on individuals.
We also know that stress, anxiety and financial constraints, are major factors that converge in a person's life when they face cancer and when these burdens are reduced, it's proven to have a positive impact on outcomes. I heard directly from Carolyn Jacob, practice lead for Patient and Family Counselling, BC Cancer – Prince George who said:
"Many patients we work with at BC Cancer Prince George are at disadvantage in terms of access to health care and the burden associated with travel for cancer treatment. There is a cost to patients both economically and personally. Patients living on a fixed or low income, those whose employment has been impacted by economic downturn find support in the Patient Comfort Fund. Thanks to your generosity, my team is able to provide emergency support allowing patients to focus on treatment and regaining their health."
These patient needs were exacerbated by the pandemic, but they will remain in the months and years ahead.
So much of what we've learned over this past year is that, as a community, we hold great power in our ability to positively impact others' health outcomes. As we look ahead with hope for a COVID-19 finish line, I ask you to keep cancer patients in your thoughts. Their finish line isn't so clear, and as a community, we can continue to build on the tangible life-changing impacts underway.
From the bottom of my heart, I thank you, our community, for giving generously.
I also want to recognize our incredible frontline healthcare heroes at BC Cancer and across regional hospitals who have carried on delivering life-saving cancer care. They haven't stopped and neither will we.
If you'd like to learn more about how you can change a cancer patient's life, we'd love to hear from you: bccancerfoundation.com.
Keep safe,
Sarah Roth
President & CEO
BC Cancer Foundation