Beyond Barriers: The Meaning of Care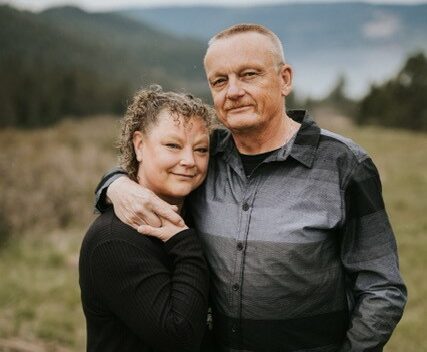 Both the big and the seemingly small things make a difference for those facing cancer, says Carla Schutte. From accessing life-saving treatments to a simple, friendly hello.
A resident of Armstrong, Carla has been a patient at BC Cancer – Kelowna and the Vernon satellite cancer centre since 2014.
Carla has adrenal cortical carcinoma — a rare form of adrenal cancer. For four years, she underwent numerous surgeries and chemotherapy treatments, but tumours continued to grow and spread, including to her peritoneum and brain.
Dr. Edward Hardy, Carla's oncologist in Vernon, however, remained determined. Carla's cancer has a specific mutation that is not often seen in adrenocortical carcinoma. He stayed up-to-date on the latest research and in 2018 found a new, global clinical trial studying this mutation.
"It's amazing. Every time you think there's nothing more they can do, there's another advance that comes around and that gives you chances."
In another stroke of good fortune (or a reflection of Kelowna's research capabilities), BC Cancer's Dr. Susan Ellard was running this very trial in Kelowna, just an hour away from Carla's home. Donor support helps bring more clinical trials to BC Cancer's regional centres – making these life-saving treatments more accessible to patients in every corner of the province.
"The word 'trial' in itself was scary at first," says Carla, who wondered, "Will this work?"
Carla says Dr. Ellard's calming and reassuring presence helped assuage some of her concerns. "There are some people you meet, and you know are in the right field. Dr. Ellard is one of those people."
Carla's care team closely monitored her with frequent blood work, CT scans and questionnaires. During the height of her treatment, she was at BC Cancer – Kelowna nearly every week and the personal connections made with her doctors and nurses made all the difference in her experience.
"They know how to take care of you, they really do," says Carla. Her treatment on the trial is currently on hold, but she is touched her former nurses still recognize her and stop by to say hello.
Today, Carla's cancer is stable. She has "graduated" to CT scans every three months, instead of every six weeks. Her grandchildren keep her busy and she's thankful for the time she has to spend with them.
But she knows BC Cancer – Kelowna is facing growing capacity issues which impacts patients, some of whom are friends of hers. She hopes sharing her story will encourage others to consider supporting BC Cancer and its ability to provide the type of life-saving treatment she received.
The BC Cancer Foundation is fundraising for a new world-class systemic therapy suite in Kelowna that will increase the Centre's capacity to deliver treatments by 40% and bring more innovative, life-saving clinical trials to the Interior. Learn more about supporting the project.
Barriers to accessing cancer care in B.C. can take a number of forms – geographical, socioeconomic or cultural – and removing these barriers will take all of us. This World Cancer Day, the BC Cancer Foundation is encouraging British Columbians to look Beyond Barriers to care, to mobilize, and to support solutions.