Dr. Denise Laronde: My Journey from Student to Teacher
Hello! My name is Dr. Denise Laronde and I am pleased to be wrapping up the month of blog posts from the BC OCPP team!
From a research life point-of-view, I was 'born and raised' in the BC Oral Cancer Prevention Program. I started as a Masters student, moved on to my doctorate, and now, I am a 'real' researcher!
I had worked as a dental hygienist for more than 10 years when an opportunity arose to do what I had always wanted to do – go to grad school! Working in clinical practice has been invaluable to my life as a researcher, from coming up with research questions to transferring knowledge back to clinicians and patients – information and skills they can actually use and have an impact on this horrible disease.
As a graduate student I spent a great deal of time at the BC Cancer Agency. I thought it would be a difficult place to work but was amazed at the positive attitudes of the patients we were following and the terrific rapport they had with the clinic staff.
I also quickly realized any preconceived notion I had about patients with oral cancer was just plain wrong – I met old and young, non-smokers and smokers, and people from a variety of professions and backgrounds. What really struck me were the patients' stories: when I heard about individuals whose cancer had been detected late or who were told their lesion was 'nothing, don't worry about it!' I knew this is where I wanted to make a difference!
I was very lucky to be mentored by some of the best oral cancer researchers at the BC Cancer Agency and now I join them in mentoring a new generation of graduate students. An integral part of our graduate student education is 'cross-training'. This means we train our students in the clinic, the lab, and in the community to empower the next generation of oral cancer researchers and clinicians. For clinicians, new knowledge can have a direct impact on treatment strategies for current and future patients and can also be shared back to research colleagues.
We also work with wonderful volunteers. They are often recent graduates, with clinical or lab-based education who want to give back or add to their education. We value the time and commitment they offer us and, in exchange, provide them with knowledge and skills they can use in practice or in their future education.
We are building a strong team and we live by two mottos: 'Train the trainers,' and 'Take a look – save a life!'
Denise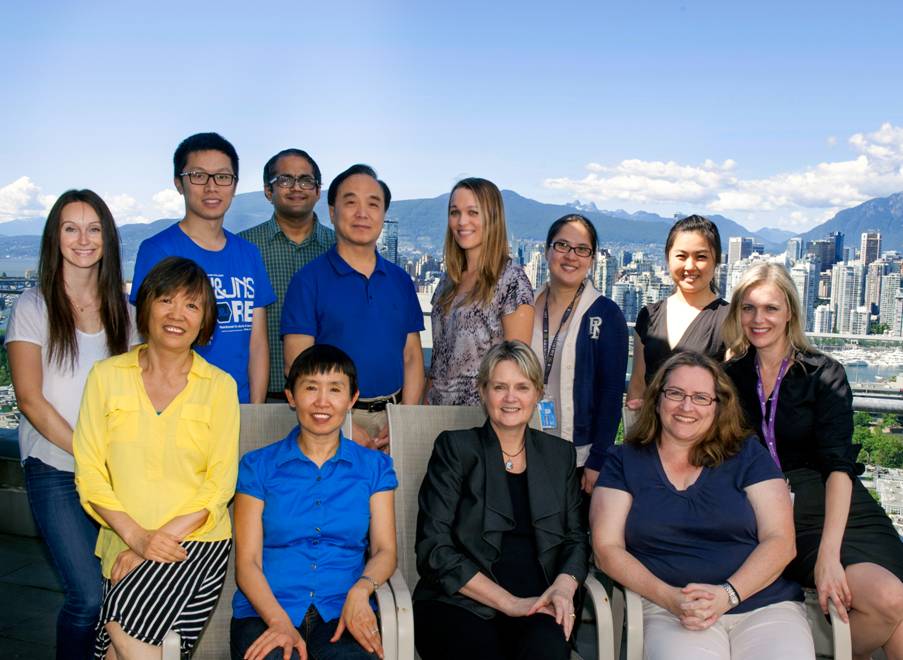 BC Oral Cancer Prevention Program Team:
Back Row L-R: Jade Lavallee, Marco Wu, Ajit Auluck, Ivan Sun, Jelena Prelec, Tarinee Lubpairee, Catherine Kang
Front Row L-R: Huijun Jiang, Lewei Zhang, Miriam Rosin, Denise Laronde, Leigha Rock