/
/
/
Fifth annual Workout to Conquer Cancer raises $275,000 toward critical cancer research and care
Fifth annual Workout to Conquer Cancer raises $275,000 toward critical cancer research and care
VANCOUVER, B.C. – Hundreds of British Columbians united for the month of May to exercise every day, raising an inspiring $275,000, benefitting the BC Cancer Foundation. These funds will support critical cancer research and enhancements to care at BC Cancer that will allow clinicians to better detect, diagnose and treat cancer for the 77,000 British Columbians facing the disease this year.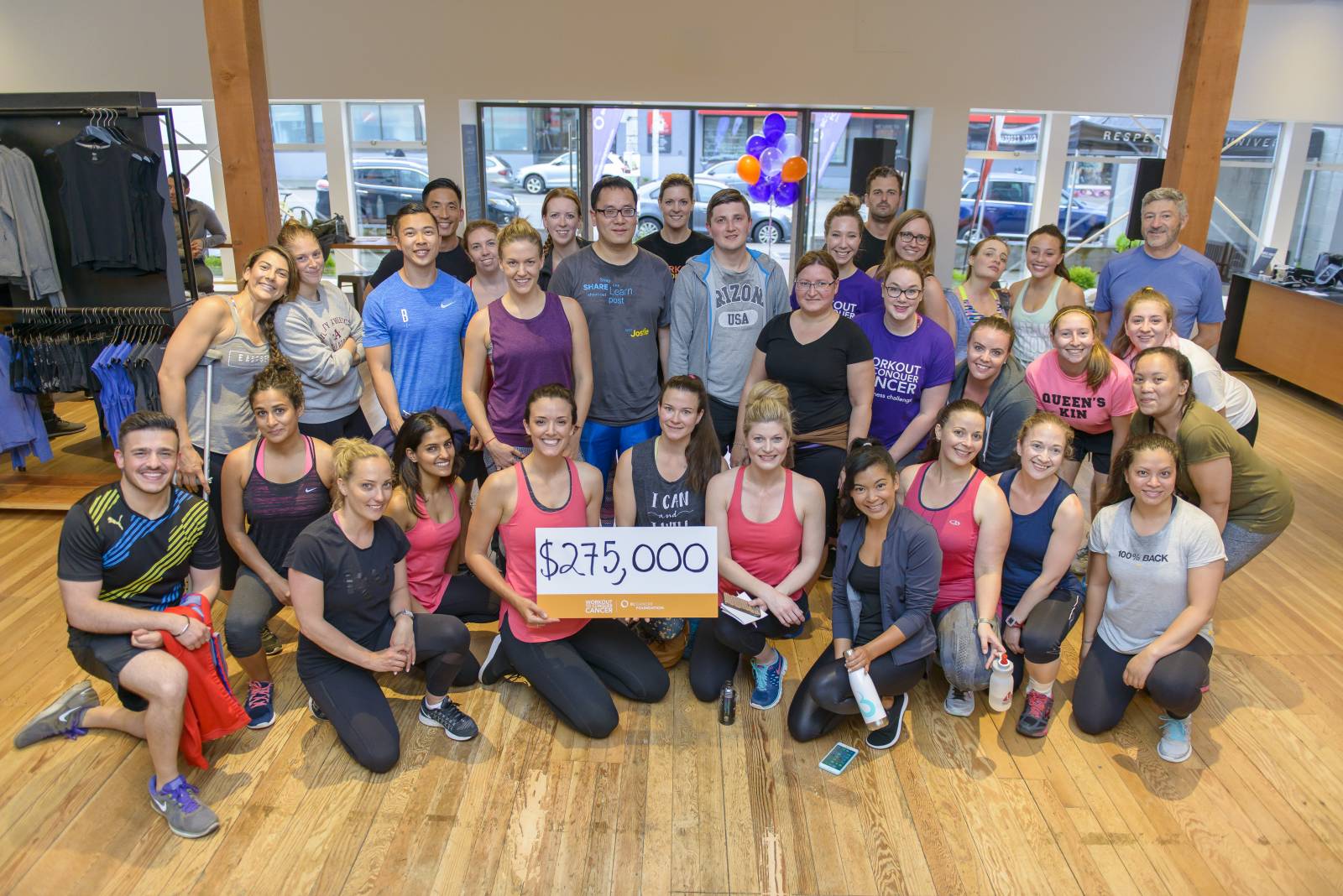 In five years, Workout has raised an incredible $1.57 million for the BC Cancer Foundation, providing researchers at BC Cancer with the resources to launch new research initiatives as well as state-of-the-art tools and equipment to advance patient comfort and care.
This year, the event was expanded to a month-long workout challenge, where over 900 participants and 165 teams moved each day for 31 days, participating in new activities from Workout partners such as spin, barre, HIIT, kickboxing, meditation and yoga, or beloved outdoor activities like walking, jogging, running or cycling.
"With every weight lifted, downward dog pose and fitness class attended, Workout participants compel BC Cancer to reach new heights in breakthrough research and care," says Sarah Roth,  President & CEO, BC Cancer Foundation. "I am extraordinarily grateful to all who joined Workout to Conquer Cancer – you have directly helped the 77,000 British Columbians living with cancer today."
A group of Vancouver participants celebrated a healthy month of success at RYU Apparel's Kitsilano location last evening with one final workout class led by Better Bodies Club, followed by food and drink, thanks to Vital Supply Co. and Red Truck Beer.
Registration for Workout to Conquer Cancer 2018 is now open, continuing as a 31-day fitness challenge for the month of May, where participants will commit to moving every day, and have access to by-donation classes and special events offered by training partners in the Lower Mainland, Vancouver Island, the Okanagan, Kamloops and the Southern Interior.
To learn more, please visit www.workouttoconquercancer.ca
–    30    –
Media enquiries:
Hayley Judge
Communications Specialist
t. 604.707.5907
c. 604.764.0666
e. hayley.judge@bccancer.bc.ca