Finding Purpose Through Physical Activity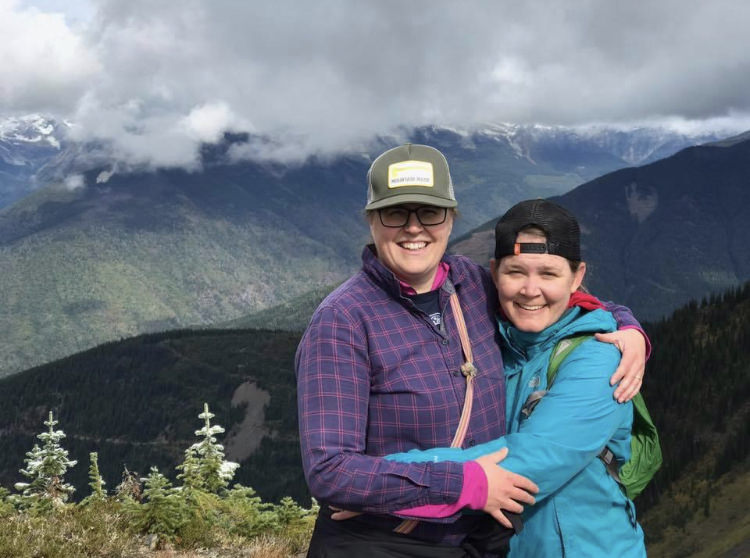 Jillian Wilson lost both her aunts, Lindsay and Karen, to cancer in March 2022. Her "Grams" passed away from the disease several years earlier, and her mom is living her life to the fullest after being diagnosed with Non-Hodgkin Lymphoma over a decade ago.
So while the OR nurse from Nelson, B.C., is moving every day in May for the four incredible women in her family who bravely faced cancer, she admits, "To be honest, I think I'm mostly doing it for myself."
Last year, just a month after the devastating loss of both her mom and dad's younger sisters to pancreatic and metastatic breast cancer, was Jillian's first time participating in Workout to Conquer Cancer.
"It made me feel active in the process, like I had control over something that you really have no control over."
Pushing herself to exercise every day and fundraise to improve cancer outcomes allowed her to focus on what she could do to help, she says. And while fitting in the daily workouts was tough —"It's not my normal, so it definitely wasn't an easy ask," — raising funds towards improving cancer research and care in B.C. was easy, says Jillian. "I put a relatively low fundraising goal and I exceeded it on the first day."
This year, Jillian's wife Alanna is joining her for daily workouts, which will consist of a lot of cycling to prepare for a big family bike trip this summer. Another member of their household who is more than happy to move every day in May is their dog Jasper. A daily walk for her, including a game of fetch, is part of our routine, says Jillian, who ups the ante by doing squats while waiting for her to chase the ball down and bring it back.
Biking, yoga, dog walks, an exercise video before bed — it doesn't have to be a big intimidating undertaking, says Jillian. "It's more about moving every day for those who can't."
Donate to Jillian's fundraising page or move every day in May in support of someone you love facing cancer by signing up to Workout to Conquer Cancer.
Kicking off on May 1, Workout to Conquer Cancer challenges participants from across the province to complete 30 minutes of physical activity every day for a month. Funds raised support life-saving research at BC Cancer. Whether you walk, run, bike or dance — get moving, and make a difference.