Innovative Early Lung Cancer Detection is Saving Lives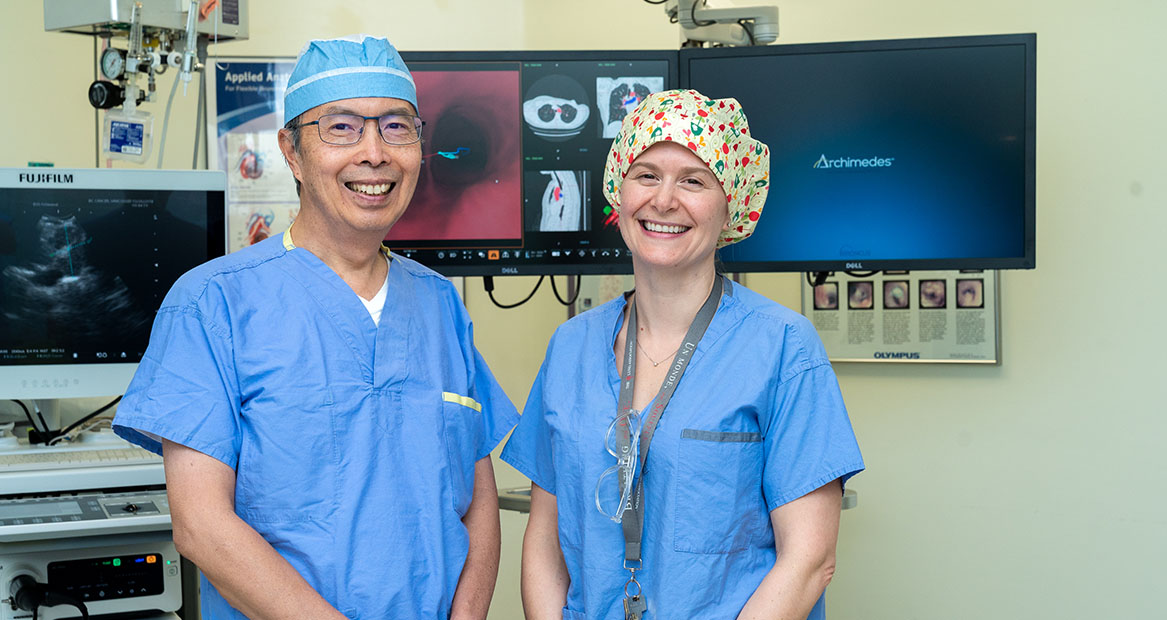 As the most commonly diagnosed cancer, lung cancer accounts for a quarter of all cancer deaths — more people will die from lung cancer this year than from colorectal, pancreatic and breast cancers combined.
This is due to the fact that most patients are referred to BC Cancer once they've developed symptoms. As a result, nearly half of lung cancer cases are detected in Stage 4 after the cancer has metastasized. The five-year survival rate for the disease is 62% in Stage 1 but drops to just 3% in Stage 4.
Led by Dr. Stephen Lam and Dr. Renelle Myers, BC Cancer's lung cancer research team are globally recognized — presenting at international conferences and publishing in various peer-reviewed journals — for their work to prevent and cure lung cancers and stop tumour resistance and recurrence. The Vancouver-based team are currently focused on a number of innovative research projects and programs to advance early detection of lung cancer, when it's highly treatable.
A year after BC Cancer established Canada's first province-wide lung cancer screening program — proudly supported by the BC Cancer Foundation with almost $2 million in equipment and start-up funding — the program has achieved enormous success, outperforming similar initiatives in the U.S., and resulting in 66 confirmed cancers.
"All of these cancers were found in people who do not have symptoms suspicious of lung cancer such as hemoptysis (coughing up of blood), chest pain, weight loss or a change in breathing," says Dr. Stephen Lam, medical director of BC Cancer's lung cancer screening program and Leon Judah Blackmore Chair in Lung Cancer Research.
"Approximately 71% of the cancers identified are in early Stage 1 or 2. Only 11% are in Stage 4, compared to the almost 50% we would see in clinically diagnosed lung cancer cases," says Dr. Lam.
To be eligible for the program, available to high-risk individuals at 36 sites across the province, patients need to meet criteria such as age (55-74) and have a history of smoking for 20 years or more. However, non-smokers account for almost 30% of BC Cancer's lung cancer patients.
"There is an urgent need to create a risk-prediction tool to identify the people who don't use tobacco, yet are at increased risk of developing lung cancer," says Clinical Scientist Dr. Renelle Myers.
BC Cancer's lung cancer research team recently received two large multi-institution grants to develop and test a novel breath test that will harness artificial intelligence (AI) to help address gaps in early lung cancer detection to reach a more diverse population.  New research at BC Cancer also suggests lifetime exposure to air pollution, specifically a fine particle called PM2.5, could be increasing lung cancer risk especially in women. Just as UV exposure causes skin cancer, exposure to dangerously high levels of PM2.5 in the air we breathe such as from forest fire smoke, is being linked to lung cancer.
Utilizing the power of AI, BC Cancer's lung cancer team is developing a breath test to identify chemical signatures in breath to help detect early lung cancer and understand how changes in the lung microbiome may indicate lung cancer development in never smokers. Essential in meeting the demands of processing breath samples for these studies is the GC Orbitrap Exploris.
This state-of-the-art technology is a "work horse to study exhaled breath chemicals," says Dr. Myers, and the machine is desperately needed to analyze the high volume of samples for several innovative projects.
"Even if our team works 24/7, we couldn't process all the samples required for these large, multi-centre studies with only the system we have now, says Dr. Lam, "especially since samples can't be stored for very long once collected."
The BC Cancer Foundation is seeking to raise $500,000 to purchase and install a new GC Orbitrap Exploris to fuel BC Cancer's life-saving work.
"Lung cancer used to be viewed as a tobacco user's disease, but it's not," says Dr. Myers. "Anyone with lungs can get lung cancer. We have to look harder at how our environment affects our lung health."
Innovative early detection methods, and the power of AI, are helping BC Cancer's team come closer to one day achieving this for everyone in B.C.
To learn more about how you can support BC Cancer's world-leading research in early lung cancer detection please contact Elissa Morrissette at 604.707.5992 or elissa.morrissette@bccancer.bc.ca.