Kelowna Auto Dealers Raise $230,000 for BC Cancer – Kelowna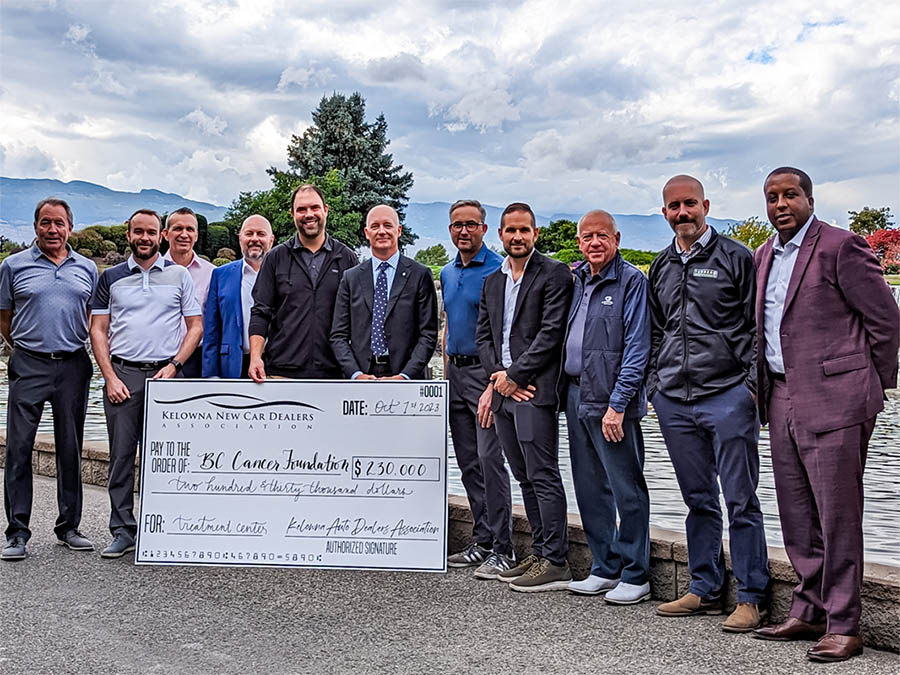 Over a 60 day-long campaign, the Kelowna Auto Dealers Association (KADA) has raised $230,000 for the BC Cancer Foundation in support of enhancing cancer care in the Interior – exceeding their goal of $200,000. The campaign rallied over 16 locally-owned auto dealerships and ran from August 1 to September 30.
Funds raised will go towards the new, state-of-the art systemic cancer therapy suite planned for BC Cancer – Kelowna. The suite will increase the centre's capacity to deliver drug therapy treatments, including chemotherapy by 40% and bring the latest in cutting-edge research and therapies to the Interior. Critically, it will also bring early phase clinical trials to the Okanagan – ensuring patients have access to the latest, life-saving treatments closer to home without needing to travel for care.
"Thanks to the tremendous support of the Kelowna community, we far exceeded our goal for this campaign," says Aaron Fanslau, President of the KADA. "As local business owners who call the Okanagan home, it's important to give back to the communities that support us. One in two of us will face cancer in our lifetime and it's important we have access to life-saving cancer care close to home when we need it."
"We're proud of the partnership with KADA and thank each of the participating dealers for the significant investment in cancer care locally," says Clayton Gall, Co-Chair of BC Cancer Foundation's Interior Transformation Council.
"This generous donation will enable BC Cancer Kelowna to build the first-ever, world-class systemic cancer therapy suite," says Pardeep Khrod, BC Cancer Foundation's Associate Vice President. "This is a wonderful example of what can be accomplished when our community comes together to invest in cutting edge cancer treatment for now and the future."
Participating partners included: Audi Kelowna, August Mazda, Harmony Acura, Harmony Honda, Kelowna Ford Lincoln, Kelowna Infiniti Nissan, Kelowna Mercedes-Benz, Kelowna Subaru, Kelowna Toyota, Land Rover Jaguar Volvo Kelowna, Lexus of Kelowna, Okanagan Dodge, Orchard Ford, Porsche Kelowna, Turner Volkswagen, and Valley Mitsubishi.