/
/
/
Life Beyond Cancer: Heather Geluk on Regaining Strength and Joy After Cancer
Life Beyond Cancer: Heather Geluk on Regaining Strength and Joy After Cancer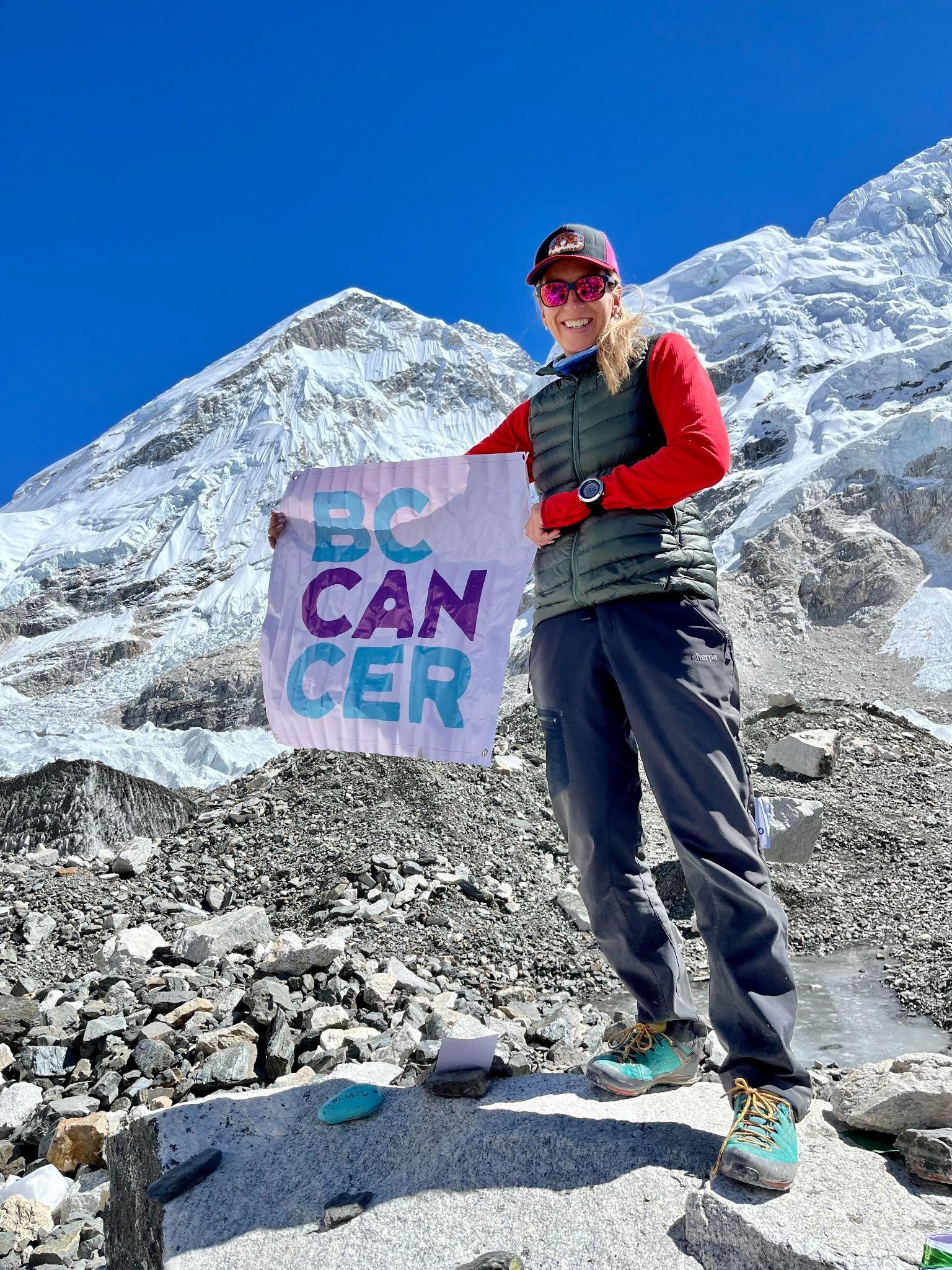 Over the past 10 years, Heather Geluk, an accomplished high-altitude mountaineer, has kept a blog titled "The People You Meet Along the Way". The blog documents her expeditions to some of the highest mountains in the world — mountains in the Himalaya, the Andes and the Alps.
Rather than focus on 'summits', she uses the blog to highlight the journey and "the people that have inspired me, helped me, and joined me in some shape or form on this incredible adventure."
In the spring of 2021, her blog provided her with a 'roadmap' to help navigate an expedition that she didn't sign up for — a diagnosis of stage 3 cervical cancer. In Heather's words, "If cancer was a mountaineering expedition, I'd call it 'the one I didn't sign up for'. And yet, it's the expedition that I find myself embarking on."
Before her diagnosis "The People you Meet Along the Way" focused on recognising the inspirational stories of fellow climbers, Sherpa and the people living in the shadows of the Himalayan peaks she spent so much time climbing. During her cancer journey, the profile of people changed, but the strength, support and inspiration provided did not.
Heather realized that this was an expedition she could not venture on alone. Family, friends and even strangers joined her path, reminding her of the inner power she held and the power of asking for and accepting help. Beyond family and friends, these people included the doctors that shared her initial cancer diagnosis and cancer survivors who helped reframe her perspective of chemo, "It's medicine that will help you get better," and reiterated the power of a positive mindset, "You've got this".
Also taking on the role of steady Sherpa guides were the compassionate teams of BC Cancer clinicians and nurses, encouraging her and willing her on through weeks of radiation and chemo.
Each of these individuals helped Heather maintain a positive mindset through treatment, which she credits as central to her cancer-free status today – alongside the incredible care she received at BC Cancer. A place she affectionately refers to as 'basecamp'.
When Heather received her initial cervical cancer diagnosis she was shocked and found herself in a state of shock, grief and disbelief. "How could this happen to me?"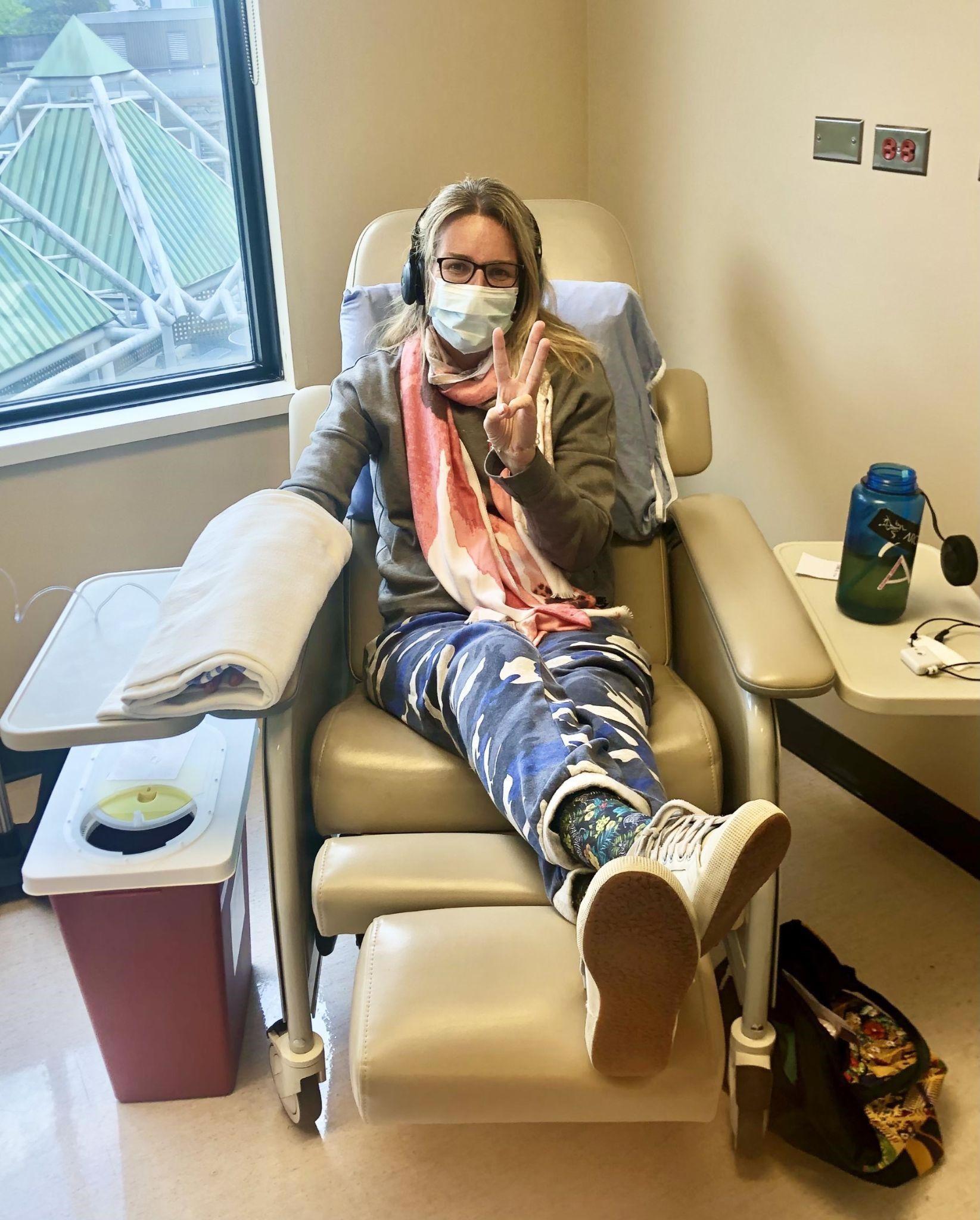 Whilst Heather feared a future filled with uncertainty, she quickly moved into what she calls, an 'expedition mindset'. In her words, "In all expeditions, there's a sense of trepidation in venturing into the unknown – an underlying fear of failure. But more often than not, this is superseded by a will and determination for success and a recognition that the person you are at the start of the expedition, will be different from the person at the end of it."
And with that, Heather set off for her treatment, steadfast and determined to make this expedition her most successful one yet.
Heather began by focusing on the journey rather than the destination. This mentality helped her through the challenges of treatment. She focused on simply making it through one day at a time, rather than looking at hurdles that could lie ahead.
Heather admits that this was not easy. There were days the prospect of being healthy and strong enough to again follow her mountaineering passion felt like the biggest mountain she'd ever climbed. But on those days when life felt 'hard' and the mountain ahead felt nearly impossible to scale, she remembered how she had reached the summit of every mountain before: "one step, one hour, one moment, one glimmer of hope at a time."
She drew from her mountaineering experience to help her through those tough days.
She reflects, "In high altitude mountaineering you get progressively weaker as you climb due to the effects of the thin air. Through this time you're extremely aware of how your body is responding and you listen to it. Going through treatment is the same. You learn to be gentle with yourself and to ask for help. Sleep when you need to sleep. Eat when you need to eat. You start off treatment feeling good and start to feel the 'headwinds' as treatment progresses. But you stick with it because you know that at the end of it all is the summit – and a celebration with the team at basecamp."
Exactly six months after receiving her diagnosis she received the news she had been waiting to hear – the 'all clear'. She was overjoyed, and immediately put her plan to get back to the mountains in motion.
One year later, in October 2022, Heather packed her bags and set off for Nepal. She reflected, "I can't help but think back to all the days spent healing, planning and hoping that 'this' would all work out. Slowly the hills started to feel less steep, and I started to rediscover 'joy' in things I'd previously taken for granted. And instead of fearing the uncertainty of the future, I focused on realizing what experience had taught me: that things can be scary, but even when you don't think there is a way forward, there always is."
Her first adventure – a month-long expedition to scale Island Peak, a 6000m mountain in Nepal's Everest region. Unfortunately she picked up a respiratory infection enroute at 5300m  / 17,598 ft whilst passing through Everest Base Camp.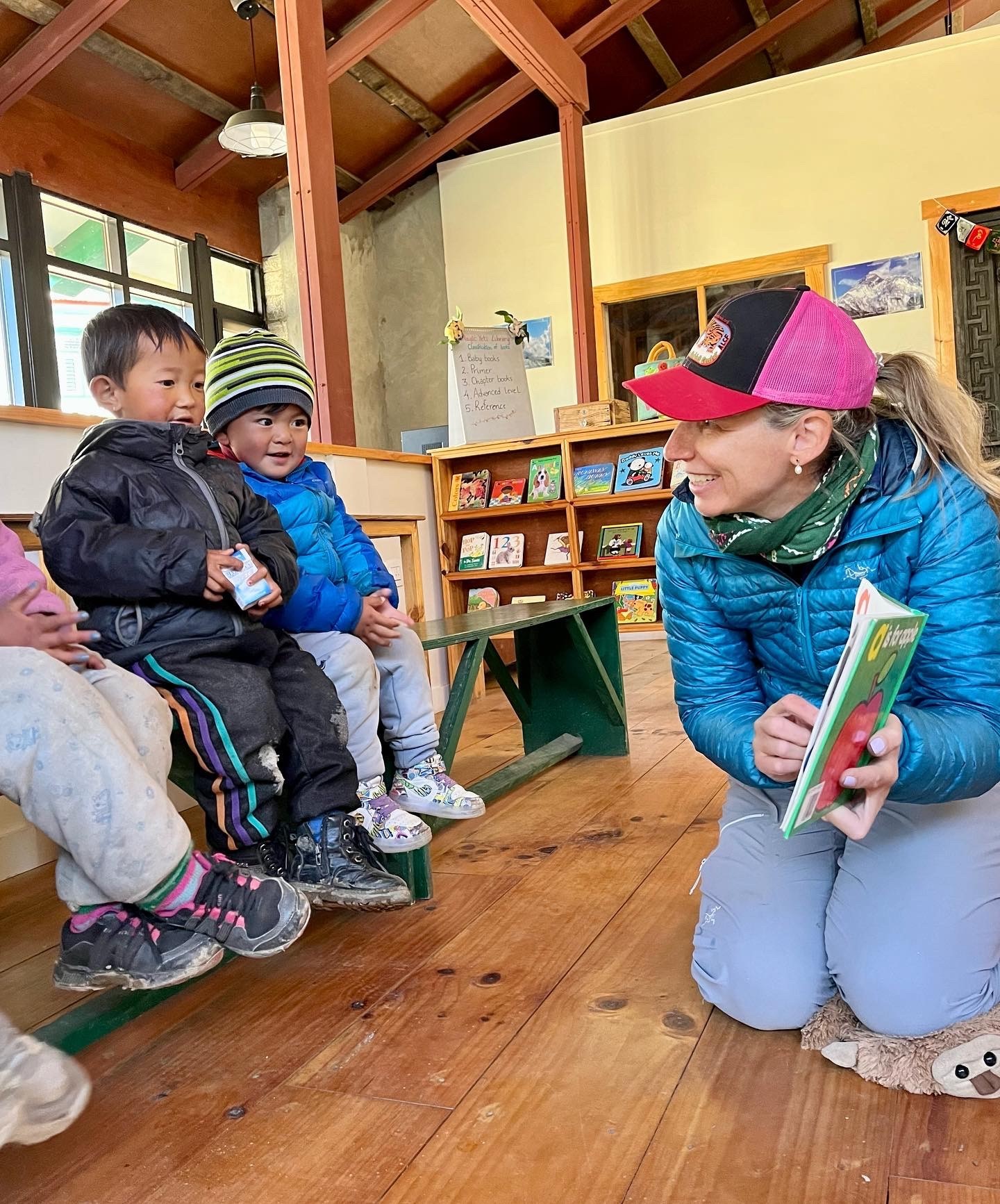 "The 'old me' would've continued on, even with the respiratory infection. The 'new me' was like, 'I've spent enough time in hospitals'," says Heather. "I have nothing to prove. I don't need to climb this mountain. So I didn't…. And I ended up pivoting and doing something that I am truly passionate about – giving back to a community that has given so much to me."
Heather retreated from Everest Base Camp and returned to the remote mountain village of Phortse to volunteer at the Khumbu Climbing Center. Over the next three weeks she based herself in the village, volunteering her time and raising funds to buy supplies for the climbing school and their gym – all whilst feeling immense gratitude for the experience.
"I'm so glad I didn't get to climb that mountain," she laughs. "We get to help other people climb now too and that's amazing."
She continues, "I believe that everything we do and everyone we meet along this life-journey is put in our path for a reason and to teach us something. I know that sounds a bit 'whimsical', but I genuinely believe it. There are no accidents. If you're willing to pay attention and trust your instincts, you learn. This means not being afraid to take risks and not waiting for some miracle to come knocking. It's hard work, but this perspective has given me the most tremendous appreciation for life and has helped turn moments of uncertainty into opportunity."
Heather calls cancer the biggest mountain she's ever climbed. She hopes sharing her story will help give strength to others who are about to embark on the expedition or already on the climb.
"On these expeditions you go forward, one purposeful step at a time into a future filled with uncertainty and endless possibility. Even through storms and over the deep crevasses, you can still choose to have hope, keeping the summit in your sights.
My advice… Even though you have to wait to see how certain things will fall in place, remember to do the little things that bring you joy and remind you that you are still moving forward – laugh, dance, sing. Eventually you will look back and see that so many of the storms you faced on the journey were clearing the way for something more."