One Family Fuels Hope for Hereditary Cancer
When BC Cancer approached Gordon Diamond more than 20 years ago about purchasing a $2 million parking garage he owned in Vancouver to home their new research centre he said, "No."
"My wife and my mother had breast cancer. I thought, 'This could help others from going through what we did.' They came to buy the land, and I gave it to them," he says.
This was the beginning of a long history of support from the Diamonds (Gordon and his wife Leslie, and their daughters Jill and Lauri) that is culminating today in a gift of almost $7.2 million — one of the largest donations ever to the BC Cancer Foundation — to improve care for thousands of women and their families at high risk for hereditary cancer.
Currently, only 5% of the 50,000 British Columbians with an inherited gene (including BRCA1/2 mutations that put them at a much higher risk of developing breast, ovarian or prostate cancer) have been identified. This must change, says BC Cancer Foundation President & CEO Sarah Roth.
"Prevention and early diagnosis are crucial in stopping inherited disease. The more awareness and resources we can provide — through increased genetic testing and access to preventative screening — the more families we can save from the vicious cycle of having generation after generation face devastating cancer diagnoses."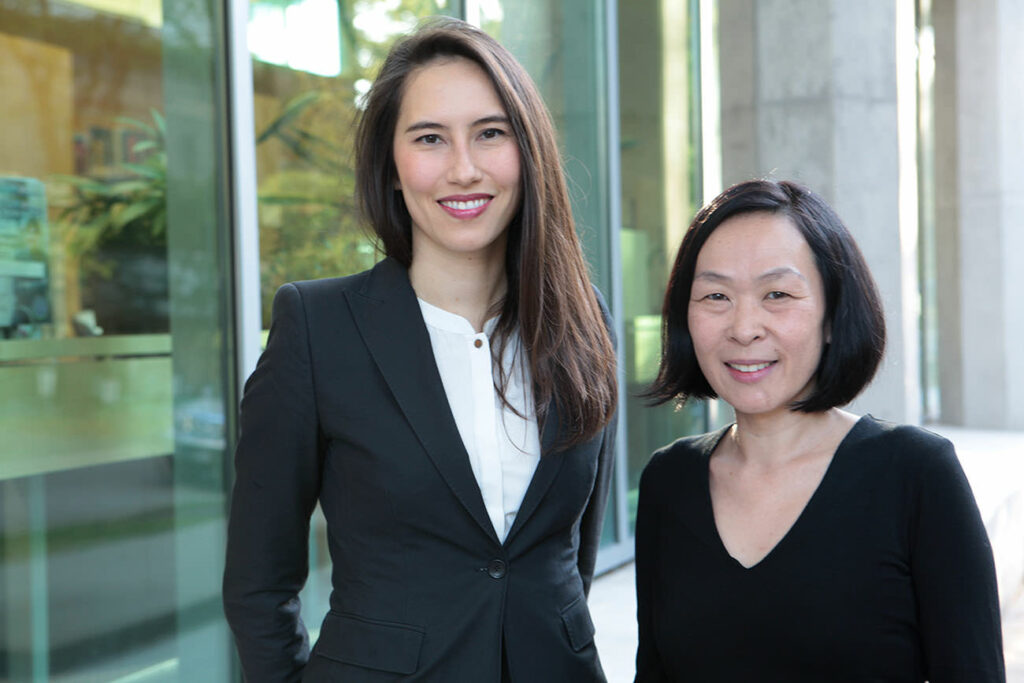 Drs. Intan Schrader (left) and Sophie Sun (right).
Dr. Kasmintan Schrader, co-director of BC Cancer's Hereditary Cancer Program with Dr. Sophie Sun, says "The Diamond Foundation's generous donation is a giant step on the path towards transforming hereditary cancer care across B.C. It will support three important clinical initiatives to accelerate identification of patients and significantly enhance our ability to provide follow-up support and care."
"Not only will this provide the groundwork for future programs that will broaden our scope, it will also greatly increase our impact by reaching more families at higher risk of cancer," says Dr. Sun.
One family's mission to help others
Having sat on countless boards (including the BC Cancer Foundation's), the Diamonds have been instrumental in establishing numerous programs, clinics and centres in B.C., many with a focus on women's health. But this investment — to increase identification, break down barriers to screening and provide support for people at high risk for hereditary cancers — is even more personal.
"Hereditary cancer has impacted our family," says Jill Diamond. "My grandmother unfortunately died of breast cancer. Had she known she had a BRCA gene mutation, and been screened properly, the cancer could have been caught earlier, and we would have enjoyed many more years with her."
Identifying more people at high risk
Women in B.C. have a 12% chance of developing breast cancer. In those who carry a BRCA gene mutation, the risk of diagnosis drastically increases to 70% by age 70. Similarly, ovarian cancer rates rise from under 2% in the general population to almost 50%. And men who carry a gene mutation are up to three times more at risk of developing prostate cancer.
The Diamond Foundation's gift will fuel three life-saving clinical projects. The first will focus on reaching people of Ashkenazi Jewish descent, who are 10 times more likely (1 in 40) to carry a BRCA gene mutation. "We're really proud to partner with BRCA in BC and BC Cancer on this," says Jill, "because it fulfills one of our most important Jewish values, Tikkun Olam, which is the obligation to repair the world and make it a better place."
A second will offer immediate genetic testing for breast cancer patients age 60 and under, upon biopsy, eliminating the need for a doctor's referral — breaking down barriers to care in underrepresented groups such as Indigenous populations.
The third — and a first in Canada — is an outreach program that will directly contact relatives of individuals identified as high risk, increasing genetic testing rates and taking the burden off overwhelmed patients.
Improving screening capacity today and tomorrow  
"We want to ensure that thousands more women and their families are not only identified as having a higher risk of cancer, but are also provided with the necessary additional life-saving screening," says Jill. For breast cancer in particular, this includes annual MRIs and mammograms starting as early as age 25.
Three Breast Imaging Fellowships at BC Cancer – Vancouver, funded by the Diamond Foundation's donation, will increase capacity and expertise for specialized breast radiologists. "This is an incredible investment in the future of breast imaging in B.C. and beyond," says Fellowship Director Dr. Tetyana Martin, who will be mentoring the trainees in a full circle moment, having joined BC Cancer herself as a fellow in 2014.
"Women in B.C., particularly women at high risk for breast cancer, deserve timely access and world-class expertise when undergoing screening and diagnostic work up, and that can be achieved through fellowship opportunities such as these."
From left: Lauri Glotman (née Diamond), Leslie, Gordon and Jill Diamond.
Expanding personalized support and care
Learning you have a higher risk of cancer, and a 50% chance of passing it on to your children, comes with a lot of questions, worry and fear.  To help alleviate this, the Diamond Foundation's gift is creating specialized positions including two nurse navigators, two nurse practitioners, three genetic counsellors, and additional resources for the BC Cancer Hereditary Cancer Program High Risk Clinic and the Hereditary Gynecologic Cancer Prevention and Support Clinic.
"This added support will give people the chance to breathe, understand that they have choices, and give them the knowledge to make the right decision for themselves and their families," says Jill.
To streamline the patient experience further, the donation will also support a new space in Vancouver to provide all hereditary cancer clinical resources in one convenient location. Equipped with exam rooms, private counselling offices and a collaborative meeting space, it will offer patient-centred care in-person and virtually.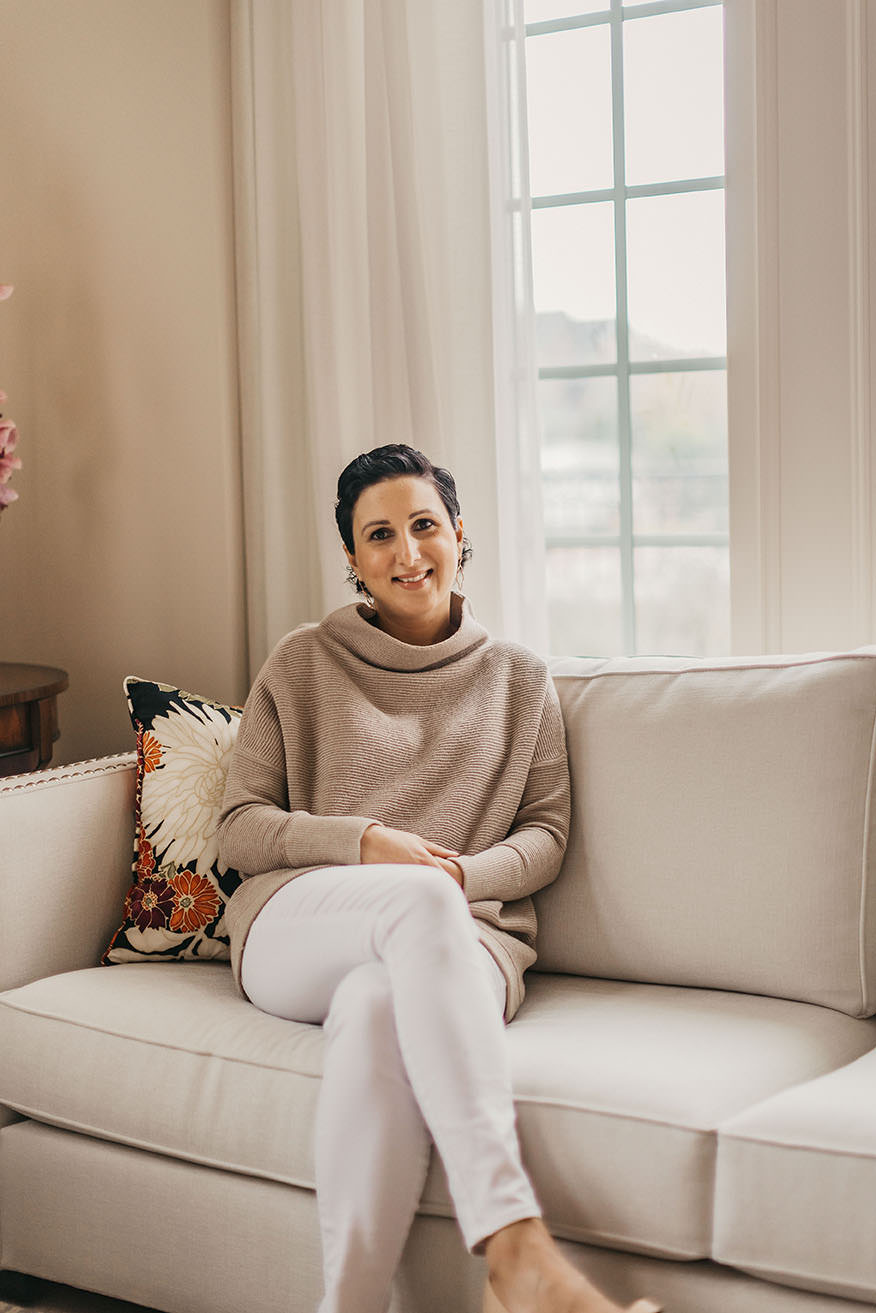 Thanks to genetic testing Shiraz Italia caught her ovarian cancer early.
Saving more lives through increased screening
Shiraz Italia knows firsthand how transformative this investment will be for families with a high risk of hereditary cancer. She lost her own mom to ovarian cancer when she was 12. In her late 30s, with two young kids of her own, she decided to undergo genetic testing — and ended up on, what at the time was a 12 to 18-month wait list.
"Something, my gut instinct, told me not to wait," says Shiraz. She paid to be tested privately, and the results came back positive for a BRCA1 mutation. At her doctor's recommendation she underwent surgery to remove her ovaries and fallopian tubes, where most ovarian cancers originate.
Ten days later she received a phone call that they had found a small tumour. After a hysterectomy and six rounds of chemotherapy, Shiraz says finding out she had an inherited cancer risk, and deciding to act on it, saved her life.
"Ovarian cancer is called the silent killer for a reason," she says. "It's often not caught until advanced stages, which unfortunately for many is too late."
The Diamond Foundation's gift will ensure more women like Shiraz have immediate access to genetic testing and resources, and aren't forced to go it alone, financially or emotionally.
"This is for our daughters, for everyone's daughters," says Jill and Lauri (who have four between them). "It will allow women to continue to be the backbone of their family, their community and society, and — armed with knowledge about their increased cancer risk, and the preventative measures they can take — protect and care for future generations."
Learn how you can support the Hereditary Cancer Program by contacting Elissa Morrissette at 604.839.3035 or elissa.morrissette@bccancer.bc.ca