Radiopharmaceutical facility officially opens!
I'm excited because yesterday we officially celebrated the opening of the cyclotron and the radiopharmaceutical facility at the BC Cancer Agency's Centre of Excellence for Functional Cancer Imaging.
It's an impressive space (6,000 square feet), and at its core is the cyclotron I mentioned in my previous post.
This facility is important because we can now produce our own radioisotopes to perform PET/CT scans. We are grateful for the support TRIUMF has been providing until now, but being able to produce our own radioisotopes is an important step forward in our use of functional cancer imaging.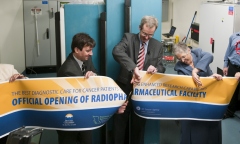 (l-r) BC Cancer Agency's Dr. François Bénard and Dr. Don Wilson with Minister of Education Dr. Margaret MacDiarmid
This means we can add a second PET/CT scanner, more than doubling the number of patients receiving PET/CT scans in our province.
But it also means we can conduct more research. PET/CT scans are still very much in their infancy and there's so much potential for how we can use them. Our team has already been very successful at obtaining research grants, due mostly to the fact that we have such an excellent facility and team here.
So, now we can get to work and make a difference for patients. Because, that's really what it's all about.
If you're interested in learning more, you can read the news release here, or the article from this morning's Vancouver Sun here.
François