The 2019 Inspiration Gala Raises $3 Million to Advance Genomics
After months of preparation and work that spanned across multiple teams, the BC Cancer Foundation hosted its 15th annual Inspiration Gala on November 2 at the Fairmont Hotel Vancouver. The stunning winter's magic themed event welcomed over 500 guests, generous donors and cancer experts from around the province.  By the end of the evening, $3 Million dollars was raised to advance genomics – the analysis of an individual's DNA to better understand their cancer.
A full gallery from the evening can be found here: https://flic.kr/s/aHsmJsHqbP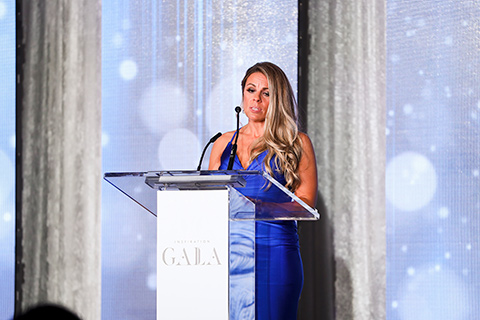 One of the evening's highlights was key speaker Carla Reilly, mother of Michelle Rielly who is facing Glioblastoma Multiform of the spine. Michelle's mom Carla, moved the audience as she shared her daughter's devastating diagnosis, but hopeful outlook, as Michelle's disease was matched to a promising immunotherapy drug through the Personalized Onco-genomics Program (POG).
"Not only did the POG program offer hope for our family, it offers a look into the incredible future of cancer diagnosis and treatment, and that's something we can all be hopeful for," says Carla. "Although Michelle's future is unclear this important information is still being used to look at more treatment options specialized for her. The results could also greatly help the survival of another patient just like Michelle."
During the fund-a-need stage of the evening, generous donors continually raised their paddles, with one anonymous donor raising their paddle for an incredible $500,000. Then, another anonymous donor raised their paddle for $250,000, followed by a subsequent $250,000 from the Leon Judah Blackmore Foundation.
After all the live auction items had been sold, the room was taken by pleasant surprise when Dr. Marco Marra, director and distinguished scientist, BC Cancer's Genome Sciences Centre, took the stage to auction off his double-helix DNA tie which sold for $11,000.
All of the money raised during the evening will put BC Cancer one step closer to achieving their mission to break down cancer and change outcomes for the more than 27,000 British Columbians diagnosed with cancer each year. Genomics research will result in more personalized and effective treatment plans for patients across British Columbia.
Thank you to our Inspiration Gala Committee who has worked tirelessly to ensure the event was a success. Their contribution continues to break down cancer and provide hope for countless individuals and families facing cancer every year in our province. We look forward to 2020!